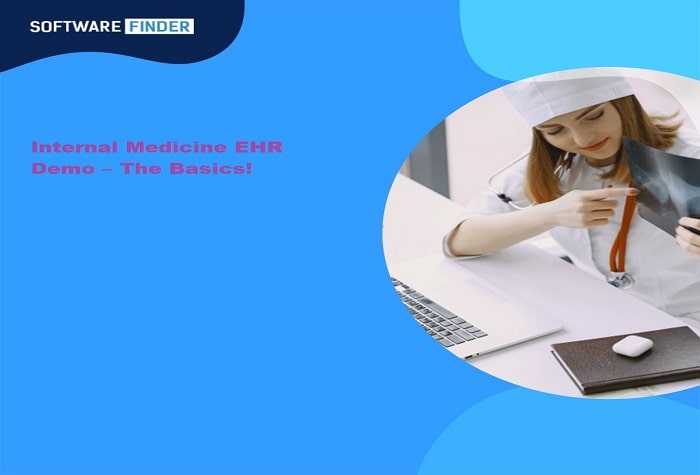 Selecting the correct EHR system for your practice is crucial. You want software that's feature-rich, has quick upload times and customizable sections that meet your requirements. For you to select a high-quality platform consider opting for an internal medicine EHR software demo.
Your internal EHR demo will allow you to make an informed decision during the software selection process. These EHR demos allow you to test the platform to see how it will function in real-world medical conditions.
An EHR platform is an investment for your practice so it's important to select software that will maximize your revenue and assist with improving your healthcare practices. Today, we'll be discussing how to evaluate your EHR demo to see whether it meets your specific requirements.
How to Evaluate your Internal Medicine EHR Demo – Features to Look For
EHR vendors spend time creating demos to get people to select their products. So before you look at an internal medicine EHR software demo consider all the features you must have on your platform. Then when you're working with the demo, see if the EHR software features meet your expectations.
Here are some features you should consider testing when going through your internal medicine EHR tutorial.
Mobile Compatible Scheduler Feature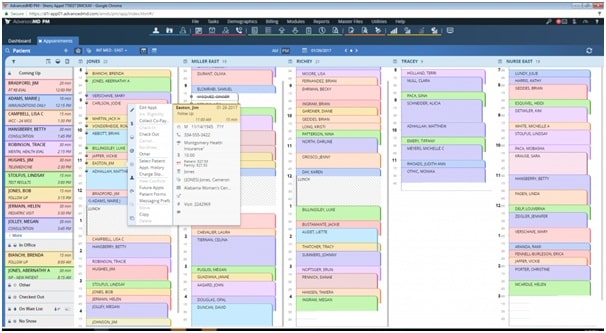 Your EHR system should have an extensive scheduler that can be used in multiple locations. The scheduler should allow you to color code appointments. These color coded appointments give you a quick view of the type of medical cases you'll be working with during your day.
When testing your EHR scheduler make sure that it's mobile compatible. You want to be able to book appointments or change notes even when you're not in the office. The only way to edit and schedule appointments on the go effectively is to have a scheduler that works on your mobile device.
When looking at your internal medicine EHR tutorial on schedulers, check whether you're able to see information such as:
Medical insurance information
Copayments
Insurance eligibility verification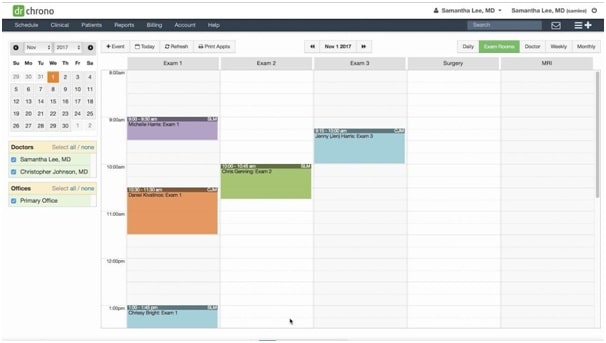 The Importance of Soap Note Effectiveness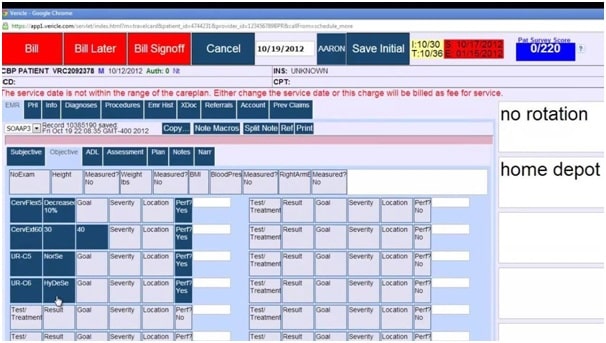 For you to make the correct decisions when treating your patients you need plenty of information on a comprehensive dashboard. You don't want to contend with digital files that are difficult to retrieve or view.
You need a fast system that allows you to retrieve medical files quickly so you can streamline the patient to practitioner process. It's crucial that you have Soap Notes that allow you to see the following:
Full medical history
A complete collection of family medical history
Allergies the patient has
The patient's vitals
Medication administered to the patient
Progress reports
The Soap Note on your EHR platform should allow you to make multiple data entry types such as drop-down menus, voice dictations and free text. Your templates should be specific to internal medicine with frequently accessed medications and diagnosis.
When reviewing your internal medicine EHR software demo check whether it has all the options you require for proper research and decision making.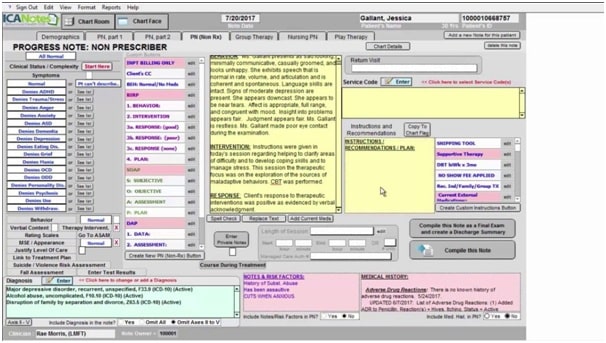 Automatic E/M Coding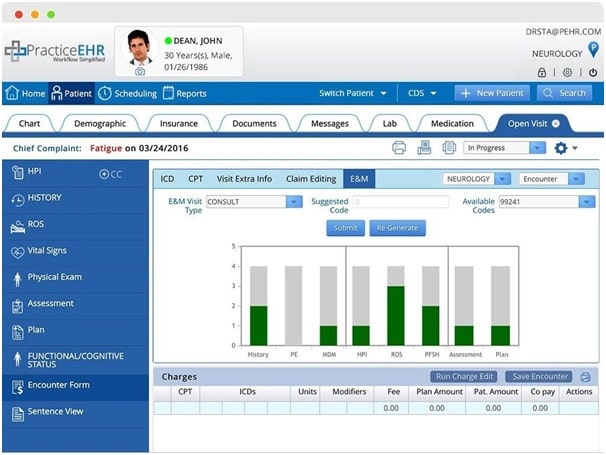 For busy physicians, you know you don't have time to enter E/M codes and upload data. The purpose of an EHR system is to provide an easier means to perform and complete administration work. So, to get value for money you need a platform that automatically enters these codes for you.
Some EHRs will use third-party apps so that E/M codes are generated automatically from the documentation gathered by the physician. When testing E/M codes on your demo, ensure there are no down or upcoding on the system.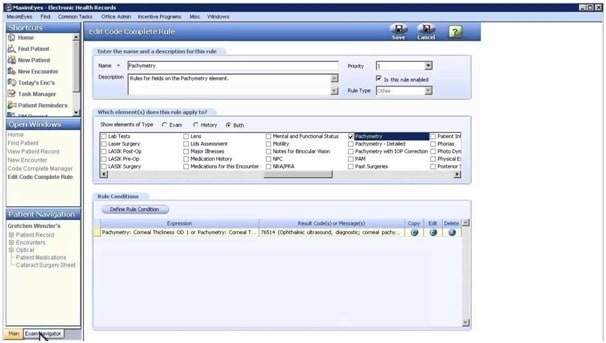 Integrated PM Billing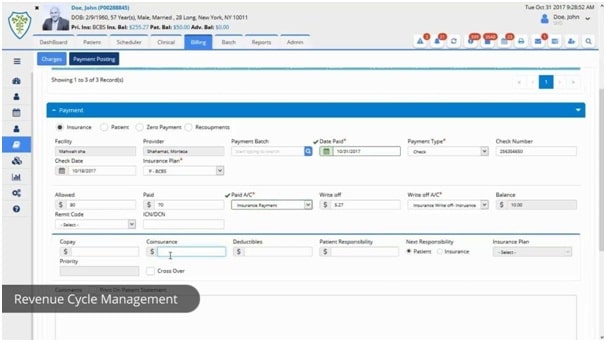 You should select an internal medicine EHR that has integrated PM billing. The PM software will optimize the billing process and provide comprehensive reporting. This way you'll always have billing information on record from all your patients.
There are many benefits of an integrated PM billing system such as the following:
Fewer errors: Manually typing details increases errors on patients' medical accounts. Automatic systems eliminate human errors and provide accuracy in your data entries.
Higher reimbursements: Using a digital billing system helps you save money by reducing the need for printed invoicing and staffing costs.
Improved reporting: With all the information available you'll be able to see where you're losing money so you can close financial gaps.
You must test the effectiveness of your PM billing cycle so you can reduce the administrative workload on your staff.
Ease of Use – Interface and Customization
Another important aspect to consider when selecting an internal medicine EHR is the ease of use. The transition from paper to an electronic platform must be smooth. If the software is too complicated it can slow down the progress of your practice.
So, when you're testing out your EHR demo make sure all menus and templates are easy to find. Consider some aspects that you can customize too, such as templates. A customizable internal medicine EHR platform will make it easier for you to find the information you're looking for.
What Support Can the EHR System Offer?
Doctors are not IT professionals so when you experience downtimes on your EHR platform you're going to need proper support. Select an EHR platform that offers you extensive 24/7 customer support in case you're dealing with a system error.
Integrated Medicine EHR Pricing
Search for internal medicine EHR pricing that's ideal for your business. If you're a small practice, pick an EHR system that offers all the features you need but at an affordable price. Additionally, decide on whether the process and features you're testing are worth the price of the system.
Also, don't invest in features you know you'll never use.
Final Thoughts
As you can see an internal medicine EHR demo is important when making a decision on which system to pick for your practice. Some EHRs are specialty-specific so select demos that have features you think will work well for your practice so you can test them.
Additionally, the demo will help you make a decision based on internal medicine EHR software. Select a system that is affordable, feature-rich and easy to use so you can improve your internal medical practice processes.