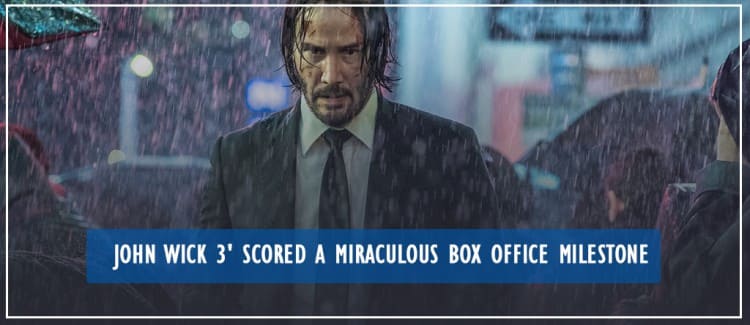 John Wick, the American crime, action, thriller franchise conceived by Derek Kolstad where Keanu Reeves plays the title role of a retired but savage hitman seeking revenge for his loss.
-Fun Fact: 'John Wick has a greater number of kills than the infamous Jason Voorhees and Michael Myers combined.'–
John Wick: Chapter 3 – Parabellum debuted on the box office with a whopping $57 million from 3.8k+ locations, domestically. Parabellummanaged to seize the crown from Avengers: Endgamesuccessfully and took the first position status during its fourth week of screening. John Wick first released in 2014 and made an opening with $14.4 million whereas the 2nd Chapter opened at $30.4 million. The 3rd Chapter,Parabellummanaged to double its precedent by a stunner $57 million opening.
Avengers won't be staying on the first spot during its fourth screening weekend.
What connoisseurs say
The first two movies of John Wick series were a critical success. The first movie released in 2014 had a production budget of $20 million and grossed $88 million worldwide. Rotten Tomatoes gave it an 86% critic score.
Whereas, the second movie, released in 2017 with double the production budget, managed to make $171 million in worldwide collections. It prides in 89% Rotten Tomatoes critic score.
However, John Wick's chapter 3, keeping up with the precedent, received critical acclamation soon after its release. Rotten Tomatoes gave it a score of 88% whereas CinemaScore rated it an A-. Critics praised Keanu Reeves' movie for bringing over-the-top and witty action sequences. Movie critics like Chris Klimek compared it to Mission Impossible series.
John Wick becoming Savag-er than Jason Voorhees
John Wick has successfully marked its spot as the World's deadliest assassin. Previously reigned by the likes of Jason Voorhees and Michael Myers.
Mr. Wick has killed a total of 306 people in three movies. Starting from 84 kills in first, 128 in second and 94 in Parabellum. Thus breaking the record of vicious villains like Jason Voorhees with 157 kills and Michael Myers with 140 of them.
Now brace yourselves, Jason and Michael have 297 kills in 20+ movies COMBINED! Let's see how many victims John will claim in the next movie. 
John the new Avenger (?)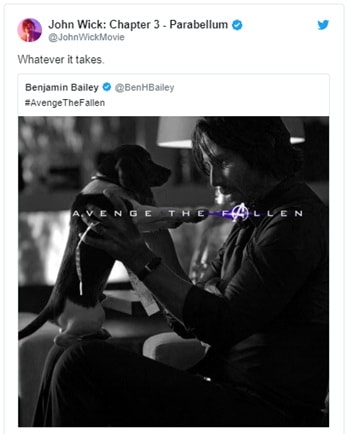 Yes, John Wick is the new Avenger, well, kind of. A subtle yet cool fan art took him to the Marvel Cinematic Universe. Before Endgame's release, there were tons of posters being uploaded on different social media platforms. Fans were quick to respond to the trend and came up with their very own John Wick fan art. The poster depicted John Wick with his beloved pup and the catchphrase – "Avenge the Fallen".
Famous America comedian Benjamin Bailey (@BenHBailey) went on to tweet this fan art that was later retweeted by the official account of John Wick: Chapter 3 – Parabellum (@JohnWickMovie).
More John Wick Movies (?)
The series stuntman-turned-director, Chad Stahelski says that he likes the fact about these movies that you can make as many as you want. Of course, as long as the box office keeps sending business.
He believes that with a creatively supportive studio like Summit Entertainment, they are not afraid to experiment with the plot. Moreover, fans all over the world play a crucial role in boosting this confidence.
He (Chad) thinks that all they have to do is to come up with a mythology and get on with it. Ian McShane the star of Hellboyeven quoted that John Wick series has enough potential to keep nailing for a decade, at least. If not more.
In an interview with the GQ magazine, Keanu revealed that he would love to continue playing the eponymous role as long as the fans want him to. In his response to the question, he said:
-"As far as my legs can take me. As far as the audience wants to go."-
John Wick 3 on Box Office so far
As reported by Forbes, John Wick 3 had made a successful debut of $57million on box office. During the holiday weekend, the box-office collections were $76.6 million in total domestic collections during the first week of screening. However, the collections dropped 17% from Wednesday's collections, making $3.44 million domestically on Thursday. Heading into the Memorial Weekend, the movie has earned $48.3 million internationally thus, it is expected to earn approximately $125 million by the weekend.
Parabellum has successfully managed to dethrone Avengers End Game from the first spot during its 4 consecutive weeks of successful screening.
Optimistic forecasts predict a new worldwide total with $180 million by Monday hence crossing the $172 million mark of 2014 John Wick Movie.
Head on to the theaters to watch it now, and I'm sure, watching it once won't ease your appetite. For that matter, gear up your cable Tvto watch it later. Repeatedly (as I plan to), for eternity!
John Wick Chapter 4 Announced!
Lions gate went on to announce the John Wick Chapter 4 in a very interesting way. They sent out a text to fans stating the next movie in the John Wick series that will hit the theaters in May 2021.
The text went like:
-"You have served. You will be of service. John Wick: Chapter 4 is coming – May 21, 2021."-
Mark your calendars, folks. How you found the movie and its plot? Let me know in the comments below!
Author Bio:
Sean Williamson lives in New York City and calls himself the 'tech-bro', given his special interest in everything that's digital. Besides writing for major technological sites in the spare time, he likes to stay on top of the latest developments, especially in the field of smartphone tech. His dream to create an app that solves if not all, at least some of the major problems faced by people at large. He works as a writer in a company Local Cable Deals.