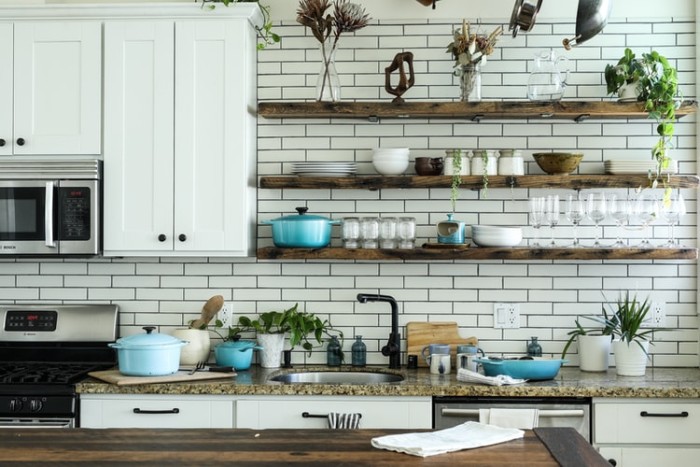 Kitchens are an important and perhaps one of the most used spaces in every home.
Every kitchen goes through a certain level of wear and tear regularly, so it's no surprise that they may get tired-looking and dull easily. With kitchen renovations and remodelling being so expensive, not all can easily opt for a different design.
Moreover, with a functional kitchen that has an outdated or faded design, you need not necessarily change your entire cooking area. All you need to do is get creative and find ways to integrate elements that can instantly brighten up your kitchen and make it more aesthetic.
Whether it is consulting a company offering modern kitchens in Northampton like Saturn Interiors or opting for simpler DIY projects, there's a lot you can do to breathe new life into your old kitchen design without having to spend too much.
That said, if you're looking for budget-friendly ways to revamp your kitchen, you've come to the right place. Here we've put together a list of the best kitchen upgrades for those on a tight budget that will instantly elevate your kitchen design.
So without further ado, let's take a look!
1. Change Your Wall Design
Coats of paint, patterned retro wallpaper or good old tiles – there are many ways you can change your wall design. This all depends on your personal preference and what you would like to incorporate.
If you wish to make the change yourself, you can always opt for a fresh coat of paint for your wall in a pastel or brighter shade to perk up the space. However, with enough funds, you can consider adding stylish retro wallpaper or whatever design you like that fits your kitchen's aesthetic.
Additionally, re-tiling is another great design idea that can instantly create a new look for the space. Whether it is for your backsplash or an entire wall, you can use patterned tiles to create a unique and original look for your kitchen walls. Maybe even consider mosaic art!
With the numerous designs and shapes, you can get as creative as you want. Through this, you add personality to your kitchen and make the space more personalised and comfortable.
2. Switch Up Your Cabinets
Cabinet upgrades are another great idea that you can consider for your budget-friendly kitchen revamp. With the rise of open cabinets and the many benefits it has to offer, consider putting in open shelves in your kitchen.
With this, you can display all your kitchen cookware and utensils, your spice collection and various other kitchen elements to create an aesthetically pleasing design. Moreover, you can add decor and plants to these shelves to elevate them even further. Many fitted kitchens in Northampton, too, sport these elements in their design.
For your open shelves, a nice panel of wood will do the trick. You can consider painting it to make it more suitable for your interior. With these open shelves, even if you do not add any decor, your kitchen features will do the trick and add to the design. These cabinets are that versatile!
3. Declutter The Space
The rise of minimalism in kitchen designs has proven that a clean and open space can be stylish and aesthetic, you need not necessarily overwhelm the area with too many things. This means that decluttering the space can be very beneficial in maintaining a minimalist look.
For this, from adding a storage section on your shelves to having built-in sorters for your drawers, there are many kitchen equipment that you can use for decluttering the space.
With this, a simple paint upgrade can transform your kitchen completely. Whether it is opting for a German kitchen look or something related to the design, you can easily transform your kitchen into a modern space.
4. Upgrade Your Lighting
Many times, lighting can have a huge impact on how your kitchen looks. Bad lighting makes the place look duller and in desperate need of a revamp. If your kitchen fits in this category, consider upgrading your lighting for a brighter and better-looking space.
With this in mind, whether it is spot lighting or pendants, there are several stylish options on the market that elevate every kitchen. Many luxury kitchens in Northampton have incorporated pendant lighting over the kitchen islands to accentuate the area.
The takeaway from here is to place the lighting strategically so that it optimises and enhances every part of your kitchen.
Additionally, LED lights are a better option for any lighting fixture as they are sustainable and help keep your bills low.
5. Replace Your Hardware
For a big impact that does not cost much, consider changing your hardware. While many people don't usually opt for this, a simple hardware change can make all the difference in your kitchen design.
From sleek polished chrome, brass and copper to stylish aluminium or mixed metal, there are several options you can choose from. You can change your sink, faucets and even cabinet handles with these stylish statement pieces to refresh your kitchen design.
Moreover, with the amount of funds you save with this, you can consider upgrading other elements of your kitchen- the possibilities are endless!
To Sum Up
With several budget-friendly options, there are many ways you can revamp your kitchen design without having to spend too much.
While these are only a few ideas, you can get creative and add or change several kitchen elements to make your kitchen more stylish and personalised, thereby making it a comfortable space for everyone.