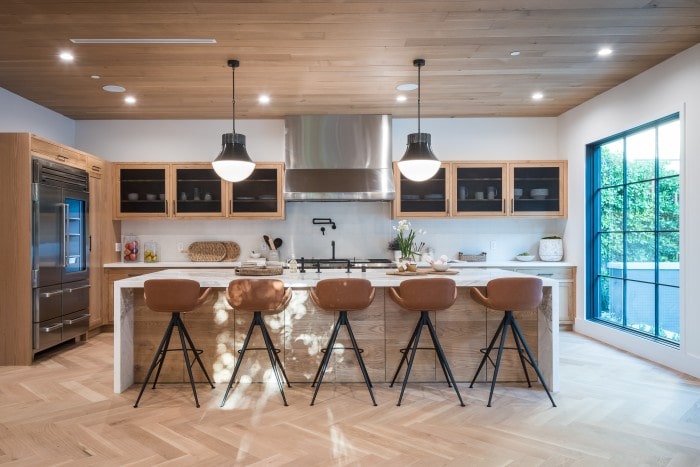 Kitchen is usually the center of most houses and serves as the heart of a home. Apart from cooking meals, it is used for various delightful affairs such as family gatherings, daily planning, or even midnight discussions. Due to this reason, most people aim to recondition their dull kitchen into something pleasant and compelling.
A classy and elegant kitchen also plays an enormous role in reflecting your taste and sense of style. It not only sets a good impression on your guests but also adds to your property's overall value.
However, the desire for a sophisticated kitchen is often abandoned by homeowners when they realize that the price for a kitchen renovation is exceptionally high. Remodeling a kitchen typically requires thousands of dollars, and honestly, not all of us can afford that. Bearing that in mind, we bring you ten ways to remodel your kitchen on a budget.
Get Professional Help
After you're done with setting a budget and breaking down the incurred during the process of your kitchen renovation, you should also consider getting some professional advice. Getting help from a kitchen remodeling company will ensure that you have a proper plan of action and help you in the long run by preventing you from making costly mistakes.
Professionals can help you manage your renovation priorities, and they know the exact cost of everything your kitchen needs.
Add Ready-to-Assemble Cabinets
One of the few essential things that cost the most during kitchen remodeling is cabinets. Cabinets cover most of what someone looks at in a kitchen; they come in different styles and materials. Changing cabinets isn't necessary; however, if you are tired of looking at those same old cabinets or if your cabinets are cracking up and ruining the entire imprint of your kitchen, then it's time to replace them.
Ready-to-Assemble is the best option for people on a budget; they come in all shapes and sizes and usually cost half the custom ones. These cabinets are easy to install and save you from the additional costs of assembling and installing.
Style Old Cabinets
If your cabinets aren't wrecked, then the best course of action would be to reface them. Resurfacing and painting those old cabinets would set a good theme for your entire kitchen. Doing this would save you a lot of money to add and upgrade other kitchen items.
Paints jobs can be tricky because if you're inexperienced with paints and colors, then you might find it tough to find a suitable color scheme for your kitchen. Even if you do manage to find the right colors, it is almost impossible for a beginner to give those cabinets a beautiful finish, which is why getting help from a kitchen remodeling company never hurts.
Utilize Open Shelving
The best way to give your kitchen a fresh look without spending a lot of money is by adding open shelves. Shelves are easily made by painting a piece of wood. Open shelves allow you to be creative as you can remove the cabinets altogether and add open shelves, or you can keep some cabinets and some shelves. This way, you can display your stylish cups and dishes and keep the mismatched ones in the cupboards.
When utilizing open shelves, it is crucial to remember that everything should follow a specific color scheme to make the kitchen look even more admirable. You can also add color by painting the back of these shelves.
Experiment with Countertops
The materials used for countertops, such as quartz, quartzite, and granite are costly, and it is not mandatory to go for such fancy upgrades. There many ways you can incorporate different countertop materials in your kitchen; you can even go for some expensive materials that wouldn't cost a lot.
You can use the pricey countertop materials in different sections; you don't have to cover the entire counter with a single cloth. All you have to do is use the fancy materials in prominent places and use the cheap ones where people wouldn't notice and where you usually work. Some inexpensive countertop materials include laminate and wood.
A helpful tip would be to check out granite supply yards and look for cheap remnants for countertops.
Don't Forget the Floor.
Flooring plays an integral part in adding a charming feel to your kitchen, and it is one of those upgrades that stay for a long time; there are numerous ways you can add style to your kitchen floors; one of them is wooden flooring. Wooden floorings help provide the home a cozy and cottage-like look.
If you don't want to spend on flooring and have other priorities, then the most optimal solution is to cut out a rug for the kitchen. The rug adds more color to the kitchen, adds softness, and protects the flooring.
Bring in Some Light
The best source of light for your kitchen should be natural light. It not only saves money but also delivers an aesthetic look. However, natural light is not always present, and in that case, you can save money by using track lighting. Recessed lighting has its benefits, but it requires many added expenses, such as electrical wiring and cutting holes in the ceiling. In contrast, track lighting is cost-effective and easy to install.
Add a Backsplash
Backsplashes are installed on a small scale; however, they have a massive impact on the whole outlook of the kitchen. Backsplashes come in different materials, and the most common ones are tiles; you can add these above stovetops and behind sinks. You can implement different textures by using materials like paper and glass.
Don't Move Your Appliances.
It is always advised to never move appliances during a kitchen remodeling and, more importantly, when you're on a budget. Moving appliances and electrical items can be very costly as moving these items would cause you to redesign the whole electrical and plumbing layout.
Search for Used Items
Each item that you need for your kitchen remodeling can be bought from thrift shops and flea markets. You can always search for your desired items in garage sales or buy from people who are moving into new houses. Refurbished and recycled items also get undermined; however, they are vital in saving your money. You can find unique and high-quality refurbished items anywhere; all you need to do is keep looking.
Closing Note
Remodeling a kitchen on a budget can be an easy job if you don't deviate from your plan; you can also achieve the goal of saving money by dividing the workload within contractors.
By breaking some sweat and planning smartly, you can permanently save money on a kitchen remodel. The key is to bring things that add value to your house and make changes that satisfy you because you will be the one who's going to spend the most time in that kitchen.