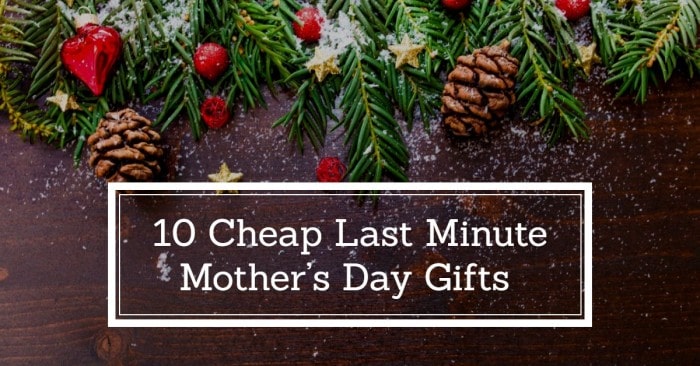 We all undoubtedly love our mothers because they gave us life and showered us with unconditional love. Mothers were placed on earth to be our guardian angels. They make many sacrifices to ensure that we live comfortably, and no matter what we do, our mothers are always there to support us. For these reasons, we set aside two days every year to honor and celebrate their endless efforts of nurturing us to be better people. As much as we would love to appreciate our mothers with expensive gifts, sometimes Mother's Day finds us broke with little cash to spend on gifts.
So what do you do when you don't have enough cash to buy an expensive gift for your mother? Not sending your mother any gift on Mother's Day is not good. What makes mothers great that they will appreciate any gift you send or give them regardless of the price. The market during this time is flooded with cheap last minute mothers day gifts that mothers will love. Still clueless about what cheap gifts to send your mother? Here is a list of cheap last-minute Mother's Day gifts that mothers will impress your mom with.
A bouquet of Pink Carnations
Flowers always make meaningful last-minute Mother's Day gifts because they help us express to our mothers what we feel for them. There are many types of flowers that you can send to your mother. However, most of them have higher price tags. They include roses and tulips. If you want to honor your mom with cheap flowers, a bouquet of carnations is the best option.
A Hand Printed Greeting Card
Sending a greeting card to your mom may not seem like a big deal to you. The card may not cost so much, but the words that you write down on that card will mean a lot to your mother on Mother's Day. Make it unique by printing your card and use your handwriting to write sweet words to your mother. The gesture, no matter how simple it looks, will go a long way by encouraging her.
Best Mom in The World Mug
When you want to appreciate your mother, it's the simple things that matter. Mothers are so sweet and will accept every effort that you make to express your gratitude on Mother's Day. Buying a mug for your mother on Mother's Day will remind her of you every time she sips a cup of coffee, tea, or hot chocolate.
A Pair of Earrings
Your mom has gone through a lot to make you look good, and now that you are all grown up, it's time to earn some money; it's time you return the favor and make her look good too. The good thing about a pair of earrings is that it comes at many prices, and you can get one that suits your gift budget. Your mother will appreciate the gesture you've shown her.
Take Your Mother to Dinner
Another way to impress your mother on Mother's Day that doesn't cost much is to take her out to dinner at a fancy restaurant. She has always made sure that you have food; that's why you've grown to be strong and healthy. Taking her to dinner is a great way to tell her that you are thankful for all the delicious food.
Take Time off Work to Spend with Your Mother
Material gifts are not the only last-minute Mother's Day Gifts you can give your mother on Mother's Day. If you are not always around to spend quality time with her, you can take time off work and spend time with her and discuss a few important things in life. She will give you wise advice on what you should do when faced with different kinds of problems. You can cook for her, do chores, or even run errands for her.
Candy Bouquet
A little bit of sugar in her system won't hurt. Sending your mom a candy bouquet is a great way to tell her how sweet she is to you. Candy bouquets come at different prices, and you can find a cheap one to surprise her with as a last-minute Mother's Day gift.
Sweetest Mom in The World Wooden Wall Art
Does your mom appreciate art? Sending her a wooden wall art with sweet words engraved on it is a great way to honor your mother on this great day for mothers. You can personalize the gift by writing her name on it. Mount the wall art on the living room wall so that she will speak words of blessings every time she lays eyes on it.
A Fruit Basket
Remind your mom that she needs to leave long to see her great-grandchildren by eating healthy food. Sending or giving your mother a basket filled with fruits shows that you care about your mother's health. Fruit baskets don't cost much, and they are thoughtful gifts that any mother will love.
A Throw Blanket
Keeping your mother warm is one way to ensure that she stays healthy on cold evenings and the winter season. A throw blanket is a great gift for your mother on Mother's Day. This gift will prevent ailments, such as the common cold or pneumonia. This is a simple yet thoughtful gift.
Conclusion
I can't think of any person in the world that loves me like my mother. Mothers are irreplaceable, and they always have our best interests at heart. With these ten cheap last-minute Mother's Day gifts, you will impress your mother, and she will appreciate the time and resources that have gone into them. Although they don't cost much, it is the thought behind the gift that counts.