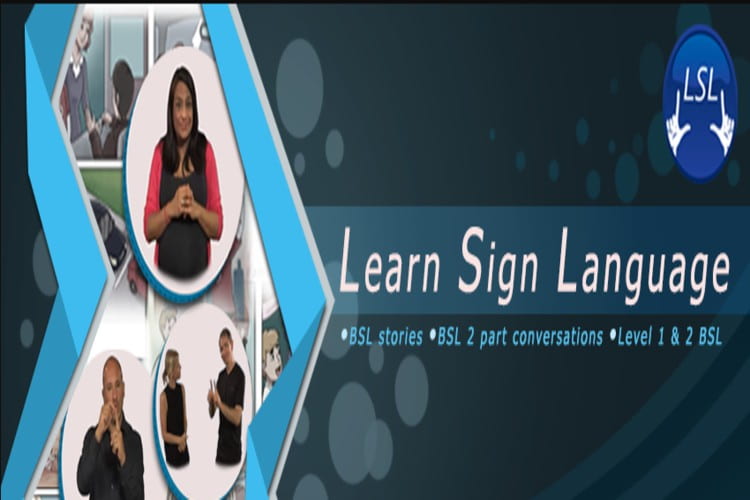 British Sign Language is a visual-gestural language without a conventional written form.  It uses facial expressions (non-manual features), hand shapes, and upper body movements to formulate meaningful sentences. However, the language is quite different from mime.
British Sign Language (BSL) is the UK's official language for deaf people. British Sign Language uses completely different signs as compared to American Sign Language (ASL) and other sign languages.
Earlier British Sign language was used only by the deaf people, but now many people have shown their inclination to learn the language by adding one more skill to their ability. The number of deaf people is rapidly increasing in the UK, and there is a need for building more community centres and schools for tutoring. To teach sign language, you need to have trainers. Therefore, the interpreters and faculties of British Sign Language are in high demand. To help meet this demand, an excellent option would be to choose it to study BSL and become a BSL interpreter or trainer. Experts such as Sonia Hollis, a qualified BSL interpreter (BA Hons BSL/English Interpreting) has the same opinion.
Another benefit of learning sign language is to develop practical communication skills by making use of expressions and non-manual features. British Sign Language online course at LSL helps in improving the overall personality of the person. As you get good command over the language, you gain confidence and impressively express yourself.
Components of British Sign Language
British Sign Language makes use of various components. Let's explore them one by one:
Fingerspelling
Fingerspelling allows us to use English alphabet when spelling out words. In sign language, finger spelling is used to express nouns such as place names, people's names and names of everyday objects, etc. It will be better to explain here that British Sign Language makes use of two-handed manual alphabet system whereas other countries like the USA use one-handed operation. The use of fingerspelling purely depends on individuals however culturally you may find the older Deaf population uses more fingerspelling than the younger Deaf population.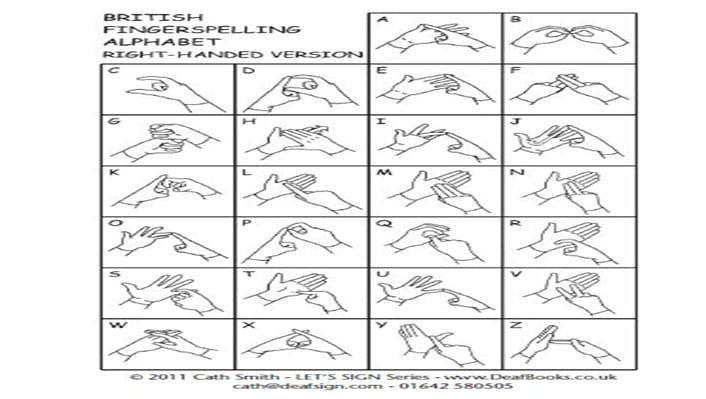 Spatial grammar and simultaneity
When learning sign language, the first aspect of BSL you will learn is to fingerspell, however as you learn more the use of spatial grammar and simultaneity of signs will be increased as you build upon your language skills. It is important to remember that BSL utilises a different grammatical system and word order as compared to English. It also needs to be remembered that you will find regional differences of some signs as you learn, which is a natural richness of the language (as with spoken language you will come across different accents)
Placement
Placement allows you to add a place or sign in space.  The signer locates this "place" within the signing space and the signer is able to refer back to it once it has been set in context without having to repeat the sign again. Using placement and understanding it when receiving information via BSL will become apparent, once you start using BSL in a routine.
Non-manual features
Non-manual features refer to body actions without using hands. They include actions of parts such as eyes, mouth, cheeks, face, head, and shoulders. These movements are quite crucial while using British Sign Language.
Hand shapes
Many hand shapes are explained and used in BSL. Groups of hand shapes are known as 'classifiers' which incorporate specific details of the referent by the hand shape itself. The iconic signs refer to a particular set or group such as cars, women and so on. The classifiers have categories as:
Handling/grasping:
When you hold something with your hands. That describes a combination of two sentences. For example, sewing with a needle, or doing the ironing. These often look as if you are performing something.
Flat surfaces:
You can have a different handshake that will indicate if something has a flat surface such as 'floor,' 'door' or 'wall.'
People and vehicles:
It is similar to pronouns in English. The hand shapes and upper body movements represent the plural sentences. For example, different hand shapes indicate a different meaning. Also, various hand shapes to mention about addressing a vehicle or mode of transport.
Signing structure
The signing structure of every language makes it, and so is the signing structure of British Sign Language. In sign language, we introduce the topic first and then focus on more essential details. The objective of doing so is to develop an ability to explain complex structures.
Is it Easy to Learn British Sign Language?
Although mastering any language requires a lot of hard work but like any other language, learning the basics of British sign language is not so difficult. You can enroll for the free online course to learn the basics of the language
At the end of the course, you will be able to understand the basics of British sign language to use with a deaf person. However, you also may find YouTube videos are quite helpful which teach a little bit more detail with the signs and their corresponding meaning.
However, to learn level 1 and level 2 courses, online one needs to put a lot of effort in. Like any language, it will take time and dedication to build upon what you already know as you go through more and more complex phrases and stories to gain their true meaning.
Benefits of Learning British Sign Language
Many people learn it to support a deaf member in the family or as a hobby, or supplement to their formal class learning. Many learn BSL to get jobs working within the deaf community. In addition, there are some people who wish to learn this language to opt for a full-time profession.
If you have flair of teaching and patience and perseverance to communicate with deaf people around you, contact us at learning sign language. We will be proud to support your learning and practicing of British Sign Language. We have a team of experienced trainers and presenters such as Sonia Hollis who have brilliant achievements in this field and successfully pursuing their professional carrier.
Go with the Heart
As explained earlier, it takes dedication, patience and a lot of patience in learning BSL so you can use it to develop your communication skills and do what is meaningful for you to do. But this is for sure, the hard work and dedication will bring positive results.
Keep exploring the discount offers at LSL to learn British Sign Language course at the minimum cost. It's always better to do what your heart says. So, make up your mind and get back to us. For learning British Sign Language, you can rely on us!
Author Bio
Sonia Hollis is a hearing British Sign Language Interpreter based in Northamptonshire. Presently, she is associated with many agencies in the UK to teach British Sign Language. She has mastered the language and her keen interest is to help the deaf people get benefitted from it. She helps people to choose BSL as a full time carrier option by guiding and nurturing them by giving her valuable tips.