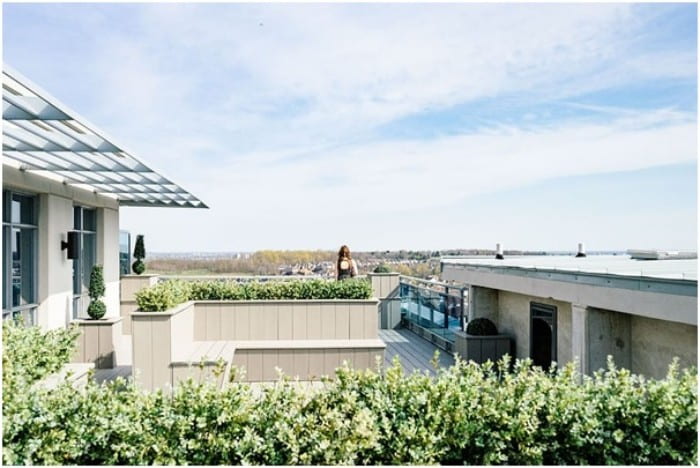 The house is a place of comfort and belongingness to the people living in it. Your house is your family's comfort zone. You can be who you are, look as you are and do as you do inside your own house. It's where home is found, and it's where you are found.
There's indeed no place like home, even if you go searching the whole world to find another place like your own house, your home, you will go back with nothing. What's even lovelier is that you yourself can improve your house to transform it to a more pleasant home for you and your loved ones. One of the most unique ways to let that happen is to rooftop garden ideas build a rooftop garden on it!
It's rare to see a family house with a garden on top, but if you have it, it's surely fulfilling. Moreover, it turns everything better, and you wouldn't even know the good things you will get will actually happen! To understand more of a rooftop garden's advantages, below are 8 ways it makes your house a better home!
[1] IT IS SPACE-SAVING.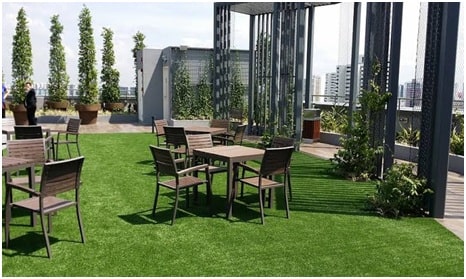 Many people desire to have their own gardens at home. The usual hindrance is the space where to establish the garden.
What's excellent about a rooftop garden is that it helps you have that garden dream while you are saving a lot of space! And that's absolutely a lot because you don't need a backyard or an extra space in front of your house to put it. You can have it right there on the space where your house stands!
With that, the space on land which you are supposed to use for your garden can be used for another productive purpose. Furthermore, when you want to extend your rooftop garden, you can stretch it upwards, still occupying the same space. Meanwhile, if you have a garden typically on land, expansion is usually horizontal, unless you will building another "small building" for your plants and flowers!
[2] IT ADDS BEAUTY.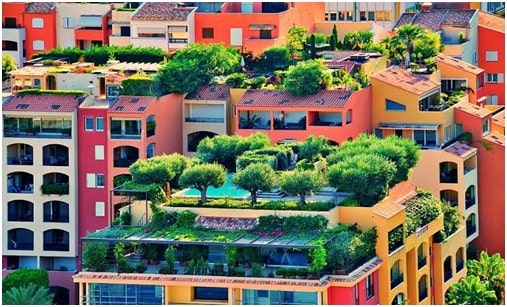 Obviously and unquestionably, a rooftop garden adds beauty to your home. Your beautiful house can be made even more visually attractive and desirable. It can give color to darkness and saturation to paleness. It can sprinkle enthusiasm to boredom and pour out liveliness to dullness.
Greens and florals cannot be usually seen in the urban city nowadays; buildings, houses and vehicles are included in everyday's views. A rooftop garden makes the difference to and for your house. It's like a rose among the thorns.
[3] IT REFRESHES YOUR PLACE.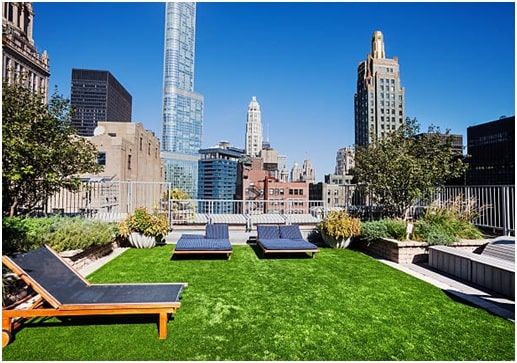 Air quality is improved when you have a rooftop garden. It's like a big factory where carbon dioxide emissions are converted to oxygen, thus, oxygen is produced well and abundantly. Pollution and its effects can be decreased and filtered through the plants and the deposition in the space.
It makes your house and its surroundings a fresher place to be in. Rejuvenation is not hard to reach at all. You can think well and live well in a place where you can feel healthy just by breathing in the air! There's certainly nothing like the air that has been filtered naturally!
[4] IT LESSENS ENERGY COSTS.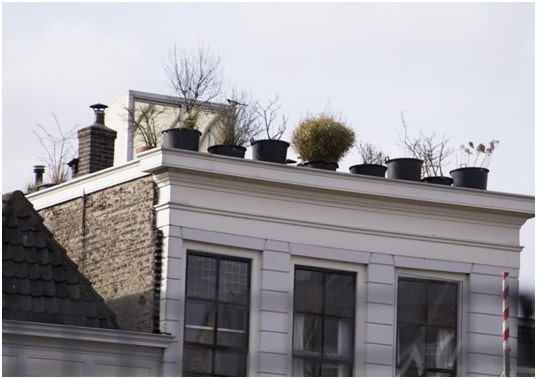 Rooftop gardens help in preventing too much heat inside houses, so they contribute in reducing energy costs. They can lead to more effective and efficacious use of energy at home. Also, they provide awesome insulation so you can feel cool even if it's summer and feel warm in the middle of winter.
As a result, you lessen the use of air conditioning units in hot days. As you know, it is understandable that during summer and other hot occasions, electric bills go higher because you keep using electric fans and air conditioning units longer. At the same time, you tend not to use just one but more! With the help of a rooftop garden, you can save not only energy but also money!
[5] IT EXTENDS ROOF LIFE.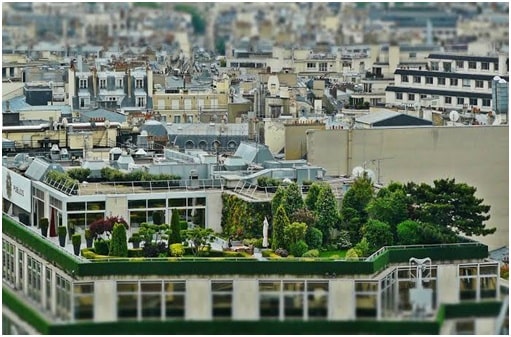 A surprising benefit of a roof garden is the shield it gives over the underlying roof covering. With this, you are able to extend roof life. You don't have to usually meet with your roof expert to fix roof repairs you have always been stressing out about.
The rooftop garden aid in increasing the lifespan of your roof fabric. The roof membrane which is very important is protected from the effects of climate and weather changes and from damages caused by other external and environmental factors. Roof problems are prevented, so roof repairs don't have to be done always. That results in saving money again, and of course, a tougher house where you can be more secure and safe.
[6] IT REDUCES NOISE COMING IN YOUR HOUSE.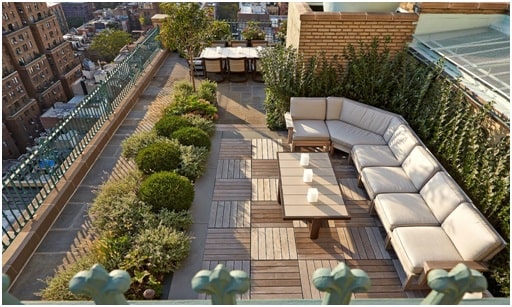 The insulation rooftop gardens supply is not only in terms of temperature but also noise. If you have one, you will profit from the noise reduction feature it has, especially if you live in the middle of an extremely busy city or near airports.
That is because of the absorption and deflection of sound waves caused by plants and soil's power. You can have better sleep and a good stay at home even if airplanes pass over your house.
[7] IT CREATES AN INSTANT PARK FOR YOU.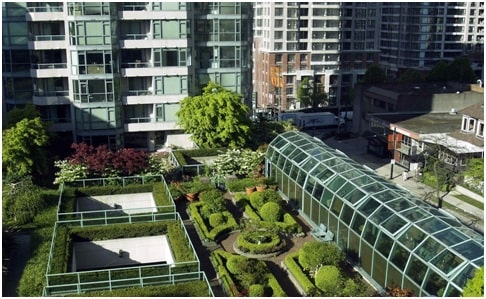 You don't need to go to far parks and botanical gardens anymore because you have your own, and it's even better since it's above your house. This is a good place where you can be entertained and where you can relax. You can bring your guests up there, and they will surely be captivated by the comely setting of your plant and flower collection.
What's more, you can have personal events held on the rooftop garden while making sure no one will harm your darlings!
[8] IT MAKES YOU HAPPIER.
Finally, with all of those mentioned above and more, a rooftop garden at home will indubitably make you happier. It's like a safe place, a playroom and a go-to area where you can stay half day yet feel no stress and weariness. Being with your plants, talking to them and watering them are simple yet amazing ways to be happier and find another home inside your own home. 
LOVE ON TOP
Rooftop gardens are unique additions to houses. It's like capping off your house with a flower crown that makes it even more delightful and graceful, full of allure and love on top! A rooftop garden provides many great things that actually make your house a better home.
AUTHOR BIO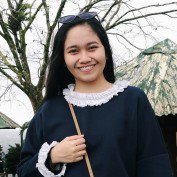 Nicole Ann Pore is a writer, an events host and a voice over artist. Travel, health, shopping, lifestyle and business are among the many subjects she writes about. She also writes for Young & Co Roofing Manchester, an excellent roofing and cladding company in Greater Manchester. She graduated Cum Laude from De La Salle University Manila, Philippines with a Bachelor's Degree in Communication Arts.