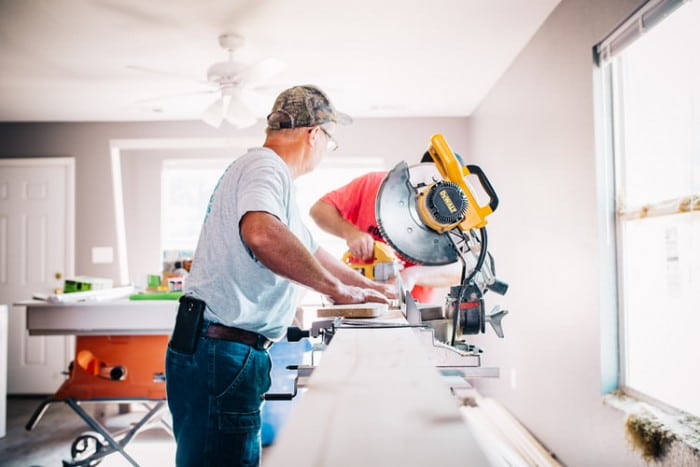 Miter saws can be very important in your workshop for they help in making angled cuts on wood and other materials.  A great miter saw should deliver good performance and durability. Dewalt and Makita are some of the most known miter saw manufacturers on the market. Their products are not only of high quality, but also have great features that make them easy to use.  In short, the two brands are known for great precision, compact design and high levels of power. Below, we will look at the different miter saw features before determining the one that will suit your needs the best.
Motor
The Makita is fitted with a 15 amp direct drive motor that delivers top performance but with little maintenance. In addition, the motor delivers a maximum speed of 3200 rpm. This enables you to handle a wide range of tasks and projects.
On the other hand, the Dewalt comes fitted with a 15 amp brushless motor that produces more power and extended durability. This motor also features a 3800 rpm speed that extends the range of materials that you can handle.
Cut capacity
The Makita is fitted with a large cutting capacity of 8 inches. This provides you with a wide cutting range that covers all commercially available materials such as block boards and hard boars. In addition, the saw can give you a 15 inch crosscut at 90 degrees.
The Dewalt on the other hand can cut 2 by 16 inch dimensional lumber at 90°. But at 45 degrees, this saw can be able to cut a lumber of 2 by 12 inches.  The back fence on this saw helps in holding the material during the cutting process.
Design
Makita has implemented a great design in their miter saws as they feature a 4 steel sliding system that provides for rigid and superior cuts. This system makes it easy for you to easily move the material that you want to cut.
Dewalt on its part has a stainless steel miter detent plate with a few positive stops that ensures great accuracy and improved productivity.
Features
Makita has put some interesting features on their miter saw. To begin with, the saw comes with a laser system that makes a line of cut. As a result, you are able to make very accurate cuts on different materials. Also, the tool comes with an on and off switch and a micro adjustment system that sets the left and right blade cutting.
The Dewalt miter saw on the other hand comes with an XPS positioning system that enables the user to make accurate cuts on different materials. This is because it comes with an adjustment free cut line indication.
Comparison
Makita miter saw
When it comes to longevity, Makita miter saw owners have nothing to complain about. This is because Makita has a good reputation for producing high quality power tools that last for a long time. Their miter saws also boast of reliability and consistency and therefore, are assured of serving you for many years to come. Part of the reason for this is the 15 amp direct drive motor that delivers top performance with very little wear and tear. The motor boasts of about 4000 rpm and that is enough to handle most miter saw applications. With this, you can rest assured that you have a quality product that will serve you for many years.
Pros:
Highly performing dust collection system
Great cutting capabilities. Works on different materials with very little effort.
Receives great reviews from users.
The blade is stable during action
Comes with an ergonomic handle for improved comfort
Lightweight tool that enables you to work for long hours
Cons:
Has only one bevel
Lacks laser for guided cuts
Dewalt miter saw
The Dewalt miter saw on the other hand is a good product for those using miter saw for the first time. This is because the tool has been simplified so that newbie users can have an easy time while handling the unit. Newbies have a tendency to get injured by miter saws. Luckily, Dewalt has taken this into consideration and installed several safety features that protect the user from injuries. However, it is very important to read the manual before using any new power tool. This is to ensure that you are well conversant with different parts and operations of the tool.
Pros:
Easy to use and change blades
Compatible with a number of blades
Can cut wood, metal and plastic
High speed of 3800 rpm
Double bevel mechanism
Can make cuts without constant calibration
Cons:
Lacks LED light guide
Plastic components feel weak
Conclusion
When considering a Makita miter saw and dewalt miter saw, the Dewalt model is more desired especially when you want to handle heavy duty applications. This is because the tool is fitted with many features that make it ideal for its job. Its lightweight feature is loved by many as it helps delay the onset of fatigue. Also, this tool can be able to complete complex cutting jobs faster owing to its ability to make both horizontal and vertical cuts in one pass.