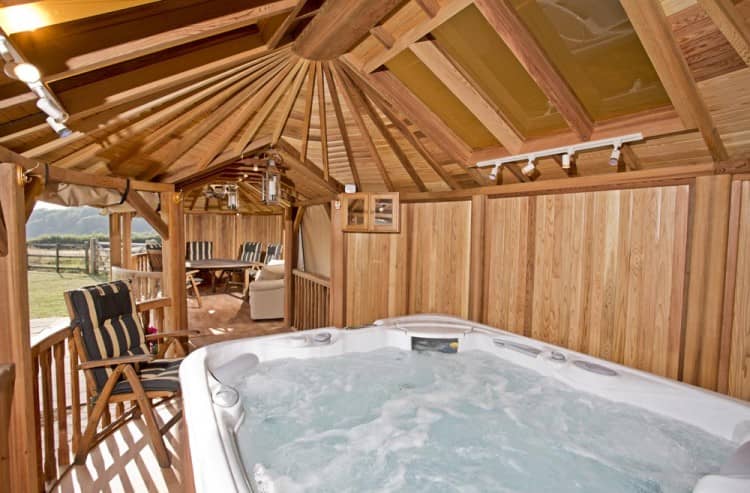 What's the point of having a hot tub enclosure? Basically, to relax! There's nothing wrong with having this luxurious backyard feature in your home. If you have a big and busy family, chances are you're going to need this more than ever. Hot tub enclosures are fun add-ons that can really help you take a break from the world. Whether it's a closed structure or it's open air, as long it's the right one for you, then you're bound to find some peace in it. It's also a part of your home, which makes it a personal space as well.
When decorating and using your hot tub enclosure, it's vital that you do so with the foundation of inducing the best relaxation for you. Don't go all out and suddenly find that the vibe of the structure isn't all that inviting. Think about various ways of making it a relaxing sanctuary, and one important aspect of it is space. The more space your hot tub enclosure has, the more relaxing it is. Fortunately, here are some tips on how to maximize space inside your hot tub enclosure.
Get a Proportioned Hot Tub 
First things first, you have to start with the most important part of this backyard feature, the hot tub. It's understandable you'd want a big hot tub, almost swimming pool-like, for your enclosure. This makes it more luxurious to look at and more space for you and your guests. But it's important to remember that the bigger the hot tub, the less space there is inside. However, this doesn't mean you have to get an extremely small jacuzzi neither. When choosing one for the enclosure, get the right size that's proportionate to the overall structure. This will maximize any spaces while giving you enough leg room in your hot tub as well.
 Hang the Plants
 As with any other part of the house, it's always a great idea to bring in some plants. Such botanical bliss with freshen the air inside the structure, provide relaxing scents, and simply brighten up the enclosure. But instead of incorporating the usual potted plants, go for the hanging ones. This will better maximize the space inside the structure while still providing the benefit of having the plants. And imagine how beautiful it would look the likes of lavender flowers and lemon plants are hanging from the ceiling of your enclosure. This is the best way of incorporating plants inside your hot tub enclosure.
Lessen the Furniture
At its essence, what exactly do you need inside your hot tub enclosure? There's the hot tub, of course, but what else? A cabinet for towels? Maybe. A few chairs? Sure. A table for the candles? Maybe not. If you want to leave some walking room inside your backyard structure, it's better to lessen the furniture. That towel closet can just be situated in the house nearest to the enclosure. The candles can simply be placed on a plate and perched onto sides of the hot tub. And people can simply sit on the sides of the jacuzzi. There's no need for a lot of furniture inside your hot tub enclosure. 
Add Cushions 
If you or other people who frequent the enclosure are not too keen on sitting on the sides of the hot tub, then go for cushions. Big, fluffy, and maybe even colorful cushions can add some sitting spaces and color into your backyard structure. At times, these cushions can be so big that the can fit two or three persons on them, so you don't have to buy a lot. And the best part? When they're not in use, you can simply store them inside the storage closet in your house. At least with this sort of seating arrangement, you're guaranteed more space inside the hot tub enclosure. 
Mount the Furniture 
Sometimes, people can be extremely particular when it comes to furniture. They'll need a storage space inside the enclosure to store their stuff. Other times, they'll need actual seats instead of big cushions lying around. If you're one such person your frequent guests are, then you can still incorporate furniture while still maximizing the space. You can do so by having them mounted on the walls. a wall closet for the items and some foldable or hanging chairs make for useful furniture that can be easily put away when not in use. With such, everyone is happy inside your own hot tub enclosure. 
Go for the Open Air 
No matter how much you try maximizing the space inside your hot tub enclosure, it can still look cramp and stuffy. A big part of interior space is the illusion of it, and if your structure is too closed off, it can still look tight even when it has virtually nothing but the hot tub inside. The best way to counter this is to have the hot tub enclosure open air instead. Let in the breeze and the light to create the perfect ambiance of a carefree and spacious hot tub enclosure. You can just incorporate curtains and shutters to ensure privacy for you and your guests. 
Light it Up 
One of the best ways to maximize space is to create the illusion of such, and lighting is probably the easiest to do. It's simple if your hot tub enclosure is open air, as the sunlight and moonlight can do the trick. But what if it's a closed area? Go for ceiling or wall lamps or scented candles. The former can ensure enough space and legroom outside the hot tub for your other guests who are not dipping in the jacuzzi. While the latter can provide the same light illusion but adds a relaxing touch and vibe with their soothing scents. 
Establish a Limit 
When it comes to relatively small structures such as hot tub enclosures, no matter how much you maximize the spaces inside, if there are too many people, it'll still be tight. Hot tub enclosures are not for large parties, but small gatherings of families and friends. If you're having one built in your home and you intend to invite some people over, establish a limit. This will save some space and it should be noted that having too many people in a small enclosure is a dangerous home hazard.
When you think about it, maximizing the spaces inside the  hot tub enclosure isn't all that difficult. It's all about thinking about the possible ways your backyard structure inviting and enticing.