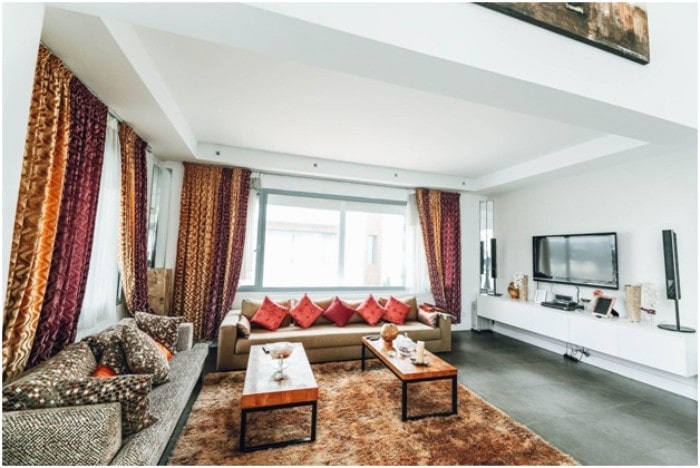 For many households, the living room is considered the heart of the home. It is the place where functionality and comfort go hand in hand. Whether your living room is tiny or you simply want to make the most of the space available to you, savvy property upgrades can transform a living room into a versatile and fully-functional living space. Here are a few top tips to help you maximize your space and create a more spacious and efficient living room.
De-Clutter Your Living Space
A tiny room can feel a thousand times smaller if it is jam-packed with bric-a-brac and junk that you no longer need. If you want to create a living space that looks and feels more spacious, the first thing you need to do is clear out the things you don't need and de-clutter. Rather than putting things back where they belong immediately, some people leave them out in the open instead. This leads to miscellaneous items taking up free surface space and overwhelming the living room. Try to get into good habits and stow items away in their rightful place after use. In addition, go through every single thing in your living area and ask yourself whether it belongs there. Separate the items that belong from the ones that don't. Go one step further and create 'keep,' 'throw away' and 'donate' piles. Be ruthless and discard everything you no longer have a use for. Any items that are still in good condition can benefit others if you donate them to charity.
Rearrange the Living Room Furniture
One of the easiest ways to improve functionality in a small living room is to rearrange the layout. Strategic furniture arrangements can help you maximize floor space and improve traffic flow. Begin by choosing appropriately sized furniture that is scaled to the room. Try to avoid oversized pieces of furniture as they can make a space feel more cramped.  Choose multifunctional furniture with a sleek design. Multi-purpose pieces like sofa beds are great for studio apartments and can be used to accommodate guests. Ottomans are also great for hidden storage solutions.
Make the Most Out of High Ceilings
Those who are blessed with high ceilings can make the most of this vertical space by styling it up. Decorate high ceilings beyond eye level to draw the eyes away from the compact floor space. Installing window treatments closer to the ceiling and slightly above the window is a design trick that will make your living room appear larger. In addition, you can maximize high ceilings by decorating your walls with artwork or installing floating shelves higher up toward the ceiling.
Stretch Out Your Living Room
It doesn't matter if you have high ceilings or not, all homeowners can make a living room appear taller by stretching it out vertically. You can do this by furnishing your living room with pieces of furniture that sit closer to the floor. Plush armchairs with low backs, coffee tables with short legs, and the collection of Ploum sofas from Ligne Roset are perfect examples. The juxtaposition of these low-standing pieces of furniture with the higher level décor around the room can help elongate the appearance of the living room. This design strategy is effective in adding height to any compact room in the home.
Seek Interior Design Advice From a Professional
Sometimes you need a professional touch to achieve the aesthetic you desire. If interior design is not your strong suit, seek guidance from an experienced interior designer. These professionals are trained to transform your property into the home of your dreams. They often charge by the room, and they offer helpful consultations to gain insight into your specific requirements for your living space.
Create the Illusion of Space with Mirrored Surfaces
A smart design trick employed by hospitality professionals is to create the illusion of space using well-placed mirrored surfaces. This trick can be easily adapted to a home environment. Tiny living rooms can appear much bigger by decorating the wall with a large landscape mirror. This mirror bounces light across the living space and adds depth to the room. You can also make the room appear more spacious by decorating it with mirrored furniture and glass furnishings. For example, a glass coffee table with metallic legs can help you open up the living room.
Heat Your Home More Efficiently
Stand-alone heaters can take up a lot of room in a small space. Not to mention, they are sometimes unnecessary. Many properties feature central heating, which can be programmed to keep the home at a comfortable temperature. Rather than using bulky heaters to warm the living room, use the central heating system instead. Getting to grips with your home system can help you save floor space, money, and it can make your home more energy-efficient too.