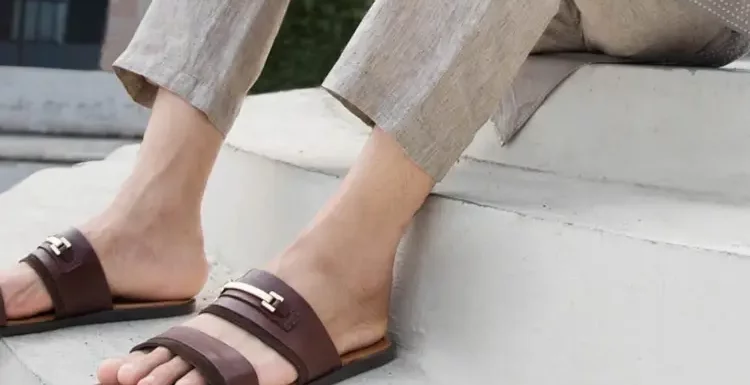 Shoes are not just a random accessory to purchase; they are an investment. The right footwear can last several years and become a staple in your everyday wardrobe. This is why it is essential to do your research before purchasing a pair of new men chappals or shoes. To ensure excellent quality and comfort, keep in mind these five factors while shopping for footwear:
1. Size: Measure your feet before purchase. While shopping online, use the size chart on the website to compare UK, US, and Indian shoe sizes for clarity. In case you are between two sizes, always opt for the larger men chappal.
If you are shopping in person, try the shoes on and walk around. Check if your toes and heels feel comfortable and whether you can wiggle your foot with the shoes on. Remember – the perfect shoe or chappal is the one that offers a snug fit, does not feel too tight, and provides ample room for your toes to move.
You can go through reviews and ratings while online shopping to check how the designs of your choice fit others. Some websites simplify this process by classifying all products as fits, looser, or tighter than expected.
2. Material: Men's chappals and shoes are made of different materials, such as leather, textile, synthetic, rubber, and foam. Each of these has its unique advantages. While leather is flexible and long-lasting, it is difficult to maintain. On the other hand, artificial fibres like polyester and nylon, despite being lightweight and durable, are non-biodegradable. Further, foam shoes improve balance and stability but can cause excessive sweating.
So, assess your requirements before selecting the material for a pair of men's chappals or shoes.
3. Flexibility: If your footwear is not flexible enough to bend, it might be uncomfortable to wear and break after little use. While buying a men's chappal, check for shoes with soles that are stiff in the middle and flexible around the toes. They last longer and allow complete movement of the feet, ankles, knees, and hips.
4. Finishing: Check the inner sole of your men's chappal for any tags, seams, or stitches that are uncomfortable to touch. If left unchecked, these can result in blisters. Assess the thickness of the sole – are they sturdy enough to protect you from sharp objects? Do they offer ample cushioning? Do they feel equally comfortable while walking on different surfaces? These minute details are crucial to pick the best footwear!
5. Climate: Different men's chappal designs fit different climate conditions. For example, if where you live is:
(a) Warm – Look for breathable materials that allow air to circulate
(b) Prone to heavy rains – Pick a sturdy, waterproof material
(c) Cold – Select chappals that offer maximum coverage and keep your feet warm
Now that you know all about picking the right men's chappals and shoes, shop for your favourite ones from the hundreds of designs available online. You can choose from a wide, diverse collection of high-quality chappals and shoes in numerous colours, fabrics, and finishes. No matter the event, occasion, or requirement, there are men's chappals and shoes in a plethora of styles and designs.