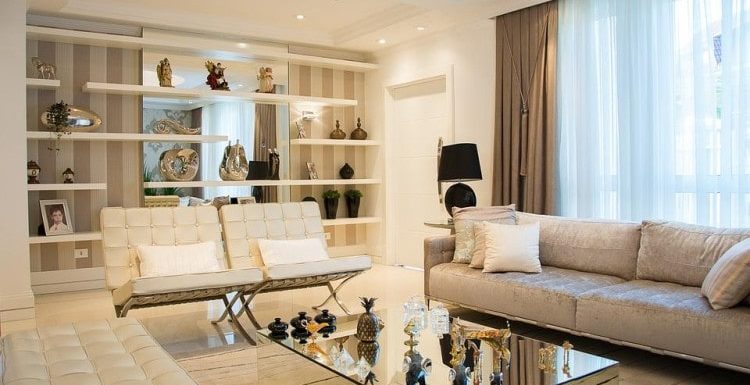 Interior design plays a vital role in a home, and there are new and upcoming design trends that are making waves at the moment. There's currently a heavy focus on comfort and the use of minimal space. 2022 is also now is seeing retro and vintage designs make a strong comeback in homes all over the world. It's worth researching the popular interior designs of 2022, whether you are renovating your current house or buying a new one.
Now that more people are spending time at home, interest in interior design is reaching new heights. Popularity with new and classic interior designs increased dramatically 2021 as we saw more use of home accessories, colorful wallpapers, new paint styles and more. However, like everything, interior designs are constantly evolving and you need to keep yourself up to date with the new designs popping up in people's houses.
2022 is already an exciting year with the new designs out. There is definitely something new that can be added or modified in your house, be it your bedroom, living room, or kitchen. The popular interior designs in 2022 are all about minimalism and sustainability while maintaining elegance. New colors, textures, furniture, and more are being developed or reintroduced in houses. We have curated a list of the most popular interior design trends for 2022. Read on to find out more.
Minimalism and vintage style
The prominence of minimalist designs has been growing for several years, and the growth is not slowing down anytime soon. It is said that a lot of times, only half of all the items in a room are truly needed. This modern interior design style involves simplicity and the use of only essential materials. Homes now are filled with a lot of light, air, and uncluttered spaces. The popularity of this design style is soaring because of how functional and elegant it is. It sets the mood for peace and relaxation.
Interior design styles that were popular in the 80s are also being brought back. The use of wallpapers, rugs, and patterns is in vogue. The vintage style is highly sustainable and introduces a sense of calm to houses. It makes the house very unique and personal to one's taste.
If you're looking for some of the most fashion forward products available on the market, Danish brand Menu Furniture is one of the most popular design brands with hundreds of minimalist, Scandinavian inspired products.
Distinct Patterns, Textures, and Colors
Colors make everything better! A lot of houses in 2022 have been going all white with the use of black accents. Neutral colors for walls, furniture, and sofas are all the rage now, and the black accents on lamps, handles, or cabinets draw attention to the elegance and class the designs represent.
Patterned jute is a popular element designers are using to add texture and depth to spaces. Colors like stone grays, warm chocolates, bisque, and tinted black are used on walls to add a stylish look to houses.
More Houseplants and Marble
The use of both indoor and outdoor plants is on the rise in 2022. Houseplants are not just for decorative purposes. They add a calming effect to homes and also help in purifying the air. Some plants can increase the humidity in a space, and with them, you do not need to spend money on humidifiers or air purifiers. Plants such as Monstera, Sweetheart plant, and Snake plant are popular choices for homes. They add beauty to spaces and are able to grow with partial sunlight.
Marble adds a luxury feel to the house and are used in various parts, such as the kitchen, bathroom, closet, and more. In 2022, Italian marble was popular in living rooms due to the comfort and style it brings with a clutter-free design.
Multipurpose Rooms
Rooms that can be used to carry out multiple functions are popular in homes now. People are starting to understand that you can live a more streamlined life with less clutter. A lot of creativity is going into spaces now where they can be used for different activities.
One of the most common ways people have been using multipurpose rooms in 2022 is by having the kitchen and dining room together in one space. You can get creative with the arrangement and choice of accessories and furniture to highlight different parts of the room and make it distinct. Living rooms are now being used as offices and work-out spaces. With the right structures and perspective, these interior designs always come out looking neat and functional.
Nature-Inspired Surfaces and Materials
Having a natural look present in your home introduces class and elegance. In 2022, ornaments, sinks, bathtubs, and furniture will have more natural surfaces such as travertine, stoneware, and granite. These surfaces have a raw feel that connects one to nature. They add depth and improve the perception of a room with their reflections and color contrasts.
Exotic flora and fauna fabrics and wallpapers give rooms a refreshing look that can make the house feel exceptional. Earthy elements such as clay and wood, as well as classic marbles, make a space feel grounded and bring life to it. Natural interior designs are simply more dominant and they create a peaceful experience with an organic feel at home. Wicker and rattan pieces are environmentally friendly and are being used in a lot of homes now due to their beauty and durability.
Final Thoughts
Trendy Interior design in 2022 is about class and style. New design elements and structures are being combined with old ones to give the desired look in houses. These interior design trends are the most popular now because they are not only beautiful and sophisticated, but they are also affordable. You don't have to spend exorbitant amounts to achieve these looks, and a lot of them are timeless classics. In the years to come, several of the current interior design trends will still be in vogue. They may just require a little tweaking or revamping.
Are you motivated to follow 2022's most popular interior design trends? Get started now with this article and show off your interior designs to your social media and friends.