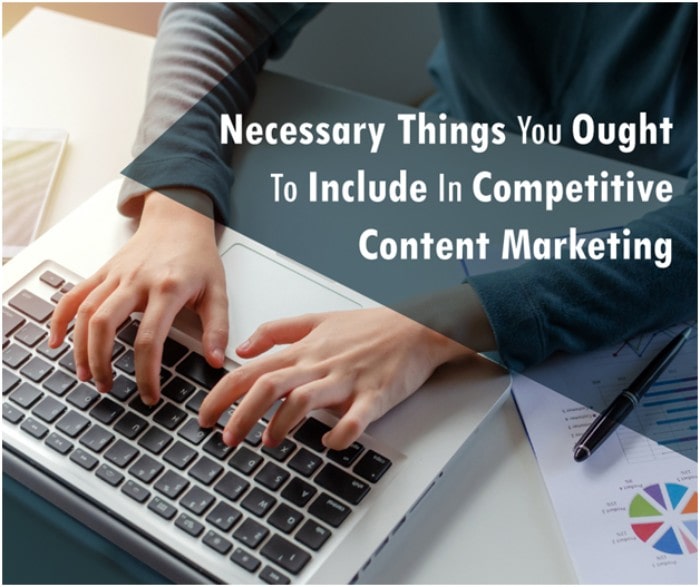 There are a lot of advantages to performing competitor content analysis. You get to learn the tricks that make other brands in the same niche successful. You can also learn from their mistakes/successes. With rich insight, you can publish super helpful content and rank higher in the search engines.
Without competitive analysis, you could easily fall back and miss out on some incredible ideas that could drive serious business growth for you.
With that said, it's important to do it right. In this post by SPOPLI, we look at things you must include when you set out to analyze the content of your competitors. Here they are:
First Things First… Know Where The Content Is
Start with a website audit of your competitor. The aim is to look for the most 'content-rich' places. That means you will have to do some poking around the website to land in the right spaces. Ideally, you would want to start with the navigation bar. Mostly it's the 'news', 'blog', and 'case studies' tabs that have the richest content. You may also want to look at the bottom of the page. Other times you will have to go into the sub-navigations.
Look into the type of content published. Is it heavy on blogs, news, case studies, or video content?
Analyze the Quantity and Frequency of Content
What's the number of blogs that the competitor has published? What about e-books, whitepapers, and case studies? See if your website is keeping up with that frequency. Perhaps the competitor publishes twice a week whereas you have a weekly or bi-weekly schedule. In that case, you will have to up the ante.
The next thing you would want to look into is – distribution of topics across the board. The aim is to look for the nature/type of topics and contents that are heavily concentrated. Perhaps you're observing a pattern where similar kinds of topics focused around the same theme are appearing more frequently. Perhaps the competitor is trying to capitalize on those themes and establish itself as a thought-leader. If that is the case, you may want to start focusing on themes and topics that you're lacking in.
Analyze their SEO Focus
It's not enough to analyze the quality, topics, and frequency of content. You MUST also look into the SEO and optimization aspect.
To perform a qualitative assessment of the SEO, look into the keyword usage and concentration into the following areas:
Page Title
URL architecture
H1 tags
Title
Image alt text
Keyword density within the content copy
Internal linking
For a more comprehensive reach, you can even use paid tools out there. Some of them are free as well. For instance, the Competitor Tracking Tool by HubSpot is a good one.
Analyze the Content Quality
This is the most subjective part of the entire analysis. Below are a few factors to take into consideration when evaluating the content quality –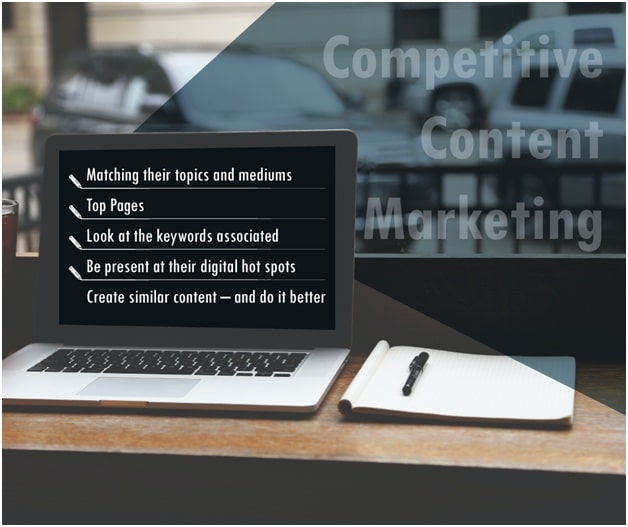 Is the content accurate?
Do you notice a lot of spelling/grammatical errors?
Does the content only touch the surface of the topics or do they go in-depth?
What's the tone? Is it too structured, formal, informative, or informal?
Do you see more long or short-form content?
Who's contributing to the writing? Are there multiple contributors or is it a one-man job?
Look into their Social Media Presence
Social media is an invaluable tool to gain incredible insight into your competitor's content strategy. Be sure not to ignore it. You should start by analyzing all the platforms where your competitors are present. Are they present on Facebook, Instagram, YouTube, Google+, Pinterest, or some other place?
What type of content do you notice the most? Make sure to look for the caption and the hashtags because they are super useful. You should also look for the length and tone of the content.
Perhaps you see more video content than image content? Make a note of all these points. These will give you solid grounds on which to expand your own content.
Also, look into how your competitors interact with the audience. Do they respond to the comments? What kind of comments are they getting? Judging by the number of likes, do you think your own brand will do good by repurposing or building upon the same kind of social media content copy?
Do What they're Doing… Better.. to Dominate the Conversation
Once you have all the benchmarks against which to weigh your brand's content strategy and plan, it's time to get to work. Focus on establishing yourself as the thought-leader in the arena. That means you will have to dominate the conversation. But, that won't be possible unless you do everything better. That means going the extra mile. Make sure to cover all the topics competitors are covering and churn out quality content.
Be sure to dominate the conversation. Incorporate all the USPs that you see in your competitors' content and make it a part of everything that you publish.
In Conclusion
If you can manage to incorporate these tactics into your competitor analysis, in no time you will start dominating the space in your niche.