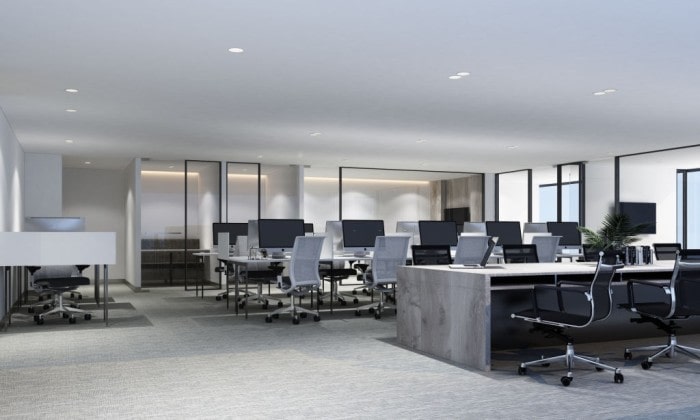 Planning to invest in a budget-friendly office décor but don't know where to start?
Just as clichéd as it sounds, an interior décor master plan all comes from creativity and unique-strategic thinking to make sure budget doesn't really get in the way.
So how do we turn a mundane-routine workplace into a place full of productivity, innovation and overall wellbeing for everyone in it?
Let's dive into 12 creative yet straightforward tricks to revamp office décor with a minimum cost.
1. Get rid of unnecessary clutter
Decluttering is a great way to step up the whole office decoration process. And there are two ways to achieve that. Investing in a unique storage solution that takes up less horizontal space and digitising. Compartmentalise most the necessary office appliances on decorative wall cabinets to save your flood space. Digitising your office is another excellent way to declutter your space and make more room for innovative décor ideas.
2. Conceal the wiring
Even in a decorated office setting, a jumble of computer cables and wire can be a real eyesore. Make sure all these cables are not visible through desks. To conceal the wring, you can either use useful cable management or go for wireless technology options for peripheral devices like mouse, headphones, keyboards, printers and so on.
3. Focus on improving air quality
With so many people working in a particular space for a prolonged period every day, the dirt, debris, dust is widespread- leading to polluting the office air. And the air quality inside the office can be solely responsible for the employees' respiratory problems, coughing, and dust allergy and so on.
To increase the airflow within the commercial office and to alleviate pollutants from the air, letting in fresh, natural air is the best way. For natural ventilation, check if weather condition, temperature and the wind flow are suitable enough. It's suggested not to entirely rely on natural ventilation as it can also be unpredictable and uncontrollable.
4. Pay Attention to Lighting
Different lighting colour shades affect employee performance differently. Offices are so very much dependent on visually processed information through electrical devices. Appropriate lighting is essential to achieve optimal productivity in a work setting
These days, modern offices have taken a step forward to initiating the most eco-friendly and productivity-boosting lighting installation.
So as a part of your commercial office décor essential, install modern office lighting fixtures. Add floor or table lamps in different corners of your office interior to intensify the lighting and brighten your way to the perfect work environment at a reasonable cost.
5. Choose minimalistic furniture
Please don't discount the importance of both comfort and aesthetics when it comes to choosing office furniture on a budget. With the inventions of new technologies and minimalistic designs, modern office furniture is created to improve work productivity and functionality. Replace your old worn out office furniture with easily adjustable ergonomic furniture with simple-symmetric designs for a clean-corporate look.
6. Utilise company brand colours
For a witty yet affordable office decoration make the most out of your company brand colours all over the interior. Incorporate the colours in different areas of your space, including office stationaries, storage systems, rugs and curtains to uphold a consistent and unified style. Your employees will surely feel more connected to your company and have a sense of integration as a team.
7. Showcase company signage
If you are going for the above colour application for your décor, don't forget to showcase your company signage to compliment the whole theme perfectly. Not just the reception space, add the company signage via a vinyl graphic in different other areas like a meeting or conference rooms as well, including the company motto. It will give your company a corporate appearance instantly.
8. Incorporate greenery to the decor
Whether it's the real plant display or artificial, this added greenery in a mundane work setting has a tremendous therapeutic effect on employees. Many studies have shown that the indoor plants in indoor office setting help reducing stress and anxiety in workers tremendously. To soften the look of interior space, set a calming atmosphere, add indoor plants.
9. Add wall arts
You can give your office space an instant facelift by adding modern artworks inspirational quote illustration or framed motivational print. Adding artwork is not just an affordable way to boost your office style but also a refreshing way to take the mundanity away and get the employees minds back on track.
10. Personalise accentuated areas
Your office space must have spots that stand out from the rest. It could be the space near the balcony from where direct sunlight gets in or the reception area where you welcome your staffs or clients. Highlight those areas by adding strategically placed accent features like a colourful rug, artistic sculptures, magazine stands, decorative pendant lights or group photographs of the employees.
11. Create a feature wall
Feature walls play a very important role to enliven office décor. With a bit of creativity, you can feature one of the most visual walls of your office with minimum costing. And you got plenty of options to highlight a wall. With a strategic, contrastive colour palette, you can paint the wall and add inspiring quotes. You can also wrap the surface with wallpapers or turn it into a giant blackboard. So to be precise, the idea is to set a mundane wall into a corporate photo booth for your staffs and guests.
12. Choose bright colour Schemes for the walls
Lastly, complete your office décor schemes with fresh coats of colour paints on walls and spruce up your office space within a very affordable cost, instead of going for the regular off-beat colour paints. As colour is an essential component of any indoor environment; it can have an impact on the employees' moods and productivity. With the help of colour experts or professional painters, choose the office appropriate colour palettes.
Author Bio:
Richard Sanderson is a freelance writer and an independent blogger who writes about small business, sustainability, climate change, globalization, and home improvement. He aspires to become a professional writer and make a difference in society and the world we live in. He is always enthusiastic about promoting brands like Priority One Coatings. They are specialized in providing complete commercial painting services, both interior and exterior for projects of all shapes and sizes.