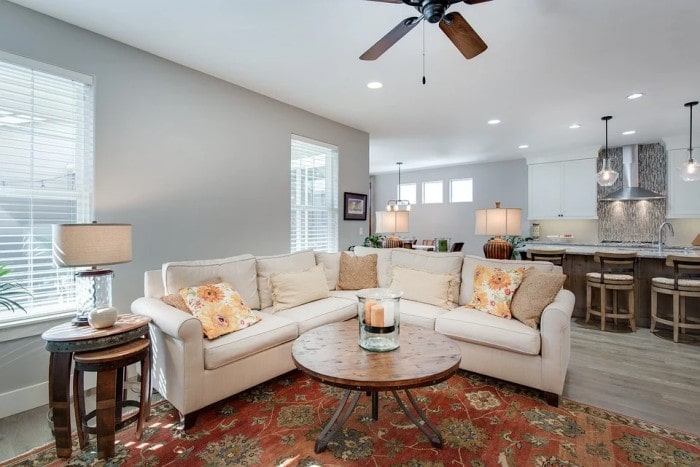 A bright space is both welcoming and up-lifting. A home should be a place of comfort, and by changing a few things around, you can create beautifully airy rooms. You want your guests to walk through your front door and instantly feel comfortable and in awe of your gorgeous abode. Here are 11 ways to create a bright home that you, your family, and your guests will love.
1: Add Mirrors
Mirrors hold a clever trick up their sleeves – they make a room look bigger than it is! If you have small rooms, then consider dotting mirrors around the place. When the light comes in, it will bounce off them, allowing more light to flood the space and uplift the environment. If you're blessed with high ceilings, then you have even more room to add interesting mirrors that vary in size. You could even have a whole section of a wall dedicated to them!
2: Glass Doors
A house with small rooms and shut doors creates a feeling of darkness and isolation. By introducing glass doors throughout your home, the light will flow through each room and brighten the space instantly.
Huge glass doors leading to your back garden will also allow masses of light to flood in. You can even invest in Evo Products auto-sliding doors for extra freedom to move in and out of the home, beautifully tying together the inside and the outside.
3: Play with Lighting
A home's lighting should never be dull. If your home is stuck with only single bulb ceiling lights, then it's time to change things up! Think about the different types of lighting – ambient, task, accent, and decorative – and play around with the kind of lighting that matches your home. Use layers, add unique lamps, and dot candles around the place for a diverse and interesting production of light.
4: Bring Nature In
A home shines when nature comes inside. Plants will instantly brighten a room, so take a stroll around a plant store to find the perfect ones for you. A large statement plant in the living room can look fabulous! If you're one for neglecting your plants, then choose hardy plants that won't mind if you forget to water them on occasion.
5: Choose Light Colors
You don't want to create a dull, dark atmosphere by choosing the wrong colors. For your walls, you want to go with a light, bright color that creates a wide and open space. Light furniture will also brighten the area. You can always add in a darker color via a statement piece!
6: Thinner Curtains
By using thin curtains, you allow natural sunlight to stream in even before you have woken up and make your way downstairs in the morning. Of course, you may want some thicker ones in the bedroom (especially if you're a light sleeper!), but thin curtains can make your other rooms shine easily. There are plenty of elegant, sheer curtains you can choose from, so let your inner interior designer run wild!
7: A Huge Rug
Make your rug a statement. Placing a unique rug into a room instantly brightens the place. It's the perfect way to show off your style! Throw a large, luxury rug in the dining room or a fluffy, wool one in your living room for a cozy and brightened atmosphere.
8: Reduce Your Clutter
Ever thought about how a minimalist home always looks cleaner, brighter, and larger? This is because they don't have tons of clutter invading the space. By reducing your items, you make way for more light to bounce freely off the walls. Take a day to go through your belongings and throw out what you no longer use.
If you find that you have too much stuff and you don't like the idea of getting rid of it, then you could get creative with storage, instead.
9: Embrace Empty Spaces
Not every corner needs to be filled. Nothing there can say just as much as a clock, shelf, or plant! You can always place an interesting piece of art if you're worried it looks too empty, but you should try to have at least one area of the house that isn't filled with items.
10: Clean!
When was the last time your windows had a clean? It's something that many people neglect, but if you want a bright home, you shouldn't. Clean those windows until they shine, and you will find that the rooms seem lighter. You can even make a home-made window cleaner if you're all out of the stuff. Remember, keep yours and your family's fingers off the glass!
11: Leave Shelves a Little Bare
Yes, shelves are meant to hold objects, but that doesn't mean you should fill them to their brim. Leave a little space on your shelves will look cleaner and makes the area feel larger.