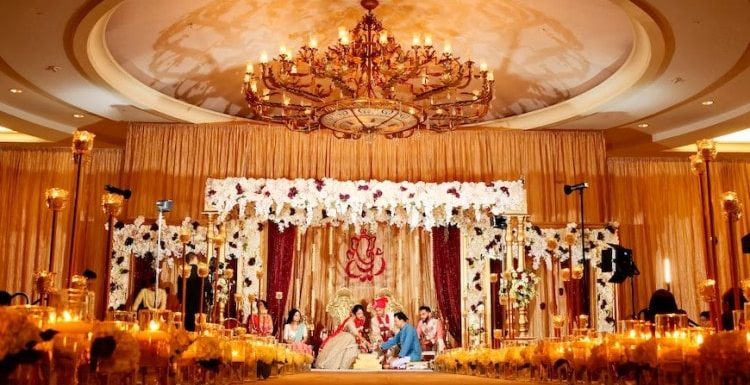 You can include many beautiful details to make your wedding location uniquely yours, whether it is a blank slate or already furnished with some adornment. The hardest decision you'll have to make is which of these fantastic wedding decoration ideas to use, from vintage bikes to Moroccan-style lounge spaces, from rustic suitcases to lanterns to neon signs.
Here are some incredible wedding décor ideas that will change the look of your room and several DIY projects to help you keep costs low. You can also use these concepts to create your wedding welcome sign.
Ideas for a Rustic Wedding
For your wedding, consider these rustic decorating ideas.
Stacked Crates Made of Wood
You may create a lovely rustic feature or cover up an unattractive wall. You don't need to build an entire wall; just a few wooden crates stacked on top of one another will do. Then fill a few spaces with flowers while filling others with adorable accents like a lantern.
Furniture As Focal Points or Themes
Depending on your concept, paint an old wardrobe an extremely vivid color or give it an antique appearance. Then, arrange seasonal flowers inside the drawers. Perfume the space by letting them cascade over the side. However, an antique dresser or vanity cabinet will also look fantastic. An antique chest of cabinets is a great option too.
Ladders
There are no restrictions on what can be displayed on a ladder, including pictures, candles, muffins, bottles of sparkling wine or champagne, blossoms, monogram letters, and even comforters for a winter wedding. Your venue can be brought to perfection with an aged white-washed shelf ladder with a rustic look.
Wedding Signage
You can buy or design petite wedding welcome signs and other boards to your liking. These adorable arrow signs make navigating your property easy for your visitors. You may DIY parts of the pieces using a chalkboard or wooden arrows, but it can also be ready-made.
Fairy or String Lights
A wedding without fairy lights isn't an actual wedding at all, right? The interior, as well as the exterior of your venue, can be easily changed using them. String them through the trees or across the courtyard. It will add a more comfortable feel outside. Create a backdrop out of them by weaving them into the ceiling, around the columns, into lanterns, and along the entire wall. Both flexible and affordable! Give these cozy warm white lights a try.
Chalkboards and Mirror signage
The seating chart, menu, and wedding welcome signs can all be displayed on chalkboards, which are simple to make at home. You can borrow one for free if your reception is at a bar or restaurant wedding venue. Like a chalkboard, use mirrors as decoration. Old ones are available in charity, vintage furniture, and prop shops.
Books as Centerpieces
In addition to making excellent table centerpieces, stacks of used books liven up any table at your reception location. You can transform old, unloved books into lovely decorations, making them perfect for rustic weddings.
Prop Retro-Style Suitcases
Use rustic, vintage luggage or trunk heaps to reflect your two peoples' shared love of travel. Keeping cards inside is a terrific idea. Allow visitors to place cards and gifts in one by setting them on the table next to the guest book. The stackable pastel retro bags available online are a great option if you want anything a little more stylish.
Lounge Space in Moroccan Style
A Moroccan-style sitting area is quite easy to assemble for a bohemian or rustic wedding. Place patterned cushions on the floor and scatter various colorful rugs around them. If you want your visitors to sit in wicker chairs rather than on the floor, add an island with drinks and a candle display in the center.
Candles
Always check to see that your candles are secure, first and foremost. Show them off in glass jars or lanterns so that nothing can accidentally knock them over or get caught in the flame. And make sure candles are permitted where you're going; if not, buy LED candles. Aisles, tables, stairs, and more all benefit greatly from their use in terms of character and mood.
Wall Art
Wall hangings provide simple wedding welcome signs or decorations made of tapestries or macramé. Wall hangings can change the look of a space with their abundance of bohemian and rustic moods.
A Picturesque Bar and Vintage Bikes
You can use it to display wedding signs, decorate the handlebars with colorful ribbons, and cram the front basket full of flowers. Bikes make fantastic props for the happy newlyweds to ride on and posture in shots.
There may already be a bar at your location. Still, a bar provides an appealing centerpiece if you have a ceremony outdoors or if they'll let you construct a serving space just for serving your unique beverages. A display of ready-made cocktails should be placed in the center of an enormous rustic side dresser, which should also be covered with several empty liquor bottles.
Conclusion
It takes a lot of work and planning to decorate the wedding location because it can give your wedding an extra unique appearance. There have so many choices that it might be intimidating and perplexing. The options range from whimsical, enjoyable, and pop culture-inspired to classic, traditional, and exquisite. Here, some of the most interesting and eye-catching decorating concepts were shown to you. Therefore, continue scrolling and highlighting the pages that appeal to you.