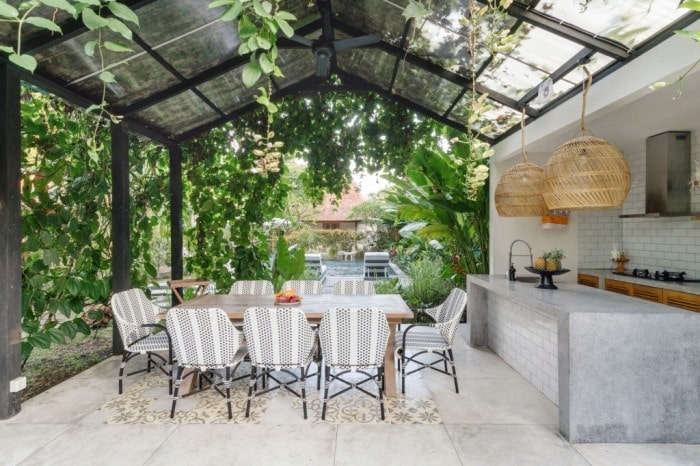 When the sun comes out and you want to be outside then you'll be grateful you decided to fit the outdoor kitchen. They're an excellent way of enjoying the sunshine, avoiding adding extra heat to your home, and staying in touch with your guests when you're throwing a party.
You're not alone! Outdoor kitchens have become all the rage in recent years, it's a trend that doesn't show any signs of stopping. The key is to choose the right kitchen design for your outdoor kitchen. The good news is that creating perfect outdoor kitchens is much easier than you think!
Simplicity
Just because you're cooking outside it doesn't mean you'll want to transplant your entire kitchen. The key is to consider what foods you are likely to be cooking outside and create a kitchen with those dishes in mind.
That means you'll need the outdoor oven and should incorporate the barbeque. But, you'll also want a sink area and enough space to do prep work.
The best approach is often a long unit with several cupboards and doors underneath and a sink at one end on top. At the other end should be the hob. You'll have plenty of working space in the middle, creating a practical and easy-to-use space.
Location
You need to think about where your outdoor kitchen is going to go. Ideally, it will be partially protected from the elements. The heat of the sun can be just as damaging as the torrential downpours.
Of course, it also needs to be near the kitchen to ensure you can get fresh foods as you need them and any utensils you've forgotten to stock in your outdoor kitchen.
It should also be near the main eating area. After all, part of having an outdoor kitchen is to ensure you can be part of the proceedings as you cook.
Material
Indoor kitchens are generally made of wood but this doesn't hold up well in wet conditions. If you're having a wooden outdoor kitchen you'll need to make sure it is properly treated. This will help to ensure it can survive in the heat of the sun and the wet of the winter.
Alternatively, stainless steel is an excellent option as it doesn't rust and is easy to clean.
Of course, the final decision on the material is a personal one. It's not just about surviving what the weather has to throw at it, your outdoor kitchen also needs to look good. If t makes you smile you're on the right track.
Use The Space
It doesn't matter how big or small your garden is. You need to use all the space your outdoor kitchen gives to you. That means storing the right items inside it, adding utensils to the drawers, and looking at how you can use the space around your kitchen. You'll want a space for bins and perhaps a pullout butcher block. Take a look at the space designated for your kitchen and use every inch of it. But, try to keep everything out of sight. This will protect individual items against the elements and help it to look good, even if the cupboards are packed full!