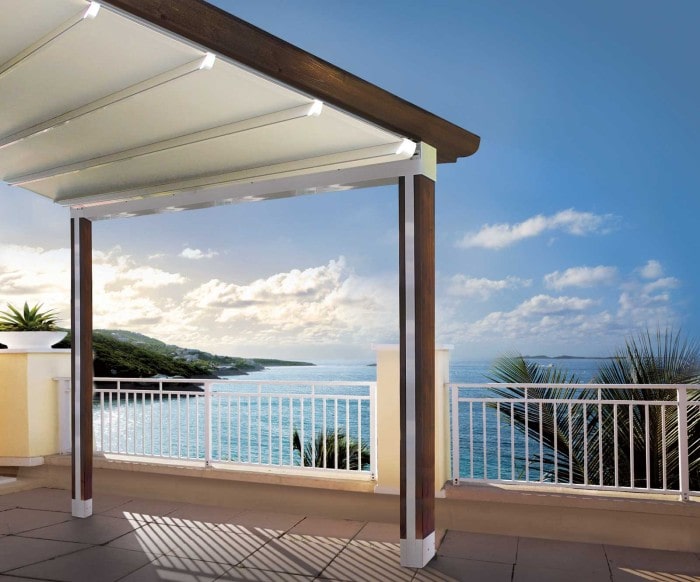 The benefits of adding a pergola awning to your home can be astounding!  This simple addition can instantly add aesthetic appeal to your home, increased value, and even energy efficiency.  A pergola awning differs from a traditional awning as it is a stand-alone awning structure made with posts or colonnades, covered by a latticework style roof.  This free-standing structure can provide a great, separated outdoor living area.  If you prefer the look of pergola but want it attached to your home like a traditional awning this is also possible by simply removing two of the posts and attaching it to your home like an awning.  Pergolas come in a wide range of styles and materials making them a popular choice for many different tastes.  It is possible to install pergolas in materials, such as wood, plastic, metal, and fabric.

The Pros of Choosing A Pergola Awning
In addition to the beauty pergolas provide, there are several other serious benefits to adding a pergola to your home.  First of all, pergolas provide insulation against the harsh rays of summer and lower the outside temperature for those under its cover.  Pergola works to deflect heat from the hot summer sun, making your outdoor space comfortable and useable on the hottest of days.  Pergolas can also work as a funnel to keep rainwater away from your patio or home.  The structure can even be utilized as way to defer rainwater to your garden or flower bed as an efficient natural water system. Pergolas can be quickly and efficiently installed and designed by the skilled professionals at an awning company.  Pergolas are versatile covers.  They may even be used as covering over your walkway.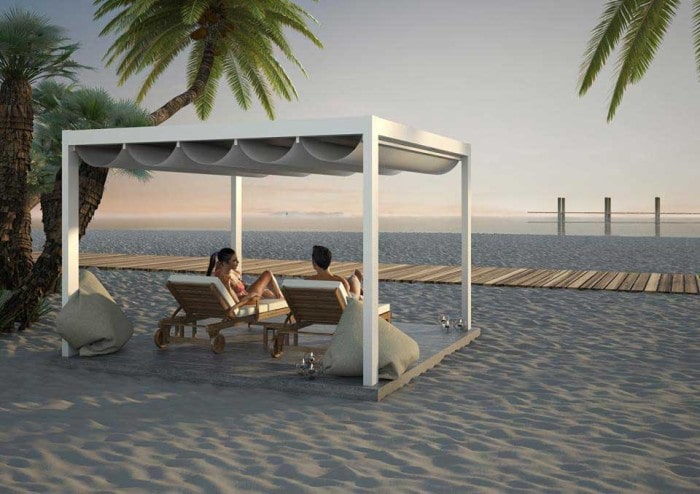 Choosing the Material That Is Right for You
It will important to carefully consider the pros and cons of various materials.  Based upon your own budget and preferences, choose the material that is best suited to your lifestyle.
Wood
A wood pergola can be a great option for those wishing to perfectly match their home with their pergola as you can paint or stain the structure any color you wish.  This is also the most affordable material available.  Despite these benefits, wood do not come without some cons.  Wood is susceptible to termite damage, dry rot, chipping, and disintegration over time if you don't spend ample time maintaining it each year.  For those choosing wood, cedar is a popular choice as it is known to hold up better and take far less maintenance than other wood options.
Plastic and Vinyl
Plastic or vinyls are popular choices because they require minimal maintenance.  It is as simple as treating this material with a UV inhibitor to protect against sun damage and subsequent fading.  Other than this, this material will not need much else as you do not have to paint, stain, or seal it to maintain its beauty.  These materials also provide a wide range of options in both style and color.  White continues to be a popular choice as pergolas make excellent wedding and party venues.
Metal
Metal offers several options including iron, steel, and aluminum.  Metal offers may versatile options to fit any style or preference.  Aluminum is the most popular of metal choices as it is known to be hardy, holding up against cracking, peeling, warping, rusting, and insects.  It is also popular due to its much lighter weight than other metals, paired with extreme durability.  Aluminum is a fan favorite because of its ability to look like other materials.  Aluminum can be easily made into faux wood for a lower price than traditional wood with far less maintenance.  Some people prefer the strength of iron but must be prepared to invest time in maintenance to prevent rusting.  The same goes for steel; while sturdy it must be regularly sealed with a powder coating to prevent deterioration.  If you choose iron or steel be prepared to invest time and money into its ongoing maintenance.
About the Author
Tyler Coomes, owner of Best Awning Company that offers a truly customizable awning experience across the entire Denver Metro and Front Range Colorado.