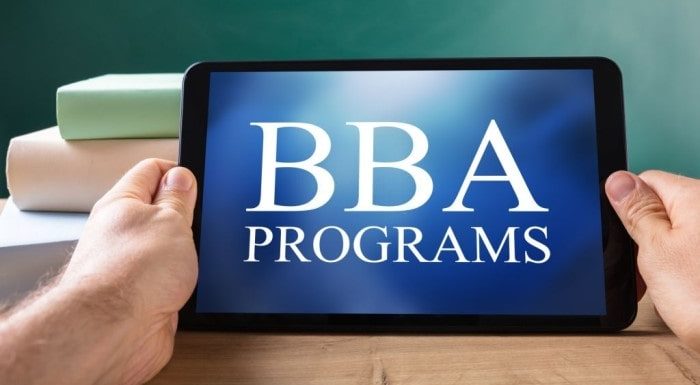 'What is BBA?' – It is a question that has become a cliche in today's time. It's almost impossible that someone has crossed the line of high school and doesn't know what is BBA. It is by far the most popular professional course at the undergraduate level after B.Tech.
With a BBA degree, you can go straight into entry-level professional roles at different business organizations. If you have sufficient industry exposure, you can also explore opportunities beyond the entry-level roles with relative ease.
For aspirants who are looking to enter the professional field immediately after graduation, BBA offers the perfect solution.
In top colleges, BBA courses are becoming increasingly focused on hands-on practical learning. This particular aspect of management education is absolutely crucial if you're aiming for professional success.
In fact, almost all BBA colleges in India have oriented their course towards industry opportunities. The only difference between the top institutes and the mid-level ones is in the quality of opportunities that they can scout.
How to spot a top BBA institute
The world of BBA education is fraught with competition among different BBA institutes. All of them are working hard to bring the best opportunities to their students. So, the key question here is how to spot the best institute for your BBA degree?
Collaborations with various industry bodies, trade bodies, professional organizations are quite critical to the success of a BBA college. With regular advice from them, it is possible to upgrade the curriculum with the latest industry trends.
When there is a focus on industry-specific case studies, a detailed examination of operations, and best business practices, the course becomes tailor-made for professional roles.
As a result, it is important to look for these collaborations on the website before selecting a college.
Industry exposure is a common term among professional institutes. The idea is that if students can experience the industry environment first hand, they know better what to expect from a professional role.
Internships and part-time work opportunities are practical manifestations of industry exposure. Colleges with a good portfolio also organize talks by experts and industry leaders to prepare students for the industry.
You should look for institutes that have made internships compulsory. These opportunities can be financially rewarding as well.
The operations of most MNCs have become highly globalized. It requires high-level professionals to be adept at juggling the demands of multi-context operations. Very few institutes today are offering this opportunity to students.
Colleges should surely be at the top of your priority. Students either complete a part of their course at a foreign location or they go on short-term visits to business centers. These courses can involve additional expenses for students.
In spite of the competition and high price of such opportunities, if you can for such a program, you will never look back.
Top 3 BBA colleges on our priority list
Suresh Gyan Vihar University
Ranked by the NIRF as one of the top private professional institutes, Suresh Gyan Vihar University has its entire focus on Industry 4.0. In a world of increased digitization, the importance of this can never be understated. If you're looking for a BBA that is highly contemporary, then Suresh Gyan Vihar University is the place to be.
They have collaborated with placement promoters to get 400 recruiters on board. Three internships are compulsory and there is provision for a short-term global exposure program as well.
Amity University
Amity is a shining name in India's education scene that is counted alongside the tier I institutes in India. Through years of experience in the industry, they have developed a relationship of trust with many top MNCs. In the BBA program, you can choose from a number of specializations to add an edge to your career. Amity is clearly a top BBA college in the country.
Global exposure is not a problem, as Amity has campuses in Dubai as well. Internships opportunities come regularly and placements are excellent.
Lovely Professional University
Lovely Professional University has become a common name among the best institutes in North India. With a lovely campus and state-of-the-art facilities, the learning experience at LPU is highly rewarding overall. When you do a BBA from LPU, you get added to their portfolio of highly successful students working in top MNCs like Amazon and Google.
At LPU, you can also go for the specially designed global BBA program. It's long term and you get the opportunity to complete 2-4 semesters of studies at an institute abroad.