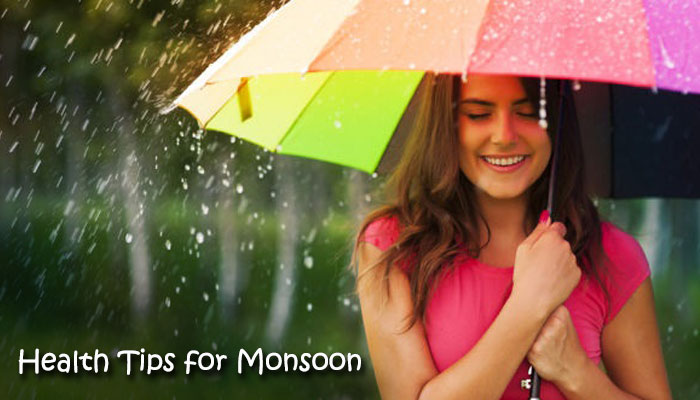 "…I'll walk down the lane, with a happy refrain, just singin', singin' in the rain…"
Gene Kelly (American entertainer)
The lilting melody of this classic just doesn't seem to leave us. It represents all that is good about the rains. Sure, sipping hot cocoa while watching it pour cats and dogs might seem blissful enough. But with the rains come plenty of health hazards, especially for those who like to sample street food platters every now and then.
Monsoon comes as a much welcome break from the sweltering summer heat in most tropical countries. Along with a drizzle that provides respite after long months of heat and grime, the monsoon brings forth a host of diseases and allergies. Frequent outbreaks of digestion-related illnesses and allergies are a pretty common affair during the monsoons. Hence we must be on our guard during the rainy season to stay in the pink of our health.
Do not let the downpours get you down with a sickness. In this post, you will find some of the best tricks to stay fit during the monsoons – a time when you are prone to catching an illness.
8 tips to stay healthy in monsoons
While splashing about in puddles is pretty fun in the rains, catching a cold surely is not. The rainy season brings a lot of illnesses in tow, and here are 8 best tips to keep them far, far away from you while you frolic in the rains.
Draw a line on junk and spicy food
Monsoon is the time to gorge on fritters, deep-fried delicacies and street food, said no sane person ever. You might be a fan of junk food, but when it comes to the rainy season, steer clear of including them in your diet. As the monsoons usually ring in the arrival of bacteria which lead to plenty of stomach infections and indigestions. That is why you must avoid all sorts of junk food and keep a check on your spicy food intake as well. It is best to go for home-cooked food all through the rainy season, so you do not fall prey to stomach infection-related diseases.
Never miss a chance to load up on water
Staying hydrated is another great way to keep yourself illness-free throughout the rainy season. Along with an array of other healing properties, water is a fabulous way of detoxifying your body. Flushing out toxins from your body and helping your boost your digestive system, water should be your best friend during the rainy season (and all throughout the year, to be honest). However, make sure that the water that you consume is purified to avoid water-borne diseases in the monsoons.
Go easy on the oil you use for cooking
Light cooking oils such as olive oil or sunflower oil are the best options when you are in the mood for cooking up a storm at your home. They help to make the foods easily digestible. That lets you avoid the hassles following an outbreak of stomach infection at home during the monsoons. Switch to light cooking oil during the rainy season to keep home-cooked food as healthy as they can get. This way, you can actually keep a posse of diseases at bay.
Pursue healthier drinking habits
Fresh fruit juices that are made at home and anti-inflammatory beverages are also a superb way of battling diseases during the monsoons. Chamomile tea and herbal infusions keep infection and sore throat away. If you have just returned home drenched after a downpour, settling down with a hot cuppa will do the trick. Cut down on fizzy drinks altogether in the monsoons. Too much sugar intake hampers the digestive system, and creates imbalances in your body. So it is best to switch to healthier drinks such as green tea or ginger lemon tea when the weather is in the mood for a drizzle.
Stash up on vitamins and minerals with veggies
Including veggies and fresh fruits in your daily diet will help you catch up on vitamins and minerals in your body. Fizzy drinks and caffeinated drinks such as espresso strip the body of its essential nutrients. The best way to combat that to stay healthy during the monsoons is to eat plenty of vegetables and fruits. Make sure the veggies and fruits include a proper balance of fibre, so it is easier on your digestive system. Fruits and vegetables are thus great when you need to fortify the immune system of your body.
Shun fish and seafood during the monsoons
Rains usually contaminate the water with a lot of bacteria. Hence, it is best to avoid eating fish or seafood during the monsoons. Produce such as fish and seafood almost always get infected with cholera and other infectious diseases. "Consuming infected produce will lead to a lot of health complications that you can easily do away with by excluding such products from your diet in the monsoons. You can always go for lean meat for a healthier dietary supplement for fish when it rains", remarks MyAssignmenthelp's leading nutrition expert, Dr. James Gallagher.
Switch to low-salt food and alternate dairy products
Consuming too much salt leads to high blood pressure and that gives rise to further health complications. Since salt tends to clump and form moisture during the rainy seasons, using less salt in your food will help keep your blood pressure levels in check. Since milk also tends to hamper regular digestive activities, staying away from dairy products such as processed milk and cheese is a wise move during monsoons. Switch to yoghurt or cottage cheese for healthier options in the rainy season.
Make way for cleaner and drier surroundings
Finally, you can keep a lot of diseases at bay by tidying up your surroundings. Do not let water stagnate in flowerpots, and make sure sewage and drainage systems in and around your home are not clogged. Apply insect-repellents on your clothes and body to avoid infections. Keep your body as dry as possible by using protective gear during the rains. If you do not want to catch flu, make sure that you do not enter air-conditioned spaces with wet clothes and hair. Practice good hygiene and keep your hands clean at all times to avoid stomach infections and the spread of other diseases during the monsoons.
Summing it up
Be it taking a break from junk food to cleaning flowerpots regularly, there's a lot you can do in the rainy season to make sure that you do not catch a disease. With the tips suggested above, you can always make the most of the rains without falling ill. Enjoy while it pours, for rains do have a familiar melancholia and a hope of new beginnings along with it. Do not forget to take care of your health and let nature take you for a joyride this monsoon. Enjoy the rains!
Author bio:
Olaila Lee is a marketing expert who is working for an MNC for the past 6 years. She has been associated with Myassignmenthelp.com as an academic expert for a couple of years and provides physics homework help Apart from writing engaging blogs on marketing, tech and education trends, she likes hiking and surfing when not wooing her international clients with amazing marketing advice.