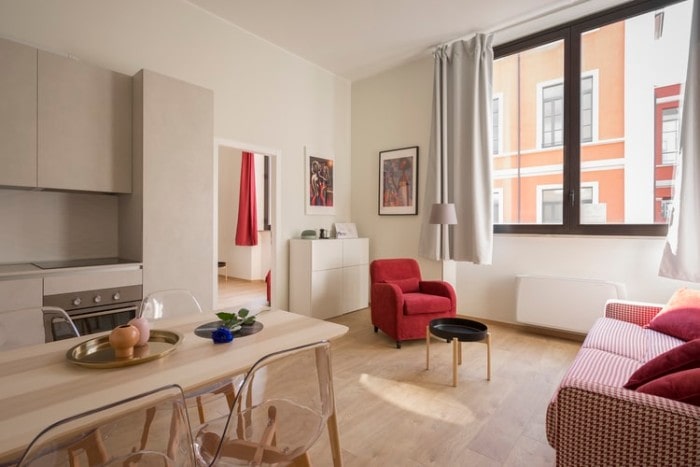 Certainly, the COVID-19 situation isn't slowing down any time soon. With this pandemic, people are encouraged to stay at home to prevent catching or spreading the dreaded virus. It may sound cool and comfortable to stay at home in your pajamas all day, but spending months staring at the same floors and walls of your home may soon bring feelings of isolation and sadness.
To beat these negative feelings, why not try a home makeover? Perk up your home for a more comfortable and trendier vibe. Try these wall and floor design ideas that are perfect for any room in your home:
The Living Room
Most of the time, people reserve the idea of floor design tiles for bathrooms and kitchens. Apparently, tiles are good options for living rooms, particularly ceramic floor tiles. Some advantages of ceramic floor tiles in living rooms are easy clean-ups and low costs. So, pick the best wall and floor designs based on these suggestions.
Black Walls and Glossy Floors
These can easily be one of the top interior designs ideas for your condo, especially for your living room. The color lends a sophisticated look to a room with different displays, like picture frames or figurines. Pair your black walls with plain glossy tiles for a sparkly indoor floor design.
White Walls and Porcelain Floors
If you want a neat look for your home, white is the best way to go. In addition, white makes a small living room look spacious. To make a room with white walls look even more amazing, you can pair it with porcelain-colored floors.
Light brown Walls and Dark Brown Floors
Ever heard of the honeycomb flooring design? This design, an imitation of bees' honeycomb, gives a vintage yet trendy look in your home. Make this idea work for your home by pairing light brown walls with dark brown tiles.
Coffered Walls and Chevron Floors
Adding a lot of details to your walls and floors may appear confusing at first, but not with the right combinations. Try coffered walls and opt for chevron prints or zigzag arrangements of your floor tiles. You'll get a detailed and stunning living room with this latest floor design idea.
Charcoal Brick Walls and Gray Floors
Bricks are not just good for outdoors, but for indoors, as well. The texture of bricks add interesting touches to your living room. Use gray floor tiles to add a vintage but classy vibe that you and your family will love.
Moroccan Walls and Floors
Morrocan tiles add unique and artistic touches to your walls. They look good in bathrooms, and they can make your living room look cooler. Resist the urge to overdo it, though. You can use them as accents, too, together with plain-colored tiles, like white.
The Bedroom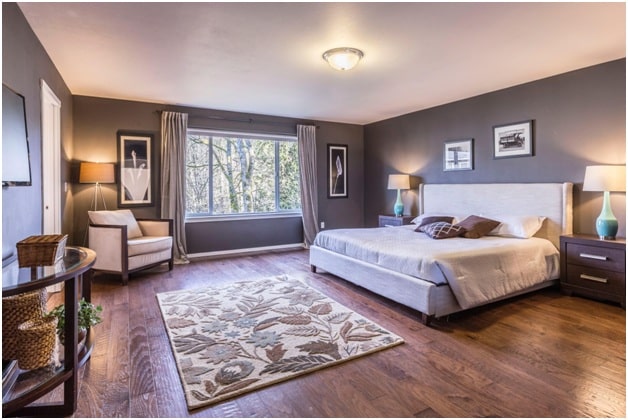 The bedroom is another area of your home that may look unusual with tiles,  but the latest floor designs focus on using hard floor surfaces that may prevent allergies or asthma triggers. With these wall and floor ideas, get a good night's rest, minus the dust and other allergens.
Neutral Walls and Marble lookalike Floors
Let's face it, marble looks great at home, but it is expensive. Fortunately, you can opt for affordable tiles that resemble marble. Combine these marble lookalike tiles with neutral wall colors, like white and gray. This combination will give a cool and natural feel for your bedroom.
Dark Green Walls and Wooden Effect Floors
One of the trendy floor design ideas these days is wood effect tiles. These textures give off natural and inviting feels to your bedroom. Pair these with white and dark green walls to compliment the wooden effect of your tiles.
White Walls and Caramel Porcelain Floors
White porcelain tiles look good in the living room, but what if you want porcelain tiles in your bedroom? Square caramel porcelain tiles are your best bet. Together with white walls, use a stack-bond pattern for your porcelain tiles to instill feelings of movement and distance.
Terracotta Walls and Floors
Do you want a vintage look for your bedroom? Pick terra cotta floor design tiles. These classic red-colored stones with unglazed and porous surfaces provide a trendy but comfortable feeling to your bedroom.
Concrete Effect Walls and Floors
Another popular flooring design is using concrete effect tiles. These tiles bring a charming look to your bedroom walls and floors. It's a perfect choice if you want to stick to the industrial theme of your home, which involves using factory elements, like concrete.
White Walls and Fish Scale Tiles
If you prefer something unique for your bedroom, then this is the design for you. Fish-scale tiles not only give a unique touch, but they also show off your inner mermaid. Pick marble-designed fish-scale tiles and pair them with white walls for a sophisticated look.
The Kitchen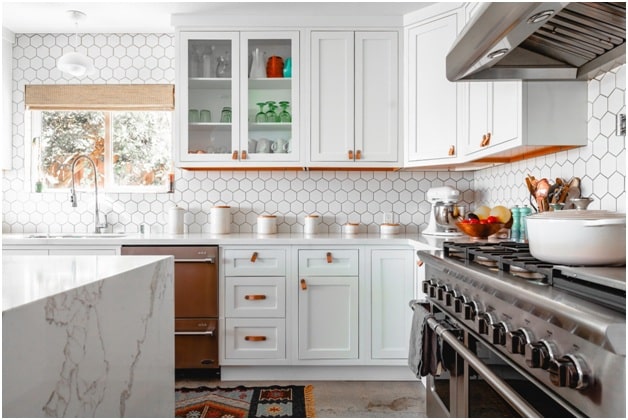 Do you know that there is a difference between bathroom and kitchen tiles? Kitchen tiles are more decorative and resistant to kitchen spills and stains. If you're looking for the best options for your kitchen tiles, here's some walls and flooring design suggestions.
Metro-style Walls and Wooden Planks with Hexagonal Floors
Mix interesting details in your kitchen for an eclectic look that works. Pick white brick or metro-style walls. Then go for wooden planks that run into hexagonal mosaic tiles. This indoor floor design shows you that wood and tile can actually look great together.
Shades of Blue Walls and Floors
A huge fan of blue? You'll definitely love this wall and floor design. Use glass tiles with different shades of blue from aquamarine to blue jade. Not only will you enjoy a relaxing vibe from this color, but also the eye-catching shades that mimic ocean waves.
Encaustic Walls and Floors
Aim for bold and geometric patterns that will keep anyone interested. Choose encaustic tiles to add visual entertainment to your friends and family, as they wait for meals. Encaustic tiles have a variety of designs from geometric shapes paired with pastel or striking colors that you'll never run out of choices.
Caribbean style Walls and Floors
This indoor floor design will give your kitchen summer vibes. Use Caribbean-style tiles for your walls and floors for a sunny and trendy kitchen look. You can also opt for stained concrete tiles for your floor, which is a good compliment to the Caribbean tiles.
Onyx Walls and Wood Effect Floors
Looking for a classy but simple look for your kitchen? Try onyx walls and wood effect tiles for your floor design. This latest floor design is a combination of classic and modern chef designs which give off a clean and professional look.
Patterned Walls and White Floors
If you already have patterned walls, you might feel that adding a floor design might be too much. You can always pair up heavily-patterned wall tiles with the basic white tile. It may sound boring, but see how the simple tile can compliment your pretty kitchen walls.
The Bathroom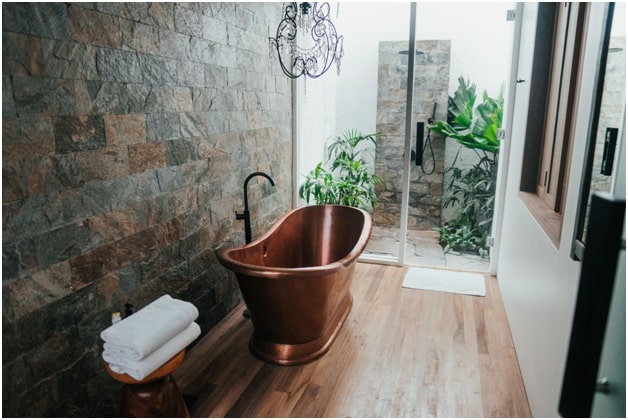 Of course, this list wouldn't be complete without floor design ideas for bathrooms. Bathrooms usually make use of tiles, but these tiles don't need to look boring. Try these trendy indoor floor design ideas with complimenting wall designs.
Green Zellige Walls and Floors
Is the bathroom your thinking space? You'll thank this latest floor design for improving your thinking place. Use green zellige tiles for your floors and your walls. The green color will encourage you to relax and ponder about life better.
Neutral Walls and Marble Mosaic Floors
Some people might want their bathrooms to look simple but still classy. Achieve this look through marble mosaic effects. Mix white and black marble tiles and choose the same colors for your wall.
Geometric Walls and Floors
Do you want luxury and artistry combined? You might want to try geometric designs for your bathroom's walls and floor. A good combination is porcelain and ceramic tiles which can exude a stunning look.
Subway Walls and Leaf-like Floors
Like geometric walls and floors, this indoor floor design sounds complicated, but with the right combination, it can surely look eye-catching. Try combining subway tiles with leaf-like floors. Pick energetic colors such as bubblegum pink to add a fun feel to your bathroom.
Penny Walls and Floors
One bathroom tile idea for small bathrooms is to use short and tiny tiles. Choosing penny tiles for a small bathroom can help save costs, without cutting your floor design tiles. You can add bold colors of blue or bright yellow to make a fresh and fun vibe.
Smokey Mirrored Walls and Floors
If you want to add a sexy vibe to your bathroom, then smokey mirrored tiles are your top picks. Use them for your walls and floors, to exude an intriguing and mysterious vibe to your bathroom. Adding silver zellige tiles may also be good accents, as well.
From among this list of interesting wall and floor design tiles, pick the design that you love the most. After all, you'll be spending a lot of time at home because of the pandemic. It's best to pick a design that makes your stay  (or work from home) comfortable and interesting.