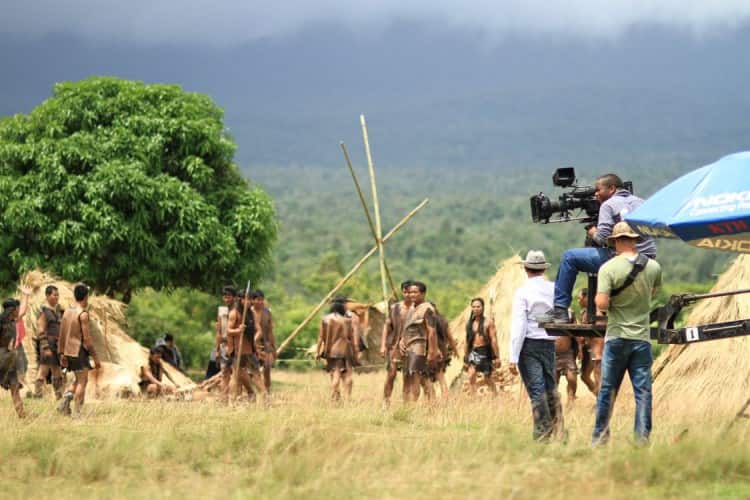 Tv shows and movies have incredible power in being able to transport us to amazing destinations around the globe and even to galaxies far, far away. However, whilst the on-screen drama may just be fantasy, there are many awe-inspiring locations which you can visit in real life.
Here, we can travel across the world and step back in time to take a look at some amazing real-world locations which star in some of our favourite films and tv programmes from the last several decades.
Neuschwanstein Castle, Bavaria – Chitty Chitty Bang Bang (1968)
Neuschwanstein Castle is the fairytale castle home of the "Mad King" Ludwig II of Bavaria and looks just like it has come straight from the pages of a storybook. Although it was the inspiration behind Walt Disney's film Cinderella and the Californian theme park, film lovers will likely know it best as the home of Baron Bomburst, ruler of Vulgaria in Chitty Chitty Bang Bang.
Bluebird Cafe, Nashville, America – Nashville (2012-2018)
Fans of the country music show Nashville are sure to recognise this location from a mile away. In the series, The Bluebird Cafe is a sacred space, where singers and songwriters perform for the audience and where true soulmates Rayna and Deacon met for the very first time. The series has made the 90-seater cafe so popular that it is almost impossible to get in without a reservation or a couple of hours waiting in line outside.
Silverton, New South Wales, Australia – Mad Max 2 (1981)
As of the latest census, Silverton had just 89 residents. Whilst there may not be much to make this area appealing to live in, it is a great place for Mad Max 2 fans to visit as the film was shot in and around this area. There is even a Mad Max museum nearby, but remember that Mad Max was a film which was set in a 'maelstrom of decay' – so you may want to think twice before booking a trip.
Highclere Castle, Hampshire, England – Downton Abbey (2010-2015)
A huge part of the appeal of Downton Abbey lies in the nostalgic celebration as part of an era which has vanished, celebrating rigid social order and deference where, no matter if you were a servant or aristocrat, everyone knew their place. This is the theory, anyway, but it's worth remembering that British aristocracy hasn't gone anywhere. Even though you can still visit Highclere Castle, the 17th century home which played the main role of Downton Abbey, it is still owned by the Earl of Carnarvon.
James Bond Island, Khao Phing Kan, Thailand – The Man With The Golden Gun (1974)
Khao Phing Kan rarely ever goes by its original name and has been known and referred to locally and internationally as James Bond Island since 1974. When Christopher Lee's famous supervillain Scaramanga hid the 'solex agitator' within the limestone tower just off the shore. Whilst it is questionable as to why a funhouse, complete with a hall of mirrors, was built on the island, it is best not to question the Bond films which were a part of the Roger Moore era.
Ischia, Gulf of Naples, Italy – The Talented Mr Ripley (1999)
With pastel coloured fishing villages directly reflecting into the unspoiled waters of the Bay of Naples, the island of Ischia looks just like the place where the internationally wealthy of the 1960s chose to use a playground. Thanks to The Talented Mr Ripley, it's easy to imagine people in cream linen suits smoking, listening to jazz and contemplating life – or identifying murder and theft.
Nakatomi Plaza, Los Angeles, America – Die Hard (1988)
Whether you believe it is a Christmas movie or not, Die Hard is a true classic. Filming locations were mainly focused in and around the Nakatomi Tower office block but, in real life, the building is the corporate headquarters for Twentieth Century Fox. Even though the building was undergoing construction at the time of filming, a large majority of the filming was done there. It is believed that thousands of dollars worth of marble had to be replaced after filming, as it was chipped during the epic fight scenes and explosions that make up the film.
Whether you are a film and tv fan, or just want to get away and explore somewhere different, there are plenty of amazing natural filming locations all over the world. Some people choose to use the different locations and countries as a grand travelling itinerary, filled with star-power and luxury.
If you are heading on any kind of travelling adventure, then be sure that you have all of the correct visas and documentation. If you are travelling from the UK, then immigration lawyers will have all the information you need, as well as the government travel service and it is vital that, with Brexit looming, you have everything you need sorted well in advance.