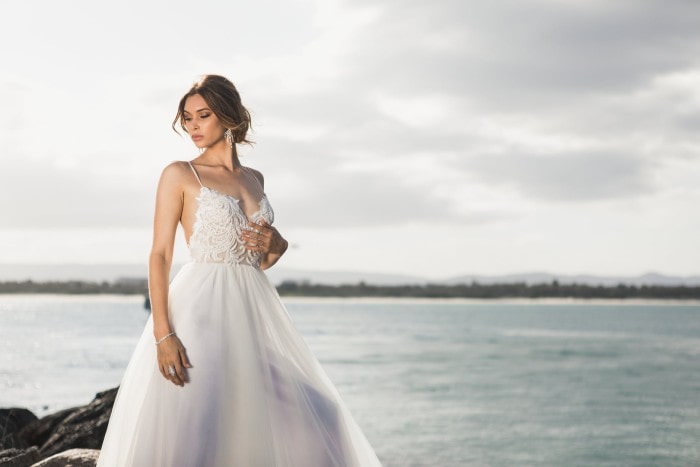 Most girls dream about their wedding day since the age of five! The most interesting part is that they even plan all the details and specifications. But when the reality kicks in, it becomes overwhelming! If you haven't figured what type of wedding gown you have to wear, we will have you all covered.
Getting your hands on your dream wedding dress is not a piece of cake. It is something that you have dreamt of since you got your consciousness—it can be very stressful. Well, it is all right as you haven't tried one before.
The wedding dress sets the wedding's whole theme, will it be a casual beach affair or a grand ballroom bash and everything else. Not to mention with so many designs and material available, the bride-to-be thinks of it as a tough language to decode. There are tulle, A-line, mermaid dresses, fit-and-flare, sheath, organza, and the list goes on.
Brides these days are also picking up multiple dresses, a formal kind for the main ceremony and a party-kind, bold and blingy for the reception—making the wedding shopping process a bit more stressful. So here are Ideas for Country Style Wedding Dresses to ease the pressure off your shoulders.
Rustic Wedding Dresses for Outdoor Party
With all eyes on you, photographs that you will cherish forever, you, of course, wish to look perfect on your big day. Choosing the right rustic country wedding dress is one of the most memorable moments of planning your wedding. If you are not sure what to wear, then these days' bridal jumpsuits for a rustic wedding are raging. These bridal jumpsuits come in various designs and materials to get all the eyes laid on you.

Another style that is raging and you will fall in love with is the long-sleeved wedding dress. This trend became even more popular with Kate Middleton's Wedding Dress. It is so in right now; all you have to do is pick the right style that suits your body type.
Embracing the Delicacy of Lace
If we talk about the dress material that simultaneously adds grace and sexiness, then even 100 times, the answer would be lace! It is most often used for detail or overlay. Not to mention, it comes in an incredible variety of styles. Although tulle is also one intricate material, it is susceptible to snag. Some of the most preferred types of lace are:
Chantilly: a fine-detailed, open lace with a defined border
Venise: more textured and a bit heavier, often preferred for a winter wedding
Alencon: It comes with a trimmed cord featuring motifs on the net.
Trumpet Gown for Ranch Wedding
While the options seem overwhelming, a mermaid style wedding gown or trumpet silhouette seems perfect for a ranch wedding! If we compare, then the trumpet is slightly more comfortable and appealing. These dresses are an excellent style for the brides who wish to flaunt their curves and still be finding some room for comfort to move on the dance floor. These dresses are fit through your chest and waist and flared around the knees.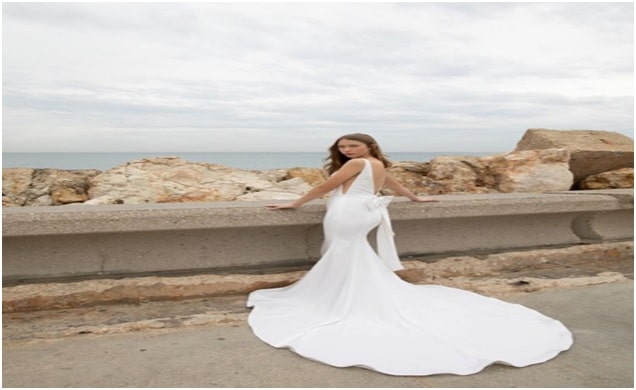 Get a little Bold with Lovely Open Back
For the brides who are into simplicity and are looking out for simpler silhouettes, a backless dress can be a great way to add a hint of elegance along with soberness. If you wish to be a little tasteful, then you can also add some embellishment designs to draw attention or to keep it simple with neutral-colored fabric in the back for your grand exit.
Tulle for a Fairytale Wedding
Choices for wedding dress can overwhelm you, but tulle is forever! This is stiff, transparent netting made of nylon, polyester, silk, or a blend of fibers. For a voluminous, fairytale-inspired look, make this wedding dress material a perfect option for brides who wish to own a show-stopping silhouette such as a mermaid or ball gown or just layers. They are paired with lace, sequins, beading, horsehair trim, or worn underneath the dress to give volume and fullness. If you wish to break the monotony of white color, you can opt for pale blue, baby pink, and the most outrageous black.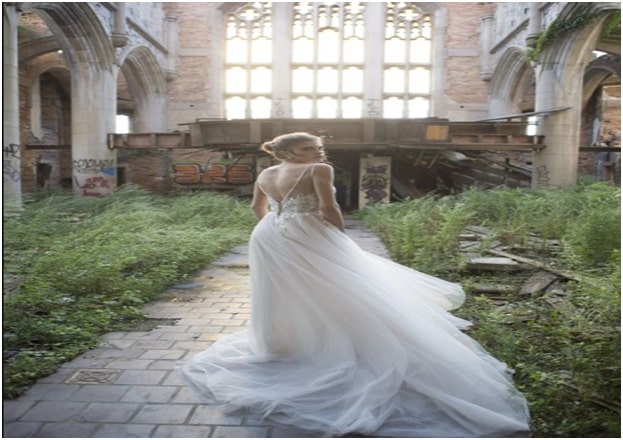 Glide on the Grace with Silk Wedding Gown
Any material that is considered sexy after lace—it is silk. For dramatic ball gowns or fit flare styles, silk is the best considered. Several silk types are considered perfect for a wedding dress and include faille, gazar, dupioni, shantung, charmeuse, and crepe de chine. The appearance is dependent on how it is weaved ranging from highly structured/stiff to light-as-air and flowy.
Feel Lighter with Organza Wedding Dress
If you are into sheer fabric, then tulle that is not stiff and then go for tulle. Traditionally, it is made up of woven silk to create a soft, lightweight wedding dress fabric that even moves with air. For swirling fans, organza is perfect! Tulle is slimmer and is used for light-weighted skirts with only a few organza layers, making it more breezy and effortless on your big wedding day. It is sometimes prettified or decorated with appliqués and beading. The common usage is seen in the skirt's overlays, allowing other fabrics such as lace, tulle, satin, etc. to give a peek through the base.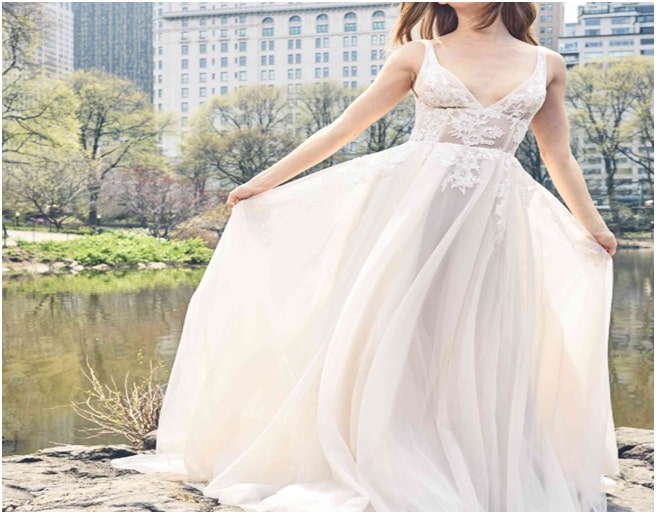 While choosing your dream wedding dress, the fabric plays an important role in finalizing a country-style wedding dress as it can affect the silhouette. It also helps in deciding how formal and expensive it will turn out! So, before heading out to buy your dream dress and style, you need to make up your mind what kind of material you would feel comfortable in!