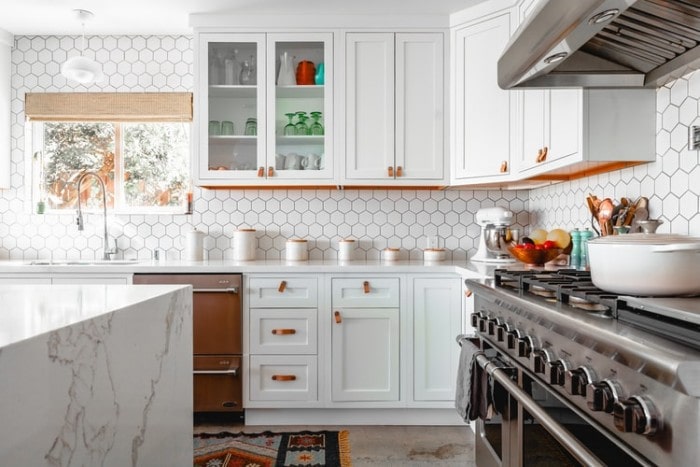 Having a spacious kitchen is a dream for all, but sometimes that dream is far fetched while we compromise on the space and construction. Be it your own house or rental, embracing the small house is fine since it has a certain charm and coziness but a tiny kitchen lacks numerous things but then again, making it cozier and maximizing the usability of the small space with stylish and smart ways is what we are here to tell you with our mighty ideas for small kitchens.
Principle of minimal design 
The simpler, the better. A small kitchen doesn't give freedom to do much and that is exactly what you need. Keep your space, clean and simple and try not to add too many elements on the surface. Adding too many things creates clutter on the countertops making it look untidy. Add a clean-cut line design for your counter and store everything in cabinets. Remember, sophistication is the key here because we are following the rule of " less is more".
Let there be space to breathe
Creating a breathing space in your small kitchen is essential keeping in mind the home aesthetics. Add mirror cabinets instead of wood cabinets and make room for a good amount of lighting which helps creates an illusion of more space. You can also opt for open kitchen concepts that nullify the compact space issue. Add small plants to your kitchen counters/windows which make the place more alive and refreshes the aura adding a warm color to the stagnant space.
Optimize the storage
Compartmentalize your necessary utensils and appliances strategically. Create deeper counters, multifunctional kitchen cabinets, pullout kitchen cupboards, and hidden storage pantry which can accommodate things easily and makes work more efficient. Your small kitchen needs lots of drawers and shelves to help you stack things in an organized way. You can opt for open shelves for the crockery and display your pots, pans and cutting boards while hanging them. Another hack that comes in handy is utilizing the space through high ceiling kitchen cabinets which gives you extra space for storage.
Paint it right
Your small kitchen should not look smaller just because you choose the wrong colors to paint. Use the subtle shades of white, cream or grey to paint the wall to give it an expansive feel and you can add the little pop of colors on kitchen cabinets and cupboard to make them stand out. You may choose a particular theme and style for your small kitchen- modern, vintage, classic, farmhouse and paint it accordingly. Try to limit the shades of the small kitchen to 2-3 so that it does not get too distracted or look cluttered. In case of doubt, always go 'all white'. It oozes calmness, brings in more light and makes the place looks bigger.
DIY the kitchen accessories 
Small kitchens have a disadvantage of making things more visible. Therefore, play on this point and use it to your benefit. Utensils or accessories which would be visible outside while stacking them on shelves or hanging them, make them look good. Try and add the element of surprise with your colorful DIY projects. A few of the ideas to do it right: add a mobile cart shortage unit that can be used for serving as well,  include stylish nobs on the cabinets, utilize the empty wall with family artworks to give it more exclusivity.
Make the statements
Last but not the least, don't forget to make a statement with your kitchen! Add bold statement accessories to your small kitchen space. You can go with some interesting modern art, antique or a geometrical design piece on the wall, choose a vintage styled kitchen cabinet cupboard or a sink, go for bold colored rug on the floor. These statement pieces will help you add an oomph factor to the small space.
When it comes to small kitchens, a lot can be explored from going the conventional way of keeping things simpler with clean designs or making a really bold statement with a little space. A lot can be explored with the extremes of the designs and even though smaller space limits the efforts, the creativity to create a stunning yet efficient and functional kitchen is not very difficult. It is not the worst thing to have a small kitchen. Infact, having a smaller place makes you want to experiment a lot with stylish yet effective ways to work around and provide the best solutions. Remember, the trick is to utilize all the spaces available and make most out of the counter space and the kitchen cabinets. Small does not make it non functional. So, add a little jazz to your small kitchen and start cooking in a stylish and sleek setting.
Author Bio
Walton is an eminent blogger and a homemaker who has been writing on home decor and interior's functionality for quite some years now. He has been responsible in formulating and carrying out an online offline campaign for well recognized home decor companies, explaining the installation guides and latest trends and fashion in the setting up homes, that assists the other homeowners and remodelers make revamping decisions. The particular blog is written in order to help our small kitchen home owners on how to make the most of small space with the perfect kitchen cabinets. I hope that this would help them make stylish and functional changes.