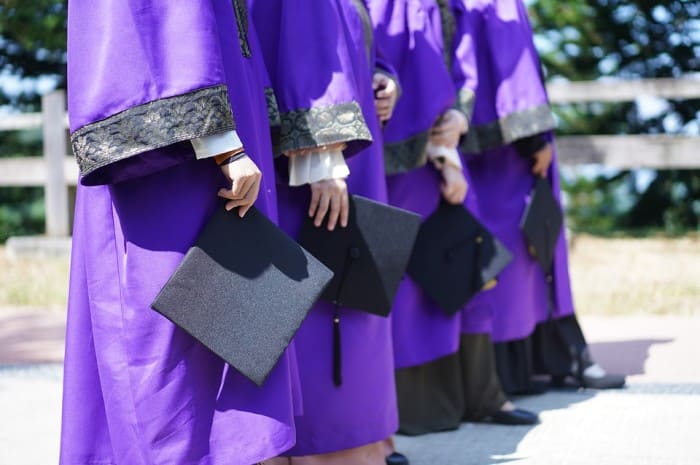 Graduation day is undoubtedly one of the student's most important days in their life. All those years of your academic, undergraduate experience is coming to an end. Those sleepless nights, restless days, back to back classes are finally going to pay off. And as surreal as this may sound, your graduation moments will always be cherished by your friends, family, and of course, yourself! So to make sure the event is worthwhile, we thought we'd provide you with some assistance on how you could bring up you're A-game on your graduation day.
Whether you're graduating from high school or college/university, these ten tips will surely guide you through, so you don't mess up on potentially the most significant moment of your life (No pressure.) From precautions to clothes to being your absolute self, we've got it all covered! So if you're suffering from graduation day anxiety, relax because you've come to the right place.
Attire
Yes, we cannot stress how important it is for your clothes to be an overall ensemble with your majestic gown and cap. Keep your style trendy but also super comfortable. A graduation day tends to get longer than anticipated. Avoid heavily printed outfits that might shift focus from the actual point of the outfit. You may choose graduation dresses in white colors that may look great in summer, while deep vibrant colors with warm hue tones go well in the wintertime. Consider whether the event is outdoors or indoors, as would want to ensure you're wearing breathable fabric in a room full of people.
Footwear
Just as important as your clothes are, don't neglect the shoes; it's going to tie the entire outfit together. Wear pleasant yet formal shoes. Sneakers and flip flops are a total no-no, and high heel stilettos are just way too much, the last thing you would want is to trip on stage while you're next in line. Keep in mind that you might have to stand for possibly hours for photo sessions and speeches, so make sure your shoes are very comfortable. Wear something that blends well and is also monochromatic to your outfit.
Accessorize 
Little details put up an entire outfit together. It's also a great way to express your sense of style, so be sure to wear a metal wristwatch or a bracelet, and maybe even a statement necklace? Just as long as it doesn't look too chunky or overdone. Carry a petite handbag or even a clutch that will not only help you keep your stuff for touch-ups throughout the day but also might amp your classy look even more. Sunglasses are an essential add on, especially if it's sunny outside. You know what they say; Sun's out and shades on.
Hair
A bad hair day is the last thing you would want while you're wearing that graduation hat. Frizzy, untamed hair might not be your cup of tea while you're in a room full of fellow, well-mannered intellectuals. Hat hair can be dreadful girls, but for this symbolic hat, frizz-free hair with a subtle blow out would be your best bet! Don't layer up on excess hair styling products that'll produce buildup and will most likely lead to your hair being greasy, especially if it's humid. Opt for something more effortless, such as a ponytail, a classy bun, or even a braid with side-swept bangs, which might do the trick for you! Guys, on the other hand, should have their hair slicked back neatly or should be cut high and tight. Facial hair must be well tamed (if they have any). It will ensure an overall decent look.
Makeup
Ladies, your prayers have been answered! For the perfect graduation look, always remember that less is more. That's right; keep that make-up minimal but glowy. A dewy-sheer finish foundation with medium coverage with a dab of concealer to cover up those blemishes and your under-eye bags (thanks to those sleepless nights of research), topped with some translucent powder, would do the trick for you to achieve that flawless skin look. Pair this up with a bold red lip, fierce winged eyeliner, or even some mascara. Subtle contour and blush on the apples of your cheeks might add that extra kick. And don't forget setting spray to make sure your make-up lasts all day long. To be safe, in case the weather is rainy, make sure you use waterproof makeup. However, if it's sunny, wear sunscreen.
Be professional 
It's your last day as an undergrad, stay classy and be graceful with your approach towards other people. Today's the day you feel empowered, so feel free to inhale the sweet smell of independence. Not only should you dress and act professionally but also make sure your gestures are taken into consideration; punctuality, for instance. Arrive a tad bit earlier than the schedule so that you can find your own space and so that you're more comfortable with your surroundings.
Steady posture
While you're acting all professional, make sure you walk like a true lady/gentlemen, talk about a dramatic entrance? Stand out with your correct posture and ensure that you carry the same well-balanced stance even while you're sitting. Avoid being too stagnant and stiff in your movements as you would want to look natural and effortless, not battery operated and dysfunctional. Be elegant and graceful.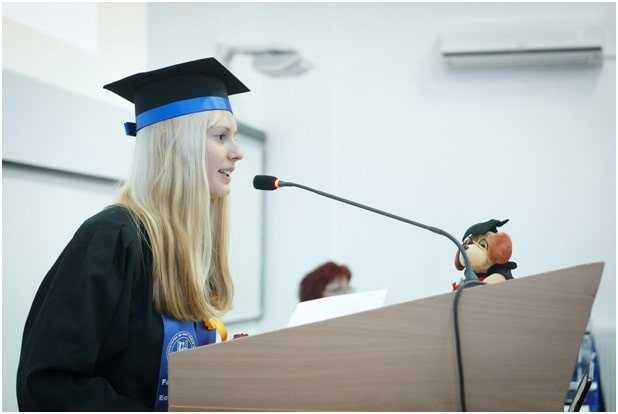 Smile bright
Don't forget to flaunt your beautiful smile! Remember smiling brightly not only makes you approachable but also makes you look more attractive, besides, why wouldn't you be happy? All those years of effort are finally paying off, and this is a moment you need to acknowledge and feel for yourself, pat yourself on the back and appreciate yourself for what all that you've been through and has ultimately led to this day. Be content with yourself, knowing that you've done your family, friends, and yourself proud. So show off those pearly whites and celebrate yourself on this auspicious occasion.
Rehearse your style 
A good idea to ensure everything goes perfect and according to plan, put up with your entire look a few days before the event. Practice your speech, your steady posture, or maybe even switch up your style while you still can, play around with different pieces and colors to create your very own show-stopping, a masterpiece!
Confidence is always key
Of course, attire and approach are still considered, but none of that matters when confidence comes into play. The only factor that outweighs everything else is how confident you can be. Be comfortable with yourself and your own choices, trust your instinct, and keep your head up high. Appreciate yourself more often and give yourself some credit. Never have second thoughts about your convictions, and above all, don't compare yourself to others, be your unique self, and bless the event with your presence. 
The Final Word
Congratulations on graduating! Hats off to you (literally), we do hope these few tips and pieces of advice could prove to be beneficial to help prepare you before your graduation ceremony. Don't panic, go with the flow, and remember to be yourself at all times. Wishing you all the very best for your future endeavors!