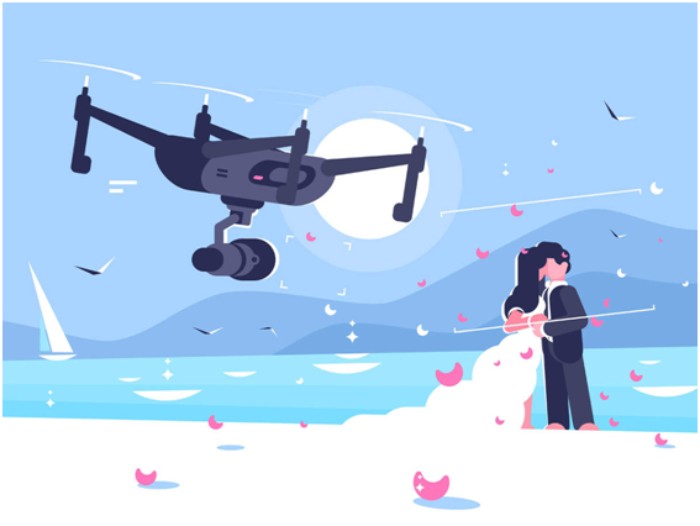 Videography for a wedding is a lot more than taking the right shots. You have to take care of your guests and capture the candid moments without interfering with the intimacy of the event. And above all, you can rarely have multiple shots. All of this demands you to have exceptional control of all the gadgets you are using.
Drone photography is literally taking over and almost every couple wants some breathtaking aerial shots to be a part of their wedding movie. The fairytale-like effect is a hot favorite among clients and videographers as well. If you have just become a drone owner or an amateur drone pilot looking for some great advice for wedding videography, here are some useful tips for you.
1. Start With Local Regulations
If you are in charge of wedding videography, there is a lot on your plate already. But you just cannot skip this essential step. Even if you have got the best drones for wedding and great piloting skills, you can land yourself in a serious mess.
Drone flight laws and regulations vary from city to city and venue to venue. Do your research. There are some places where flying a drone over private property is not allowed. Make sure you have checked all the local regulations well ahead. Get yourself certified by FAA, it's a must.
2. Prepare Well for Any Surprises by Mother Nature
Quite ironically, drones are designed to be used in outdoor environments but they are fragile items. Most of them are not waterproof as well. A drone videographer must prepare well for any surprises by Mother Nature.
Although you can control the weather changes, you can check the weather forecast well ahead. In the event of rain, snow, thunderstorms, and strong winds, cease the flight. Make sure you have added the clause which permits you to cancel drone flights in such weather. Better safe than sorry.
3. Opt For Open and Obstacle Free Place for Drone Shooting
While every couple loves cinematic drone shots, not every venue allows you to experiment with this art. Avoid agreeing to drone videography in indoor and tented locations. Several factors such as ceilings, fans, wires, and light fixtures act as obstacles and limit flight operations. It's hard to film without noise and you may damage the equipment.
One of the biggest obstacles indoors is that you have to fly the drone in full manual mode to avoid magnetic interference. Trust me, manual operation can tire even the best of drone cinematographers. Opt for open outdoor venues for easy yet incredible results.
4. Learn And Practice Drone Flight Operations
You have got no chances of reliving a wedding other than watching the exceptional video you are planning to shoot. Right? That leaves you with no room for technical glitches. So you just cannot go in for shooting a wedding video without enough grip on the skill.
Master the command of the operation and know what is possible with your specific equipment. You absolutely need to learn the two autofocus systems for great videos. Single AF mode allows your drone to hover over objects, lock in the focus and capture crisp video or stationary objects. Whereas continuous focus mode allows you to take better aerial shots by continuously focusing on the moving objects.
5. Know The Best ISO Settings for Your Venue
Although there are no hard and fast rules for certain venues, know which ISO settings work best for your venue and time of the event. If you are aiming for the highest resolution for the images, using the lowest setting is recommended. But it's not a good idea to go below the recommended ISO setting for your equipment.
When you are shooting outdoor stationary objects in sunlight, go for ISO between 100 and 200. Scenery with dull lighting is best shot at ISO within 250-400 and high ISO settings are required for poorly lit areas and night videography.
6. Plan Each of Your Shots Well Ahead
This is incredibly important. Plan each of your shots well ahead. Meet with the bridal couple, arrange sessions with the wedding planner, do whatever it takes to know each of your shots. Work out the possible angles and the obstacles you may face. Don't forget to plan the post-production editing.
It's best to take some aerial shots of the venue before any of the guests arrive to minimize distractions. You should plan your shots to keep the noise in check. Limit your use during the wedding ceremony or keep the drone grounded while the couple is taking their vows.
7. Keep Backups
It's a given! Pack a few spare batteries and storage backups to combat any sort of challenges during drone filming (there are going to be many!). Coming over-prepared is always better than being underprepared. After all, you don't want to miss a second of the action.
A Pro-Tip: Get Your Drone Insurance in Place
With drone videography everything is quite literally hanging in the air. There is always a chance of accidents. Touch bases with the best insurance companies and find the best deals to protect yourself from hefty losses.
 Author Bio:
Alina Alice is an American based writer and blogger. She is very passionate about family, fashion, health and lifestyle. Alina writes mostly lifestyle articles, but also, you'll find her in home improvement Magazine Hubs.I believe in putting out information that can benefit the reader in multiple ways.