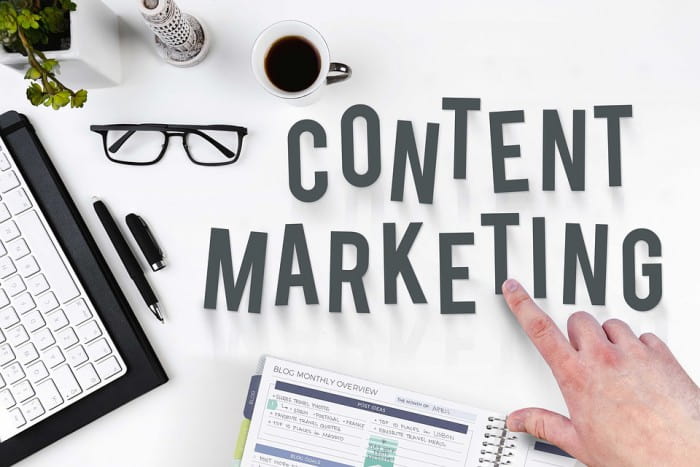 Deep dive into the sea of content and you'll find ample information to explore. Content Marketing is the art of selling the idea of a product/service offered. Today, all brands can relate to the relevance of Content Marketing & hence don't think twice before incorporating it in their Marketing strategy.
The graphical representation clearly indicates that B2B companies that blog generate 67% more leads per month than those who do not.
As a Content Marketer, being the face of the brand, ensure to fill-up the void by using most viewed, liked and shared content online. Remember, if you communicate well, you can capture the prospects well in time, convert them into customers and live up to the brand-to-consumer relationship thus creating brand loyalty and boosting user-generated content.
For the same, understanding buyer's persona is the ultimate hack! If you know, track and analyze what is the reader searching online through tools such as Buzzsumo, HubSpot, Moz, Google Analytics, etc. then you can accordingly produce the desired content. Also, considering content from your followers to your Social Media channels, websites, mailer etc. will help generate a better view of your brand.
Video Marketing is going to dominate the Content Marketing activities. It is reported by Cisco that 'Videos will drive 82% of all consumer Internet traffic by 2021, 73% up from 2016'. So, get your video creation team to work now!
Besides videos, have interactive and eye-catching visuals such as images, GIFs, infographics etc. on your blogs or website to substantiate the content. Herein, be notified that images send relevant signals to search engines through file name, image alt text, caption etc. So, do not miss out on these intricate yet important factors.
Having a blend of trending as well as evergreen content is the ideal fit for your Content Strategy. Both have their own importance, while news and related content has a smaller shelf life, it is the in-depth articles containing industry insights, tips and techniques that perform well over a longer period of time.
In fact, repurposing content is a hack that brings along numerous benefits- builds new audience, generates more organic traffic & also gets highly shared. Some useful resources to repurpose content are webinars, PPTs, interviews, old blog posts that can be turned to video tutorials, SlideShare decks, Experts Advice books, E-guides; simultaneously.
Furthermore, delve into the act of guest blogging to get backlinks to your website for better SEO visibility. Additionally, having a author bio will help build personal brand authority as well.
And, you can never go wrong with optimizing old content which perform reasonably well, using relevant keywords. Don't miss out to include links to authoritative websites to give Google signals of carrying authentic content.  Ironically, this article is a part of it. 🙂
Last but absolutely not the least, go beyond Facebook, Twitter, LinkedIn and Google Plus to share your content. Be more active on Instagram stories, Snap stories and Pinterest boards to showcase your content. Today's audience is more active on these social channels, so ensure you have a strong presence there.

With Content Marketing becoming essential, reach great heights of professionalism by leveraging upon the assured Content Marketing tips for business success.
Author Bio:

A content passionate, Jasleen is designated as Sr. Associate- Content Marketing at Digital Vidya. Besides handling the content writing and marketing activities, she leads Digital Marketing Internship Programme.
Qualified as an MBA in HR from AIMA, her deep passion and enthusiasm for writing guided her towards being the Associate Editor in English for her college magazine. Only deep passion and zeal can guide a person towards a professional writing career.