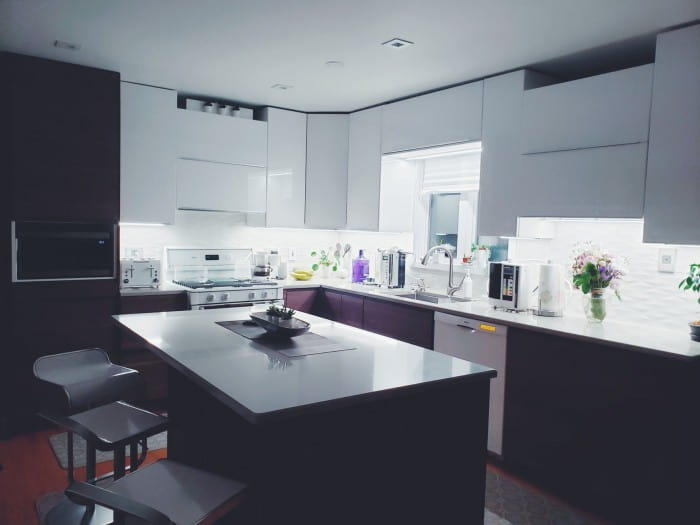 What makes a great kitchen? Is it luxury, functionality (a layout that perfectly adheres to the work triangle principle, perhaps) or something else entirely? We don't know, but we can say that, from the ones listed below, great kitchens are made with soul—and maybe a bit of exotic natural stone and one or two $10,000-plus appliances.
Giuliana and Bill Rancic's Idaho Kitchen –Celebrity kitchens rarely disappoint, but the lodge-like cookspace of the E! star and her husband goes deeper. Nestled within the couple's Idaho retreat, the high-style kitchen, dreamed up by interior designer Lonni Paul, boasts Cosentino marble in a soft, marbled gray coupled with bright white cabinetry and warm brass finishes. The leather accents and reclaimed wood floors keep the space true to the lodge style of the home, while the white and brass range hood adds intrigue. Like many celebs on this list, the Rancics have opted for top-tier appliances, with a fridge by Sub-Zero.
Celebrity Chef Michael Symon's Cleveland Kitchen – Cleveland restaurateur and Food Network mainstay Michael Symon's Rust Belt kitchen is perfect for the meat-centric chef and his family. The 700-foot chef's kitchen is the crown jewel of his former Cleveland Tudor house. It comes complete with all the finest chef-approved kitchen appliances, including a six-burner range by BlueStar, an 850-bottle wine alcove, and a prep sink with foot pedals so you don't have to use your dirty hands to turn on the faucet (brilliant, right?). BONUS: Check out the kitchen in this celeb chef's former West Village townhouse.
Rachel Ray's Southampton Kitchen – Another celeb chef with a kitchen straight out of a magazine, Rachel Ray has outfitted her 3,650-square-foot Southampton retreat with a well-designed kitchen offering an amazing blend of down-and-dirty functionality and comfortable, unassuming design. It boasts dual under-counter beverage cooling drawers, a commercial stove, and a central island for prepping. What we love about Ray's kitchen is its subtle yet chic design, with a simple gray and white color scheme that lets the gorgeous appliances custom features truly shine.
Celebrity Chef Emeril Lagasse's Florida Kitchen – The Big Easy's biggest culinary hero heads to the Gulf Coast of Florida to relax in his beachy mansion, where he cooks in a luxurious kitchen complete with countertops made from Azul Bahia granite—a semi-precious stone from Brazil—and a dramatic eight-burner range. The centerpiece of this coastal kitchen is the industrial-inspired Sub-Zero fridge featuring a see-through door and four pull-outs. Despite the heavy-duty appliances, this gorgeous kitchen still feels soft and welcoming, thanks to the exposed beams and bright, coastal design.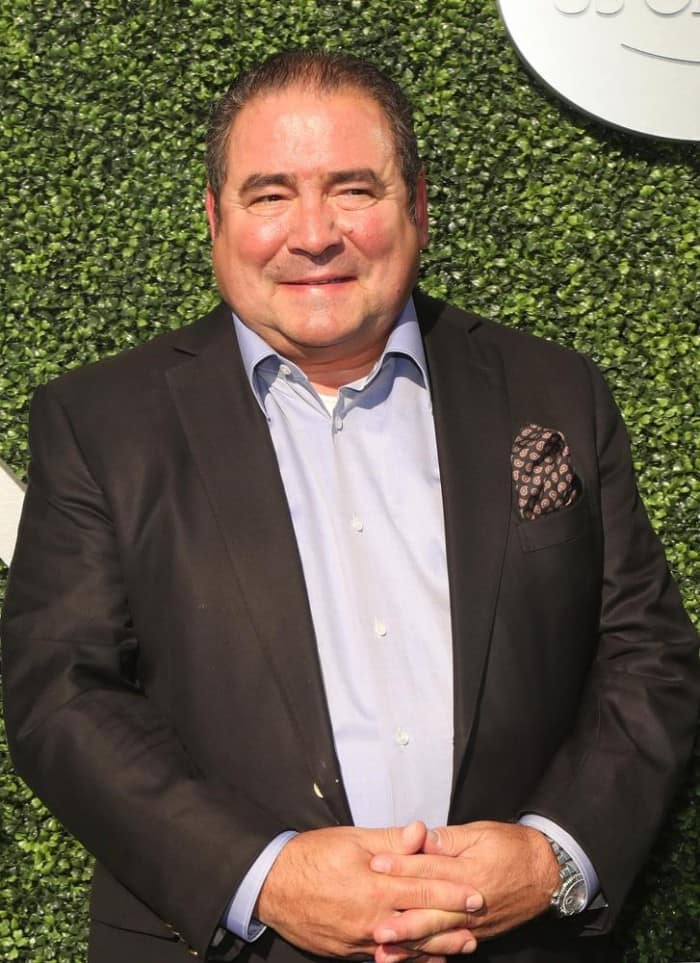 The Chelster Hall Mansion Near Toronto – Canada's most expensive house—now on the market for $43.6 million—is expansive and over-the-top in every way, from the two-story library, tennis court, and wine cellars (plural) to the underground parking facility with room for a dozen cars. Naturally, the six-bedroom, 13-bathroom estate on Lake Ontario has a kitchen to match its Traditional is the name of the game with this design, featuring intricately carved woodwork and handsome features in dark finishes. Despite the traditionalism of this space, it opens up into the expansive family room, adding a touch of modern functionality to the design.
Jensen Ackles' Austin Kitchen –CW darling Jensen Ackles and his wife Danneel have outfitted their 7,500-square-foot Austin home with eclectic textures and mid-century flourishes. The kitchen veers ever so slightly from the design of the rest of the abode with its coastal-like glossy wood boards that were inspired by the bright kitchens of the Hamptons. With a massive, commercial-style range at the center coupled with a dark wood island lip, this is kitchen design worthy of Architectural Digest (the design authority thinks so, too). We love the unique mix of chrome and brass finishes.
The Kitchen in the House from La La Land –The Bel-Air party house featured in La La Land recently hit the market for $6.45 million, which seems like a steal considering it comes with nearly 10,000 square feet of entertaining space, an elevator, and an infinity pool with a sundeck. But it's the kitchen of this ultra-modern estate that makes it such a winner. The fully outfitted chef's kitchen features impressive Calacatta gold marble countertops with industrial-grade Viking appliances and sleek, black cabinetry. It's yet another example of the ever-evident commercial-meets-modern trend that seems to be sticking around in kitchen design.
Cary and Mark Deuber's Dallas Kitchen – Even though minimalism is the way of life du jure, there's something so endearing about a cluttered, real-life kitchen á la Julia Childs. It makes it feel welcoming, homey, and more actually-used than visibly-staged. That's the feeling we get from the cozy kitchen designed by "Real Housewives of Dallas" stars Cary and Mark Deuber—except for the fact that it cost $300,000 and boasts an insanely gorgeous $75,000 blue Molteni stove featuring two ranges, a plancha, and a pass-through oven. It's said to be the only Molteni stove in Texas. The stove also features a massive, custom hood with a wrap-around pot rack, giving the kitchen that real-deal feel.
Ellen DeGeneres and Portia de Rossi's Beverly Hills Kitchen – DeGeneres and de Rossi have always been unexpected icons of interior design (Ellen has renovated over 12 homes in the past 25 years and has her own décor line, ED by Ellen), so it's not shocking that the couple knocked it out of the park with their Beverly Hills estate, which is now on the market for $33 million. Like many of the most trend-forward kitchens of the moment, Ellen's has a bit of an industrial flair, with wall-to-wall stainless steel cabinets and a massive commercial range. The functional chef's kitchen is finished with glass-front cabinet doors and a black backsplash to bring a touch of hominess.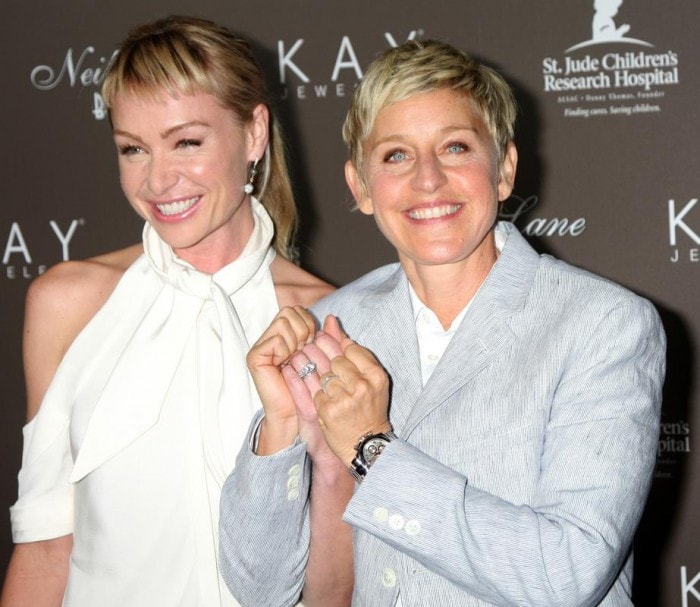 Want to mimic some of these supremely posh star kitchens? It's all about mixing the bold and statement-making with the luxuriously practical, and you don't need five-figure appliances or rare, imported marble to do it. A little bit of creativity and a design eye goes a long way in kitchen design.