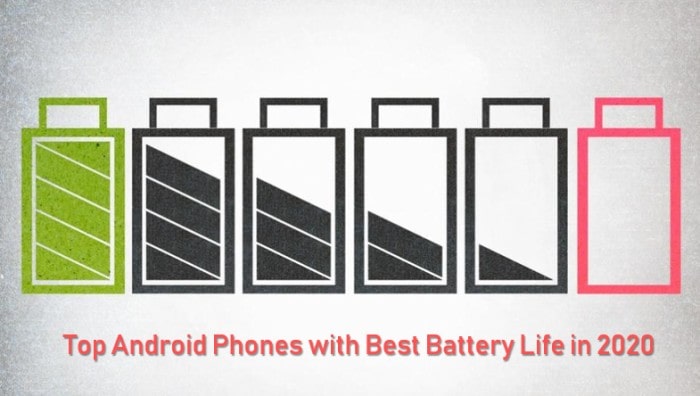 With new mobile phone entrants coming over every now and then, Smartphone shopping has become a daunting task. This purchase should be well-thought-out based on our preferences and usage of smartphone so that the phone bought must be worthy of your hard-earned money.
Everyone has different priorities when they choose to look out for a smartphone. Some people want to have stellar and flawless performance, some would need a dazzling design and others would want a top-notch camera in their smartphones. But we cannot neglect the importance of a smartphone's battery life.
Regardless of how phenomenal your spic and span mobile phone is, it's very irritating if you need to charge it throughout the day. Here, you flaunt yourself on Instagram and there, the battery bites the dust. That's why we are here to help you. We have rounded up some of the top picks to consider for the longest lasting battery lives in 2022.
1.  Huawei P30 Pro
Specifications: 
| | |
| --- | --- |
| Screen Size | 6.47-inches (1080 x 2340) |
| RAM | 8GB |
| Camera | 40 + 20 + 8 + TOF | 32MP |
| Battery | 4200mAh |
| Price | $1600 |
The Huawei P30 Pro is equipped with tons of ah-mazing features that were first ever introduced on a smartphone. That incorporates a periscope telephoto camera with the capacity to convey 50x zoom, enough to shoot the moon. What's more, there's a remarkable 40MP camera on the back and a curved OLED display on the front. Be that as it may, what makes the P30 Pro a dependable option among its competitors is its battery life. It has a 4,200mAh battery that supersedes many other options. In addition to this, tt comes with a faster charging speed of 45W charger enclosed within the pack.
2.  Moto G7 Power
Specifications: 
| | |
| --- | --- |
| Screen Size | 6.2-inches (157 x 720 pixels) |
| RAM | 4GB |
| Camera | Single 12MP rear camera |
| Battery | 5000mAh |
| Price | $249 |
If you compare a smartphone on the basis of price and battery life, then the Motorola Moto G7 takes the crown for sure. You don't have to spend a ton of money to get a great battery life with Moto G7 Power smartphone. It has undoubtedly a great battery life on account of the enormous 5000mAh battery capacity. It is said to keep your phone alive for approximately 60 hrs. Such types of budget-friendly handsets could flatter you to switch to them from your old phone, but beware! And never forget to move your vital stuff with an app.
The price is kept minimum as the less s screen resolution works wonders here. It's under powered and won't run top of the line games or perform multiple tasks well indeed, yet on the off chance that battery life is your essential cell phone concern, at that point there are no preferable smartphones for you over this.
3.  Samsung Galaxy A70
Specifications: 
| | |
| --- | --- |
| Screen Size | 6.7-inches (1080 x 2340) |
| RAM | 6GB |
| Camera | 32+ 8 + 5 | 32MP |
| Battery | 4500mAh |
| Price | $277 |
Just a little away from Moto G7 Power, next we have Samsung Galaxy A70 on the list. The Galaxy A70 is armed to the teeth with its giant AMOLED display and a snapdragon 675 to optimize the phone activities for improved battery efficiency. The general battery life is just an hour behind the Moto – we figured it out to arrive at 24hrs battery timing– in any case. The A70 is nearer to the mid-range slate of smartphones so practically everything else about it is better inside and out. Performance is quicker, the camera is superb, and the design and display are a lot more pleasant, as well.
4.  OnePlus 7 Pro
Specifications: 
| | |
| --- | --- |
| Screen Size | 6.7-inches (3120 x 1440) |
| RAM | 6GB |
| Camera | 48+ 16 + 8 | 16MP |
| Battery | 4000mAh |
| Price | $669 |
This seems to be an expensive flagship, but compared to other competitors, the features stand out to balance the price. Talking about the battery limit of the OnePlus 7 Pro that certainly is not the highest from this price section, yet the product optimizations that OnePlus puts in its OxygenOS effectively makes the handset last well throughout the day. In addition, utilizing the new Warp Charger, the OnePlus 7 Pro additionally charges to full limit in around 60 minutes. The OnePlus 7 Pro is also the organization's most feature-stuffed cell phone till date. It includes a 90hz QHD+ AMOLED display with HDR10+ certification, triple camera on the back and a spring up module on the top permitting the screen to stretch to the edges when needed.
5.  Vivo Z1 Pro
Specifications: 
| | |
| --- | --- |
| Screen Size | 6.53-inches (1080 x 2340) |
| RAM | 4GB |
| Camera | 16+ 8 + 2 | 32MP |
| Battery | 5000mAh |
| Price | ₹16,990 |
The Vivo Z1 Pro arrives with great design and camera, smooth operations and display and affordable price range. It is the official smartphone for PUBG Mobile Club Open and all things considered, it accompanies a large group of features worked for better gaming on the device. The Vivo Z1 Pro additionally includes a triple-camera stack on the back and a punch-hole display. It looks pleasant. But, its most important highlights are that it has a Snapdragon 712 SoC inside, which joined with simply 4GB RAM and a 5,000mAh battery is sufficient to power up your smartphone through long gaming sessions.