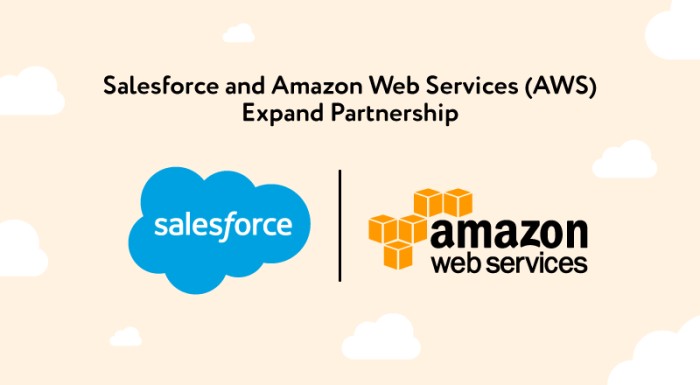 Two big names, two technologies ruling the globe, two organizations with the best of skills, resources and expertise. And now image both serving the technology arena together!As the number 1 CRM (Salesforce) and most popular cloud platform (AWS), the duo provides cloud services with strategic integrations depending upon a base of security and ease.
Salesforce – A global leader in the CRM arena, getting organizations nearer to their clients in the digitization era. Established in 1999, Salesforce empowers organizations of various sizes and segments to leverage the potential of the new day technologies – cloud computing, IoT, AI, Blockchain, voice assistance and many more, to create a wholesome view of their clients.
AWS – As the world's all-inclusive and popular cloud platform, since the last 13+ years, Amazon Web Services has been serving a widespread clientele with over 165 services for compute, storage, databases, robotics, networking, AI, VR, AR, analytics, machine learning and many more. Huge conglomerates have trusted AWS as their partner in powering their infrastructure, becoming more agile and lowering down on costs.
Salesforce and AWS –Strengthening Their Association Further
On a recent note, Amazon and Salesforce have further reinforced their association with a novel cloud partnership that has an impetus on technology for customer service centres.
On November 19, 2019, at Dreamforce 2019, in San Francisco, it was declared that Salesforce will move its marketing cloud from its own infrastructure to Microsoft's Azure cloud. Salesforce has also decided to build a strong integration between its services and Microsoft's teams collaboration app.
"We have a strategic partnership with Amazon Web Services, which will allow customers to purchase Amazon Connect from us, and then it will be pre-integrated and out of the box to provide a full transcription of the call, and of course that's alongside of an actual call recording of the call," Patrick Beyries, VP of product management for Service Cloud
The new agreement states that Salesforce will utilize Amazon Connect, an AWS offering for call centres, as its new service cloud voice product. AWS content will be available on Trailhead, Salesforce's free online learning platform, encouraging anyone to enhance their skills for the forthcoming.
Amazon Connect integration with Salesforce Service Cloud empowers companies to deliver real-time CRM data and AI-driven insights to their contact centre agents and supervisors.
Salesforce Service Cloud effortlessly integrates with Amazon Connect, offering contact center agents with a comprehensive set of tools in their agent workspace to provideimproved customer service. Through this extended partnership, Salesforce has selected Amazon Connect as its favourite contact center technology and will resell Amazon Connect as part of its new forthcoming offering, Service Cloud Voice, making it simple for companies to producesuperior customer service at a lesser cost.
Watch this Video: 
Integration of Amazon Connect with Service Cloud Voice
One usual issue that service professionals face is to depend upon multiple sources of information to handle customer issues. This becomes tough for them to keep a track of order, assets, support issues etc. It may delay the response to clients and hence calls may go unresolved.
This was the prime reason that gave birth to the close collaboration between Amazon Connect and Service Cloud Voice – bringing together phone, digitized channels and CRM information into a single console.
What will happen now is that as soon as there is a phone call to a service agent, it will show directly with the person's workspace. This workspace acts as a central command space to manage customer information and offer services through different communication channels.
Awaiting the Big Collaboration to Happen
Salesforce will start piloting this new Service Cloud capacity in the coming spring season with general availability expected next summer in 2020. There must be many who await this profitable and productive collaboration to kick off and we are one of them!
Author Bio:
Ankit Kumar, Business Development Manager at SPEC INDIA, an Custom Software Development Company. He loves to write and share about latest technology trends, tips related to software and technologies.