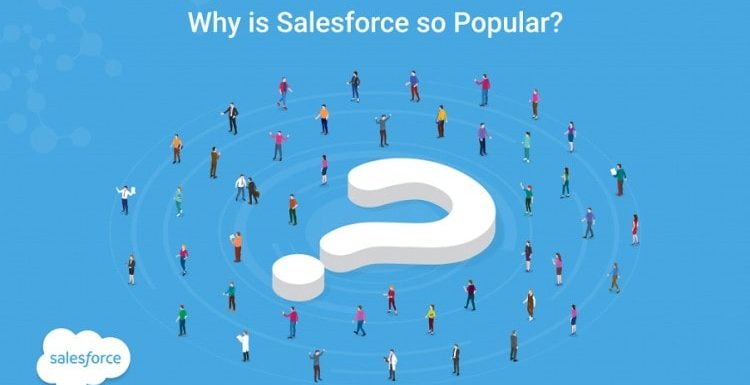 Salesforce is one of the most well-known CRMs accessible today. There are a number of technologies available that allow firms to manage client connections in a seamless manner. Customer Relationship Management (CRM) software or systems are what these are called. Salesforce is one of the most well-known CRMs accessible today. Since its establishment in 1999, Salesforce has amassed a sizable fan base for a variety of reasons.
SP Tech is the name to reckon in Salesforce CRM implementation, integration, and support. And we believe that Salesforce and our expertise can do wonders for our clients owing to hundreds of reasons.
Here are the reasons why we believe Salesforce CRM is the best CRM on the market today. Let us know more.
Do businesses really need Salesforce CRM? If so, why?
Customer Relationship Management (CRM) is a term that refers to the management of customer relationships. CRM will be used in some way by every organization on the planet. The software simply keeps track of who your customers are, how you've interacted with them, and what things they've purchased. If you manage a hair shop, you might have a spreadsheet or notepad with your frequent customers; if you run a catering company, you'll have the same; if you run a 10,000-person worldwide conglomerate, you'll have CRM software.
Salesforce is the global leader in CRM software, controlling over 20% of the market after 21 years. Salesforce, on the other hand, has built a number of solutions to help businesses connect with their customers since its inception.
Then what are the benefits to all such organizations using Salesforce? Let us find out.
The benefits offered by Salesforce:
⦁ Customization Is possible along with Automation
One of the reasons why Salesforce is so popular is that it is so simple to configure. Users can tweak the software to meet their own needs, add more modules, and tailor it to the demands of their company.
Your sales team, for example, can send out more effective tailored emails to customers. They can also develop new sales processes, add workflows, and customize fields. It is simple to scale up or down at any time, which is advantageous for developing organizations.
⦁ A Fantastic Set of Reporting Instruments
Salesforce is known for its reporting tools. You can keep an eye on your team, download client reports, handle contracts, and perform data analysis to your heart's content. Data analysis is a breeze using Salesforce's reporting capabilities, which are clear and simple to use.
⦁ Data Protection makes everything secure and safe
Most organizations are concerned about security these days. Misusing client data or failing to secure it from opportunistic hackers is no longer acceptable. Salesforce places a high priority on security. As a result, Salesforce CRM comes with a number of data security safeguards pre-installed. Business owners and managers, for example, can designate who has access to what data in the CRM, ensuring that only senior people have access to more sensitive client information, such as financial data.
⦁ Easy and useful Integration to other apps or systems
Other third-party programs, like ERP systems, order systems, accounting systems, and marketing systems, can be coupled with Salesforce. This provides value and, among other things, allows emails to be incorporated into your CRM.
About AppExchange
You may even develop and promote your app, as well as access hundreds of other validated apps, if you go to Salesforce's AppExchange. Salesforce is a formidable opponent. You should be utilizing it if you aren't already. With the world becoming increasingly mobile in terms of how we spend our time, it's only natural that Salesforce provides a solution for users that need to access their data on the go: the Salesforce Mobile App! This isn't a mobile app that only gives you 5% of the capability of the full browser app; instead, it gives you access to the exact same information as the complete product. It may also be completely customized to create one-of-a-kind user experiences. Customers, developers, and partners make up the Salesforce CRM system's vast ecosystem.
Many capabilities of Salesforce CRM enable workers from many departments to collaborate and exchange data in real time. Because the data is saved in the cloud, all of your team members can access the most up-to-date information, and you can stay in touch with your clients at all times.
Support services and Upgrades
Customers can ask inquiries and provide feedback on the company using Salesforce CRM content. Salesforce is also a hub for both developers and vendors. Vendors, consultants, and system integrators make up the ecosystem, which helps customers with everything from software installation to application development.
The Salesforce team works around the clock to improve the existing product so that users have a better experience.
Final words
Salesforce takes client input seriously and introduces new features into the product on a regular basis.
Salesforce also offers backward compatibility, which is an intriguing feature. This implies that no matter what the upgrade is, the personalized environment will not be impacted, and you will be able to use all of the features. For more details and how Salesforce can be personalized for your business case, you can contact experts.
Author Bio:
Jaya is all about business analysis and marketing. Never miss a chance to shed knowledge on salesforce and salesforce implementation and currently associated with a certified salesforce service provider.