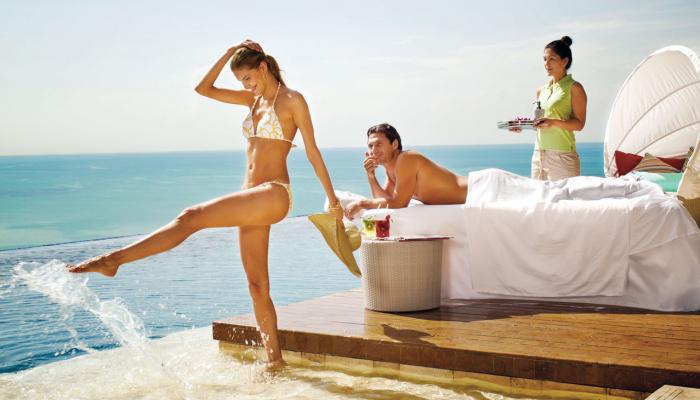 When deciding to travel through Central America, most people choose a cruise. This includes a large amount of time on a ship, and minimal time exploring what the cultures in Central America have to offer. So if you're looking to travel you can go the typical tourist route, or decide to travel like D. Scott Carruthers, a photographer traveling the world and documenting the best places for people who are looking for a unique, adventurous experience. If you decide to be adventurous and explore the depths, then below is a list of places to consider adding to your itinerary.
Actun Tunichil Muknal, in Belize, resides a cave unlike anything else in the world. Initially discovered in 1992 by the modern word, this cave located in Tapir Mountain Nature Reservoir, was original used as a sacred site by Mayans. Not only is this a beautiful chance to see the geography in Belize, but there is also pottery, ceramics, and other historical pieces on display in the cave, which provide a glimpse into the historical side of Belize.
Take a guide through the jungle to visit another major site of Mayan beauty, but this one is architectural. Tikal National Park has ancient temples, palaces, and other dwellings that adventurers can explore while imagining they are in another time and place. Tikal National Park is unique because visitors can explore everything the jungle has to offer, while also taking in the manmade beauty of ancient buildings.
Off the coast of Belize is Turneffe Islands. Turneffe is located in a perfect place for a day trip or weekend trip off the main land. If you're interested in wildlife that you don't often see elsewhere, The island is small and secluded, so if you're looking for space away to enjoy the view and wildlife around you without overpopulation, Turneffe is the ideal place to visit.
Another island to consider visiting is Bahia Island. This on is near Honduras and is larger than Turneffe. Bahia has that island beach relaxation, which also offering the Bahia Honda State Park to any visitor looking for guided activities such as kayaking, bicycling or other park related programs.
First thing about San Andres, there are no taxes. This alone should convince everyone to stop here for their souvenirs. Outside of that, pirates. San Andres has a long history filled with pirate tales, most notable the idea that there is a buried treasure somewhere on the island. If you're looking for an adventure that gets you to explore the island while also getting the blood rushing for a good treasure hunt, San Andres is an ideal place to get your party started.
Scuba dive and Snorkel while staying on Maiz Island. The entire island is sounded by coral reefs that are world renown. These reefs are also known for their population of green sea turtles, which many other scuba sites don't offer their patrons. Other than the reefs, scuba divers should also check out the under water caves. The water is clear, beautiful, and offer great photographic opportunities for capturing memories we don't get to experience often. If the caves and reefs don't get your heart beating, visit during the hammerhead shark season. Swimming with these creatures will definitely leave a mark to remember.
Costa Rica is a vacation all by itself, it has many different adventures to choose from. The busiest time to travel is during Christmas and new years, so if you're looking for a slower season, avoid traveling at that time. Twenty-five percent of Costa Rica is covered in national parks and reserves, so anyone who is interested in actually exploring geographic vegetation will benefit from a trip here. Of course, Costa Rica has city life such as San Jose, where travelers can mingle with locals, check out museums, or hit up a bar for dancing and music.
The oldest city in the Americas, Casco Viejo, is located just outside of Panama City, which means you can get modern city night life after exploring historical sites during the day. Panama Viejo also has something for the inner historian in us all, ruins from 1671 that include cathedrals, churches, hospitals, all of which were destroyed by Captain Henry Morgan, a famous buccaneer.
For those into photography, the rainforest is, of course, one of the most amazing places to visit for getting those great once-in-a-lifetime photographic opportunities. Aside from the beauties of the rain forrest, Bocas Del Toro is a composition of seven different islands, all offering their own unique experience. This is definitely a one stop location for a traveler looking for pristine relaxation and photographic opportunities.
All nine of these options are pristine for anyone who is looking to explore Central America without resorting to being trapped on a cruise ship. Many of these places have cheap, travel opportunities and online discounts for anyone traveling on a budget, or switch up for spa and luxury trip instead. The opportunities offered in Central America make it a perfect destination for anyone.