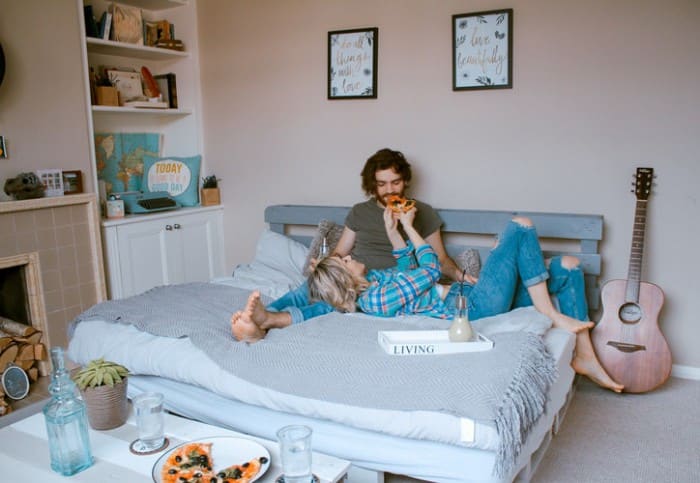 For big city dwellers and those in between, you'll most likely have a limited amount of space. But did you know that having a smaller bedroom can give way to a better night's sleep? With your stuff and essentials, plus any furniture you might have in your bedroom, these can make it looked cramped and unorganized.
The solution? Make your bedroom into a minimalist haven.
Minimalism is the art of living with less in the hopes of getting more. Aforementioned is a movement practiced by the Japanese and is now gaining popularity in all forms worldwide. Having a minimalist bedroom is the best way to declutter your limited space without sacrificing comfort and style. By removing unnecessary items in your bedroom, you'll gain more area, have a tidier room and gives you the pleasure of cleaning without much effort.
Here are some of the minimalist ideas on how to decorate a small bedroom
Keep your wall colors light.
Light wall colors tend to enhance your visually expand your space while darker hues do the opposite. Opt for light-colored paint or wallpapers to give the illusion of a bigger room. You don't need to stick to white and off-white, but a soft-light palette can do the trick.  
Incorporate mirrors.
Large mirrors magnify a space by letting natural light inside the room. Place a large mirror where natural light comes in and make it lean against the wall. It is also best to use mirrors in a space where the walls are white or off-white for better illumination.
Change your lighting.
There are lots of ways to use lighting to your advantage when it comes to making space look more prominent. Lamptwist has a wide range of lighting in different designs to choose from for any room.
Ditch free-standing lamps and go for track lighting. Track lights are inexpensive, plus you'll be able to save more space by letting go of floor lamps.
If you're into floor lamps, mix it with contemporary track lighting and wall lights to direct light to the ceiling.
Scones are an excellent alternative to table nightlights. You can place one on either side of your headboard.
Choose a smaller bed and push it against the wall.
Having a queen sized bed or more prominent in a cramped room can take up a lot of unnecessary space. If you're alone, try to pick just the right size for you, and place it against the wall or corner. This way, you'll have more room and will make a cozier place to sleep.
Make use of smaller prints and single-colored patterns.
Since your bed is the most significant object in the room, opt for a one-colored comforter or bedspread. You can then pair this with colored printed pillows and sheets. Again, light colors are best for small rooms.
Trim down your belongings and only leave your favorite essentials.
The best way to minimize clutter is by getting rid of it. You can keep other essentials in another room and get rid of the things you don't need by donating, selling or just throwing them.
Try to match window treatments with your walls.
Blinds and drapes in high contrast with bedroom walls work better in larger space, so it is better to stick and match walls and window treatments.
Furniture with legs is a better choice.
With small bedrooms, legged furniture like your bed and dresser is a smarter choice as it creates an open feel. You don't have to shy away from the piece that has no legs, but at least choose one that has a length for that open look. Furniture with just enough height can enlarge a room since the more floor space you see, the larger the place looks and feels.
Create a vertical space.
Make any room appear larger by drawing your focus up to the ceiling. Make use of tall bookshelves and cases, enough to draw attention from the floor up. To fill any gaps, you can also hang separate floating shelves. These can serve as a nightstand replacement, bookcase or a space for your jewelry and collections.
Make use of the extra space higher ceilings provide by living vertically.
You can add a loft if you don't mind climbing up the stairs while making use of the space below for recreational activities, storage or a sitting area.
Incorporate smart furniture and storages.
Lots of innovative storage are now available in the market, and making use of those will make your room more organized. If you're looking for a new bed, some are now available with built-in storage underneath it. Chairs and tables now come with other furniture like shelves, which can be stored and used separately.
Let the light in.
Natural light can bounce easier inside a room with light walls, mirrors, and transparent windows. It will give your room a brighter look and a homey feel.
Add a pop of green for a neutralized look
A minimalist room can accommodate a plant strategically placed to give that earthy touch. Look for plants that can easily thrive in closed off space,  modern-looking greenery or a bouquet of flowers in a transparent or neutral colored vase.
Having a clutter-free and bedroom can make your life much easier, plus you'll have fun cleaning as you'll have lesser to clean. As for decorating, there are lots of low-cost decorating tips available for a minimalist bedroom. You can even find interior decorating ideas on the internet, and see the latest trends if you know where and how to look.
Living with less will allow you to live a more comfortable and fulfilling life. By incorporating the principle of minimalism, your bedroom will look bigger and classier than it was before. Remember, you can always add a touch of your style, and bring out your personality in styling your room. It is, after all, yours.