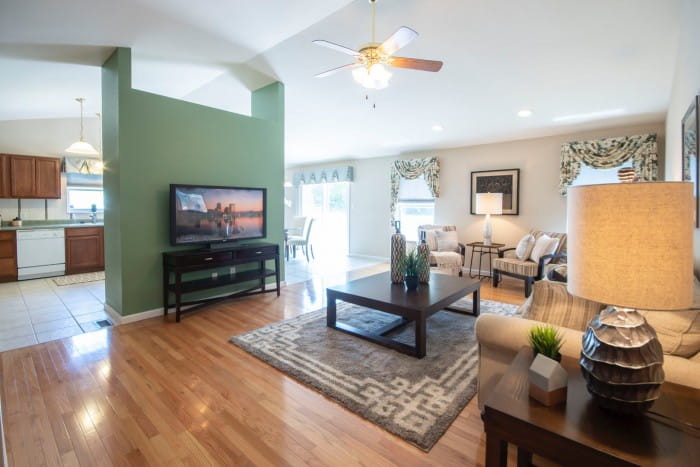 You've finally moved into your first home and unpacked all your boxes. Perhaps you're now considering how you can personalise your living space. However, you must be worried about the skyrocketing costs of undertaking such project. Well, this does not have to be the case. You will be surprised to discover that there are several ways you can renovate and breathe new life into your home without burning a hole through your pocket.
Take a look at these home renovation ideas that use inexpensive items, resourceful thinking and DIY installation. Check out which works best for you and your budget.
Breathe New Life into your Kitchen
You can give your kitchen a new look without taking down the cupboards, hauling out all your appliances and ripping off the flooring. There are many ways you can make it look like new without spending too much or going into debt.
You can do a mini-makeover of your kitchen by re-finishing or repainting the cupboards. Opt for a darker stain or paint them with a new colour. Using peel-and-stick subway tiles can be an affordable and easy way to give your kitchen a new look. Often called as smart tiling, you can find pieces that you don't have to cut, making it easier for you to install them.
Other Affordable and Easy Cosmetic Changes:
Purchase new knobs for your cabinets
Change your kitchen lighting covers
Beautify the space using succulent plants
Get a new faucet
Create a Comfy Outdoor Space
Having a comfy outdoor space provides you with an extension of your home. You will have an area for lounging during cool mornings of the fall and warm nights of summer. Many think that getting a table, seats or decorative pieces for their side or back yard is costly. However, you can update your outdoor space without spending too much when you know where to look.
For instance, you can get pre-loved outdoor set by visiting a second-hand retailer in your town or by searching Craigslist. You can simply repaint the set if it is wicker or wooden. You can also replace the cushions to give it a new look. Another option would be to create a walkway using pallet wood or stones. You can visit your local hardware store and find the materials you need.
There are other small touches you can do to give your outdoor space a new look. You go online and purchase string lights, an outdoor fire pit or tiki torches. If you search well enough, you will find suppliers that offer these products at a lower cost.
Update your Siding without Replacing it
While you spend more time indoors, your home's exterior is still the first thing that passers-by see. You can give your entire house a new look by updating your siding. However, you do not have to replace it and spend a significant amount. There are two inexpensive ways to spruce up your siding:
Power Washing
Find a power washer for rent and clean your siding. You will be surprised how new your siding will look once you get rid of layers and layers of dirt and dust.
Stone Veneers
If you want to go up a notch from power washing your siding, you can opt for manufactured stone veneer. It is more affordable than the real thing and you do not have to hire a professional to install it. The great thing about stone veneers is that they do not fade, crack or warp under harsh climates. So, there's no need to replace them.
Affordable Makeover for your Bathroom
Giving your bathroom a full renovation can cost your thousands of dollars. Aside from that, it would take a great deal of energy and time to complete such project. However, there are ways that will allow you to spend less.
For instance, you can give your sink an updated look using granite tiles. You only have to spend a minimal amount with this small square footage and yet enjoy a clean and elegant look. Another inexpensive option is updating your bathroom fixtures, including your knobs and lights, among others. You can even give your bathroom a lavish look by installing a fancy towel rack or a corner organiser.
Enhance your Home Security
You can make good use of your budget by installing a DIY home security system. This is an affordable way to keep your home safe. Opt for a wireless alarm system which you can customise and update with the features you need. For instance, you can fit it with compatible motion sensors, gate sensors or glass-shatter alarms. The great thing about this type of alarm system is that you do not have to pay for features that you do not need.
Since you won't be dealing with complex wiring, you can install the system yourself. Keep in mind that bundling can save you more money. So, look for 2-for-1 security features for your wireless home security system. For instance, look for motion sensors with lights or a smart lock that comes with an intruder sensor. In this way, you will get added security for a minimal amount. Before you purchase the components, make sure that they are compatible to your wireless security system.
Tips for Making the Most out of your Renovation Budget
As a new home owner or a young couple on a budget, it is important to carefully plan a renovation project. This is to ensure that you won't be taking in more than what you can chew, going into unnecessary debt. So, here are some tips on how you can maximise your renovation budget:
Curate inspirations for your home renovation—Have a mood board where you can collect the looks you would want for your renovation project.
Conduct some research and evaluate your needs- determine your immediate needs and research on the materials you'd need for your project.
Plan your budget- include a contingency fund for your renovation project, but try not to spend it.
DIY or professional service—going DIY is always the more affordable option, but hiring a professional can get the job completed sooner.
Hire skip bins—Plan how you'd get rid of renovation rubbish. Hiring skip bins is the cost-effective and convenient way to do so.
You do not have to go into debt just to update the look of your house. Sometimes, it only takes cleaning or adding little details. Indeed, you can be on a tight budget and still breathe new life into your home.