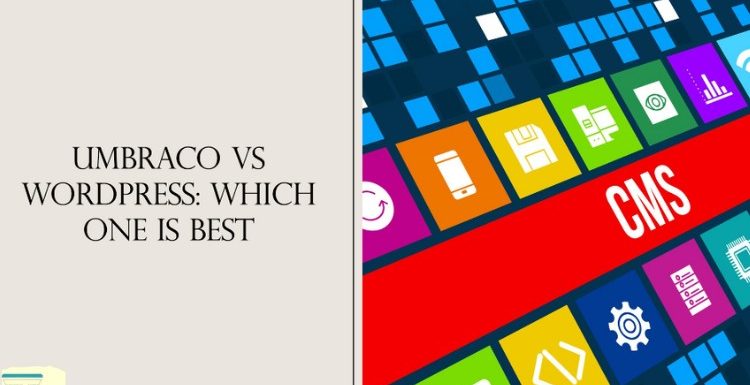 You might have a lot of questions while choosing the right content management system for your website.
Which one works best?
Which one would be apt for the requirements?
Will it be compatible with workflows?
Will there be regular updates to the technology?
The analysis paralysis might be stifling, particularly when your choice will have serious business implications.
Well, there are a lot of factors that will determine your choice.
So, in this article, we take two of the best content management systems and show which one will work best for you.
Here's what Umbraco vs. WordPress has to offer you.
What are Umbraco and WordPress?
Umbraco – Umbraco is one of the oldest, fully flexible, open-source, customizable CMS platforms launched in 2000.
WordPress – Launched in 2003, WordPress was a community-based blogging platform that later evolved into one of the most cherished CMS platforms.
Differences between Umbraco vs. WordPress
Let's find out what the platforms offer, and which is more suitable for your needs.  Here's a comparison between Umbraco vs. WordPress on different criteria.
Codebase and Development Framework 
If you have preferences for the type, it could be your best distinguishing feature between the two.
Criteria
Umbraco
WordPress
Framework
Server-side web app framework – ASP.NET
General purpose scripting language – PHP
Time
Given by Microsoft in 2002
Developed in 1994 by Rasmus Lerdorf
Top 1 million websites
Around 13%
Around 39%
Development
Developer-friendly software allowing you to create more complex sites.

More flexible in case of installing multiple applications.

Faster page speeds when installing plug-ins.

Restricted to existing templates and customizations mean extra cost.
Both the platforms are entirely free and open source, which makes it a great plus point when considering either.
However, one disadvantage to consider is when you want to hire Umbraco Developers to build or fix your site. Since the market share of PHP is three times more, it is much easier to find WordPress developers compared to Umbraco.
Usability and Content management
Criteria
Umbraco
WordPress
Ease of use and

available options

 

 

 

 

 

 

 

 

User interface

Umbraco is a blank canvas made for developers first and not the average user. It lacks a lot of key functionality for developers to spend the money and time to develop themselves.

Little traditional like the Windows file.

A flexible content editor

The platform has almost every functionality/option you will need for the everyday functioning of your website. You get that in the core software or with very little effort.

A little more current, paying attention to both accessibility and usability.

The flexible content editor lets you have a more realistic sense of the final version by mimicking the expected front-end content when you edit.
Both platforms are great for content editors (flexible content editing), requiring little ongoing tech knowledge to create material. You can build attractive pages and content with total control, courtesy of the amazing tools on both platforms.
When it comes to ease of use, the accessibility in WordPress helps to get the basics done faster, reducing the barriers to entry for most brands and giving total control to developers to customize accordingly.
SEO 
Moving on in the Umbraco vs. WordPress mêlée, let's figure out which platform works best for SEO, considering it's a must for every business type.
Criteria
Umbraco
WordPress
SEO optimization
Umbraco requires some work and effort to get the SEO running. Since it works like a blank canvas, you can hire Umbraco developers to get the finest control over the structure.
WordPress has a great relationship with Google. Yoast plugin is excellent; WordPress also features tags, unlike Umbraco, which needs plug-in use or extra coding.

WordPress is more accessible and effective than Umbraco and lets novices get up to speed faster.
WordPress flaunts a proven structure with Google and beats Umbraco when it comes to SEO effectiveness – whether mass edits of metadata or permalink optimization – the CMS platform takes the point in this criterion.
Growth and Scalability
Criteria
Umbraco
WordPress
scalability
Highly scalable, great at managing huge amounts of pages.

It is also extensible and developer-friendly, allowing great freedom while developing third-party integrations from scratch.

Highly scalable like Umbraco and easy to integrate.

Customizations and plug-ins
Not like WordPress
Better choice of Google-approved dedicated SEO plug-ins
Both platforms are built to expand and grow to suit people's needs. The platforms have built-in API layers, meaning they are integration ready, allowing you to expand the reach and efficiency with third-party tools.
The disadvantages are similar too for both systems when it comes to expansion.
Installing plugins is easy for WordPress, but too many of them, irregular updates, and poor hosting solutions can result in a slow and unsecured site.
Umbraco has a lower barrier (entry-wise) and needs a lot of work to reach the basics. So compared to the competition, developing new functionality and integrations is time-consuming.
Community Support
| | | |
| --- | --- | --- |
| Criteria | Umbraco | WordPress |
| Community (active members) | 221,745 members | 511,000 members |
Both platforms are open-source, enabling them to have robust community support (having regular meets globally). The big community of experts and active users also means a lot of learning and growth for the platforms as well as the users.
Security
| | | |
| --- | --- | --- |
| Criteria | Umbraco | WordPress |
| Security | It uses code access security (CAS) and identity-based security – giving the platform an extra safety net. | It relies on developers to build securely. Developers need to make use of the right hosting platforms and follow the coding standards. |
Umbraco is more secure than WordPress, considering the latter is the biggest CMS, witnessing more attacks compared to others. Both platforms rely on developers and their maintenance in the longer run.
Hosting and Performance
| | | |
| --- | --- | --- |
| Criteria | Umbraco | WordPress |
| Performance | Websites are a little slow in content editing and from front-end perspectives.  It promises a more customized outcome since you will spend more time in development, but it is also slow in performance. | WordPress is cost-effective to configure and run as compared to Umbraco. |
It is wise for both platforms to opt for specialist host providers over basic ones to ensure high performance and a great user experience.
Licensing
Both the platforms have open-source nature and cloud versions, and we recommend going for the former to keep control over the marketing efforts.
Cloud-based versions are not free and focus on a more do-it-yourself approach (when building a site) over the high-performing marketing tools we have compared so far.
To Sum It Up
Umbraco and WordPress are two of the most popular content management systems, each having a fan base for distinct reasons. The Umbraco vs. WordPress talk was to make you choose the best CMS platform.
Both platforms have pros and cons when you dissect based on distinct criteria, and choosing according to the business requirements is wise.
For instance, WordPress is a go-to platform when it comes to blogging and content optimization.  If you require simple content freelance work, this is your option.
Umbraco allows more control over every aspect of the CMS, so if you are a small business looking to grow and expand, the platform will help you in the process.
If you are looking to hire Umbraco developers or experts in WordPress, we offer the best solution with a team of experts with longstanding experience in their respective fields.