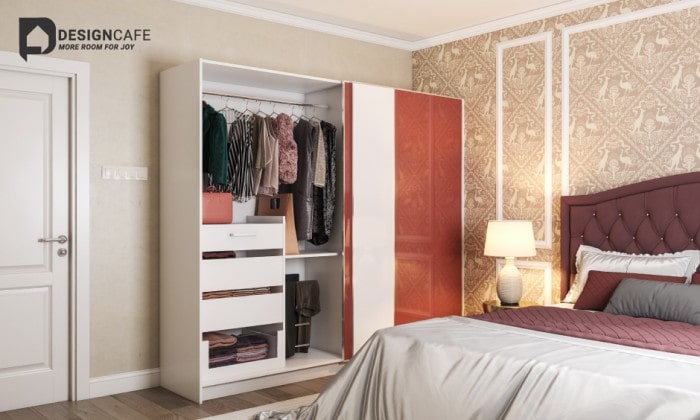 Your wardrobe is one of the most essential elements of your bedroom's interior design. It amps up the beauty of your bedroom and adds to the functionality of the space as well. From keeping all your clothes organised and preventing things from piling up in a corner, a well designed wardrobe plays an integral part in everyone's home and life.
With apartments shrinking in size over time designers are giving homeowners interior design solutions that include straight, simple lines and smart storage options.
Home interior solutions is mindful of today's reality and strives to give you 20% more space with its space saving designs. In this blog we bring to you unique yet functional wardrobe design ideas that make your bedroom look stylish, spacious with lots of storage solutions. Whether you live in a small apartment or large home we have options for everyone. Read to explore some innovative bedroom wardrobe design ideas for your home.
A Lavish Walk-In Closet Designed With Tinted Glass Front And Stylish Accessories
Are you someone who has always dreamed of a walk-in closet for your clothes and accessories? If you are someone looking to give your home a luxe look then this idea is for you. You can make your dream a reality with this wardrobe design without breaking your bank. Yes! It's true. This walk-in closet is designed with tinted glass shutters and unique accessories that make it a design worth investing in. As we see in this image here this wardrobe is designed with multiple drawers, open shelves and large compartments to display your expensive clothes. LED strip lights on the shelves have been included to showcase your designer collection of apparel and accessories. You can use the deep loft space to store your winter clothes, blankets, and other non-essentials without compromising wardrobe space. And what's more, you can add a hanger pullout to your wardrobe's design, just like you see here in this image, to easily bring everything down to your level.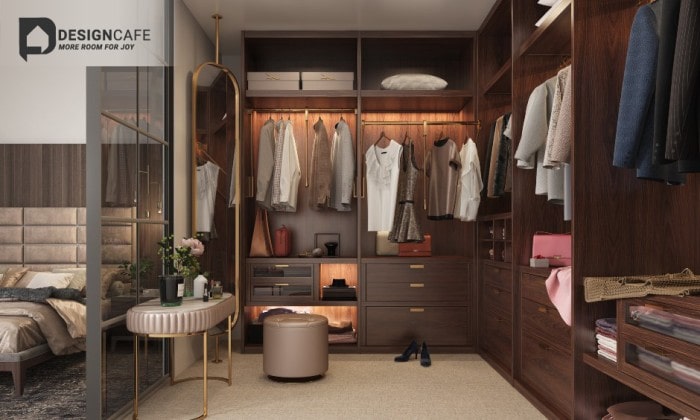 A Stylish Wardrobe Finished With High Gloss Laminate And A Hidden Dresser Unit
If you want to add an extra shine to your bedroom's interior design we suggest you go for a wardrobe finished with high gloss laminate. They reflect light beautifully and bring in a touch of luxury to any space. This wardrobe has multiple storage options like drawers, hangers and a loft. It also has open shelves to showcase your expensive showpieces, books and other knick-knacks. However the main attraction of this wardrobe is the hidden dresser unit with a mirror, and an ottoman that makes this wardrobe a makeup lover's paradise. The blush pink colour of the wardrobe creates a striking contrast with the green accent wall making it a perfect mix of beauty and functionality.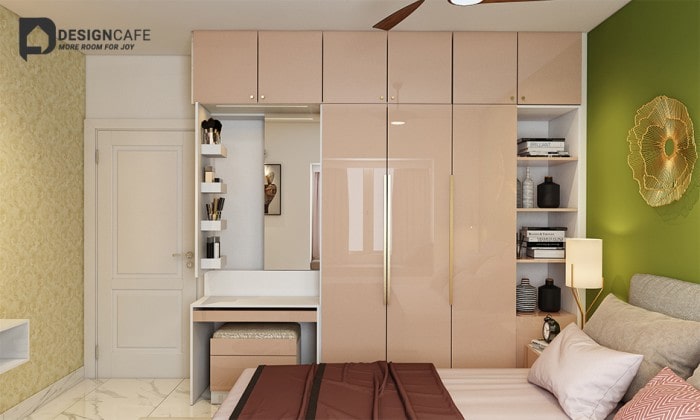 A Floor To Ceiling Wardrobe With Multiple Storages And An In-built Iron Table
Are you fond of clean lines and simple designs? If so, then we know you will fall in love with this wardrobe design. Designed in white and wood this wardrobe comes with an in-built iron table and some modern space storage solutions. The clean lines and a soothing colour combination is easy on the eyes and lends an elegant look to this bedroom's interiors. There is ample space to organise your clothes and other essentials in a clutter-free manner. The dressing area with an LED backlight and a comfortable seating arrangement makes this bedroom's interior design look extremely elegant and chic.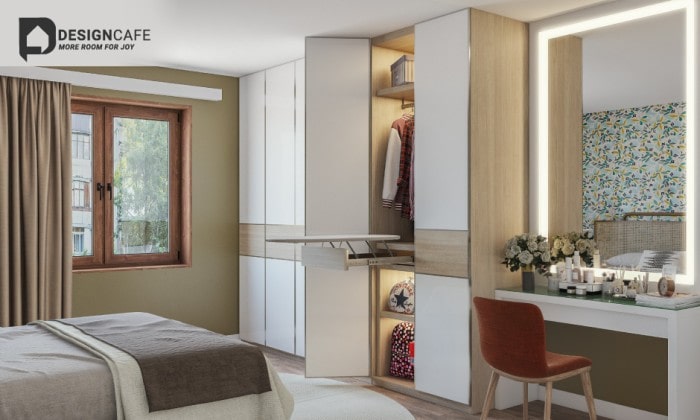 An L- Shaped Floor To Ceiling Wardrobe In Veneer Finish With A Trouser Pull-Out
Gone are the days when the only storage option in your bedroom was a stand-alone almirah where you had to store all your personal belongings and clothes. Not to forget bulky pieces of furniture like old school almirahs meant a big compromise on space too. Now modular wardrobes are the talk of the town thanks to their clean, straight lines and smart storage solutions. This L-shaped floor to ceiling wardrobe is an excellent idea for an empty corner in your bedroom. In this image here we see an all wood finished wardrobe that mimics the look of a small walk-in closet. This design is ideal if you have a large master bedroom. The veneer finish lends warmth to your bedroom's interiors while the innovative storage solutions like the trouser pull-out help keep your clothes organised and crease-free.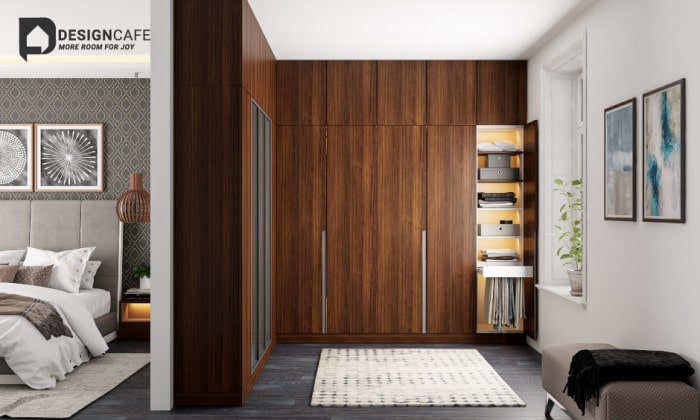 A Sliding Wardrobe With An In-Built TV Unit And Storage Behind
Do you have a small bedroom with no space to fit in a separate entertainment unit? We have the perfect solution for you. This sliding wardrobe comes with a flip-up TV panel and hidden storage behind it. Just slide the door of your wardrobe and turn your bedroom into a personalised and cosy entertainment room. Handleless drawers and hidden storage behind the TV panel provide ample storage for your clothes and other belongings as well. A sliding door also helps in space management and is perfect for tiny bedrooms.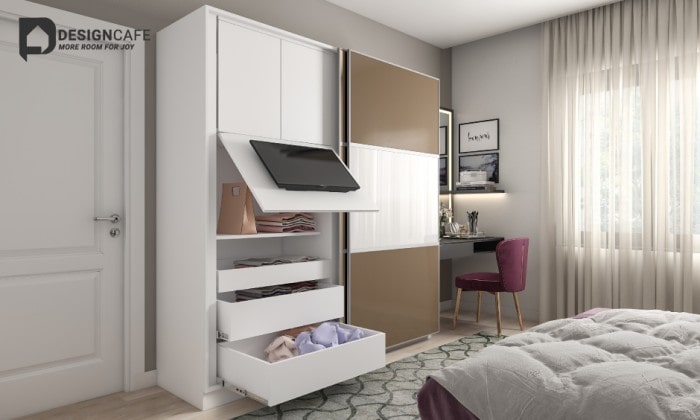 A Wardrobe With Concealed Study Table For A Cosy Work From Home Setup
The pandemic has made the home office setup more of a necessity than a luxury.  However, it might be challenging to accommodate a separate workstation in your tiny apartment. So here we bring you a wardrobe with a concealed study table where you can take your work calls, get productive with your tasks and help your kids with their homework. This multifunctional design blends seamlessly with your home's interiors. A pop of yellow adds a joyful vibe to your bedroom giving it a sunny look. Multiple storage options included in this wardrobe's design help keep the space neat at all times.  This wardrobe can be used for the master bedroom or your kid's bedroom as well.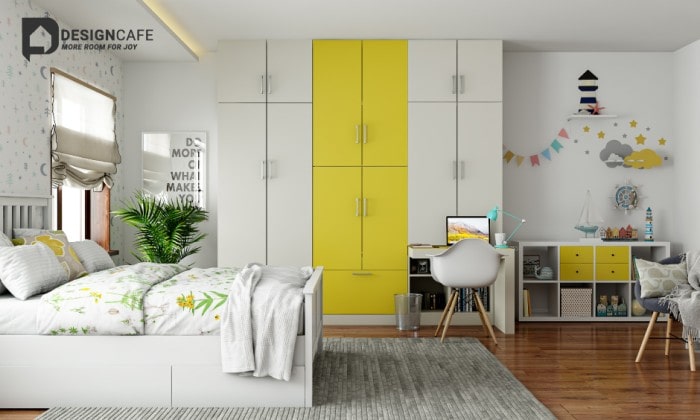 A Modern Full Height Sliding Wardrobe With A Hidden Mirror And Pull-Out Dresser
This modern wardrobe comes with a hidden mirror and a pull-out dresser unit to arrange your makeup and other personal care items. Sliding doors make it easy to access while multiple storage units help keep your clothes, handbags and other essentials organised and tidy. If your makeup essentials are dear to you then this sliding wardrobe is a must-have in your bedroom.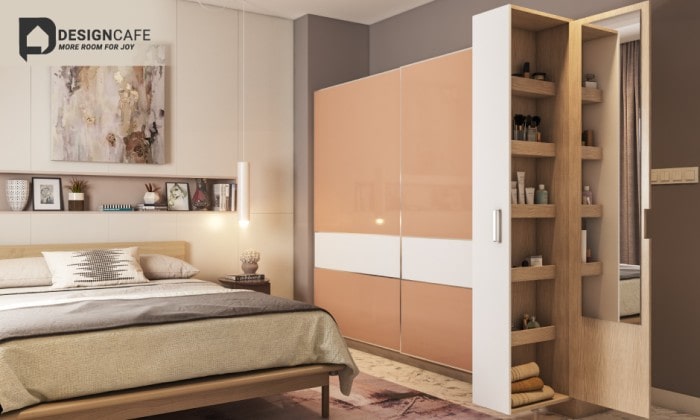 We hope this blog has given you ideas that are useful to you. If you want more tips, design solutions and know-how on the world of possibilities that await your wardrobe do book a consultation with Design Cafe here.
Author Bio:
Sreya Dasgupta is a senior content writer at the interior design firm, Design Cafe. She loves to travel, read and archive inspiring stories of life through her words. Passionate about every facet of life she loves to explore different cultures and culinary experiences – all of which inspires Sreya to write. When not working, she loves spending time with her Ukelele.