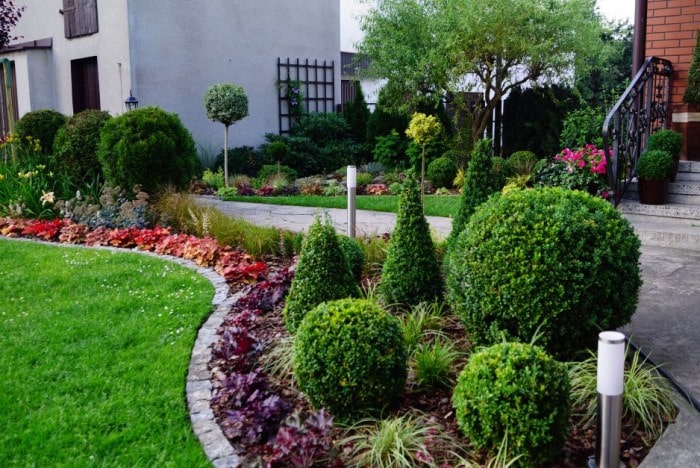 People say that looks are part of personal preference, but in real estate, two things are more than just necessary when people are buying or selling a home, one is the location and the other is certainly the appearance of your home.
The curb appeal of a house can make or break a deal, and landscaping is an integral part of your home's curb appeal. According to research, 88% of buyers buy a home due to the home's good looks exterior looks. Curb appeal is the only thing that gives buyers a critical first impression of your home.
And landscaping is one of the most essential parts of your home, and if it is not well-maintained you will lose potential customers. In fact, attractive, landscaping can add up to 22% of more value to your home when selling.
So it's worth it if you invest a little amount in your home's landscape to get the best price. Now if you have decided to sell your home, here are some of the best landscaping tips for selling your home at a price that you actually deserve.
#1 Start Planning And Maintaining Your Lawn Well Before You Sell
Start your landscaping this fall if you plan to sell your home next spring. Remove any kind of debris, including dead branches, weeds, shrubs, and overgrown plants and trees. Sow and fertilize your lawn to give it plenty of time to grow and look its best. Replace trees and shrubs in the fall or spring rather than the heat of summer to give them a better chance to thrive.
You need to make a solid landscaping plan a few months in advance before you put your house up for sale, as plants and grass take a long time to grow. If you are thinking of selling your home, start gardening now.
#2 Cut Overgrown Grass Because It Leaves A Wicked Impression
Moving to second of the landscaping tips for selling your home, you must know that a neglected lawn is an obvious detour for buyers. Unless you find one who wants a cheap home, you can expect fewer interested parties to bid. While overgrown plants and weeds can make a house look run down, a well-maintained lawn is a signal to potential home buyers that the home is also well-maintained indoors.
Start by mowing the lawn, trimming the bushes, and trimming the hedges. Keeping grass cuttings, flower beds well maintained, shrubs cut and beds with mulch shows general home care. Good sign. This is what buyers want to see. But long-term neglect cannot be corrected overnight.
#3 Add Mulch To Your Landscape
Nothing refreshes a landscape like a new use of mulch. A layer of fresh mulch around plants and trees instantly makes your garden look clean and polished. The color enhances the contrast of the surrounding plants and makes everything stand out.
Plus, mulch is relatively inexpensive and easy to apply. Additionally, the new mulch makes the beds look fresh and new, catching the buyer's attention with aesthetic appeal. If you are not sure about the best mulch to use, ask top landscaping companies for advice.
#4 Introduce Colors In The Landscape
Green is great, but you also need color if you want to sell your home. Accents that stand out with color are the way to go. Make sure your lawn is healthier, lush, and greener, then add color to highlight the lawn. Try to contact landscaping companies for maintaining your lawn professionally.
You can add color with strategically placed annuals in plastic or terracotta pots. Potential buyers will be drawn to a colorful and inviting patio. Add a distinctive glow to your property by planting brightly colored annuals or placing potted plants near your front door.
#5 Mowing The Lawn Makes Sense
Mow as often as possible. It gives a nice feeling when someone enters the house. As a result, they are more likely to buy your home quickly. A landscape is nothing without beautiful bushes, flowers, and plants. Cut any extra weed and overgrown trees and plants.
Buyers don't want to worry about the possibility of a tree falling inside the house. Cut off any branches and dead leaves from the plants. Give them a shape, wherever they seem too big. If you see any dead plants, remove them. Any plants that do not look fresh and green or that cannot be pruned to look better should be removed.
#6 Plantation quantity and type should be according to common interests of buyers
Remember, don't intimidate potential buyers with an overabundance of plants they'll need to care for or by planting tons of exotic flowers they don't know. The buyer may consider these factors, since he may compute his estimations on the modifications he needs to make to the landscape, and it may be a factor in him abandoning his plans to purchase your home. As a result, this case demonstrates that an appealing landscape is more than simply a pretty face; it should also appeal to purchasers' mutual interests. Do your study on common and easy-to-handle plants; this increases the likelihood that a potential buyer will be aware of them as well.
All We Want Is A Simple, Healthy, And Attractive Lawn
Put yourself in the shoes of a buyer. Imagine how attractive a healthy lawn could be with enough landscaping features to enhance the property. Freshly mown lawns, neat flower borders, neatly pruned trees, and shrubs add to a neat house. Plus, skirting the lawn along the driveway and flower beds is the perfect finishing touch.
If you are selling dandelions during the spring season, be sure to control them as best you can. Landscaping is part of the overall appeal and indicates what the interior of the home might look like.
This is it from us on landscaping tips for selling your home. Hope it is of most help to your landscape and you. P.S. it is always recommended to look for top landscaping companies for expert advices. You can find them on online directories like HomeAdvisor, CityLocal Pro, etc.