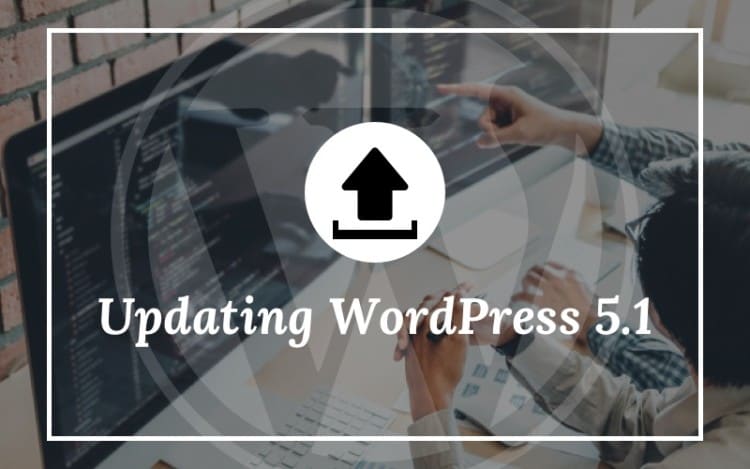 Do you want to keep your WordPress website healthy and returning high? You should update your WordPress website regularly with each major and minor WordPress update. However, updating a WordPress site is not smooth sailing, particularly when the site is a bit complex in several aspects. Therefore, today Perception System, USA is introducing what needs to be taken care before updating WordPress site with WordPress 5.1 update.
WordPress 5.1 was a major release after WordPress 5.0, and on February 22, 2019, it was released successfully. On March 07, 2019, one minor release of WordPress 5.1.1 taken place and some important bug fixing, 5.1 regressions, and small block editor improvements have taken place.
With a major release of WordPress 5.1, owners of WordPress sites, WordPress developers, and WordPress power-users are striving to learn new things coming in the market. They also are interested to know what care should be taken before jumping on the board to update the running site on the web.
What is New in WordPress 5.1.x Releases
You might be interested to know first that what offerings are coming in the latest release of WordPress 5.1. You might be interested to know how you can adapt updates, and go for error-free configurations while installing the major update of 5.1. Let's know the latest offering coming with WordPress 5.1 update.
Gutenberg Editor
WordPress has addressed a very crucial requirement of its users. It was an advanced page builder with a flexible user interface. The flexible UI of an editor in a CMS gives immense opportunities to customize the website. Drag-n-drop interface with multimedia content uploading support and many other tools to eliminate needs of 3rd party premium editors like Visual Composer, Elementor, Beaver Builder, and similar products in the market.
It is Gutenberg editor introduced as a built-in feature in the WordPress 5.1 version. You might have some curiosity to know how Gutenberg name allocated to the latest editor.
Johannes Gutenberg has invented printing press first time, and in his memory, WordPress has named its new editor.
Gutenberg editor is replacing standard TinyMCE editor by introducing user-friendly features and functionality.
Gutenberg grouping texts sections into little blocks and provide relevant tools as visual editor and eliminate the need of tweaking HTML & CSS in the HTML Mode.
For instance, to give texts in a para different colors and styles, you will have a side panel when you select the texts in the para block. It completely alleviates need to know HTML and CSS for in-line coding in Code/HTML Mode.
Other Offerings in WordPress 5.1 Update:
Apart from the text editor Gutenberg, WordPress 5.1 has some other new changes. Let's learn about some of the significant offerings:
Dashboard Notice for PHP version
Your WordPress hosting should be on the latest PHP version support, which is the first requirements to go for the latest and upcoming WordPress updates. If it is not so, you must have notice learn that which PHP and MySQL versions of your hosting server at the present moment. Thus, you can grab a chance to upgrade the PHP version of your hosting server or ask your hosting service provider to do the same.
Now, with WordPress 5.1 update, you are capable of getting notifications regarding PHP version and its compatibility to absorb the latest WordPress updates.
Check Compatibility for Plugins & Themes
Similarly, WordPress 5.1 adds forced PHP version compatibility for themes and extensions running on your site and notify for it. Thus, WordPress developers can know the status of existing themes and extensions integrated with the site and take appropriate measure to update them, disable, or install new.
Thus, WordPress 5.1 updates help WordPress developers to check compatibility of themes and plugins and go for updates.
Protection from White Screen of Death
When any fatal error occurs, WordPress shows a white screen and ends up in dead status, so it will not respond to anything. However, protection against the fatal error feature was halted for 5.1 version at the last moment and may be introduced in the next 5.2 version with required changes.
Minor Changes in the Interest of Developers
Multisite Metadata
Cron API to get a new filter to modify cron storage
New JavaScript build option
What Should Care should be Taken before Updating WordPress 5.1 in Your Website?
When we have a major WordPress update, we must follow some precautionary steps to make it a success and save from unwanted disasters. Let's see what we can do in due processes. I am going to describe the required steps with illustrations and instructions to follow while installing WordPress 5.1 update.
#1 – Take Backup of Running/Existing WordPress Website
Go to c (C) Panel of your website hosting and find out the backup wizard service button on your dashboard in the back-end of your site.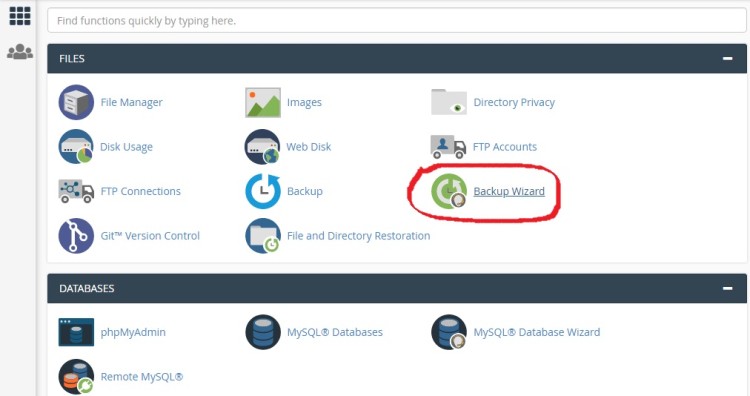 In the backup wizard, you have options for full or partial backup and restoration facilities. Pass through the process and finally, download the backup files of your site on your local machine or cloud storage services like Dropbox or AWS.

Keeping a copy on the local machine and cloud storage simultaneously provides more protection than with only an alternative. If you want to take backup of your XML files and databases separately, you must take help of the advanced backup service providing extensions/plugins. So, you can get double protection and easy restoration when some files or portions of database getting corrupted.
Some elegant hosting service providers offer regular backup services at minimum charges and they also tie up knots with backup service providers to help for your large size WordPress sites to get secure backup and satisfactory restoration services.
#2 – Learn about Auto-update Feature
In usual WordPress sites, automatic update feature is on, which automatically deactivates all plugins and components, as well as running the live site on the web in development mode until the upgrade is finished.
#3 -Use Development Mode
During the major upgrade like 5.1, we used to test the performance of new features including Gutenberg editor. In due course, we have to go to test the site on staging or development mode. It can save the live site from any accident that might take place during the upgrade. Some useful tips are:
You must test how editor performs
How SEO and other extension performs
How site behaves on various devices and screens
You must publish a post, upload content including multimedia content
Try a variety of blocks and learn how they work
Install a plugin and upgrade the existing one
Make some changes in the site features like language, currency, and styles
#4 -Deactivate Plugins, Themes, & Components
Our precautionary steps like backup and restoration can help in saving us from various anomalies. However, we need to deactivate all functionality of the site before you go for manual plugins, theme, and component integrations.  You can do so by going to configuration panels of the back-end of the WordPress site.
After completion of the WordPress 5.1 update, you must activate those plugins, theme, and components again one-by-one. Now check the performance of those integrations by testing the site. It helps you to sort out any plugin that creates conflicts with the updated core of the WordPress 5.1 in your WordPress site.
Usually, extension developers issue updates of plugins immediately following the major updates. So, you will have updated versions of plugins and theme within a week or fortnight.
At the End
Now, you have a complete view of WordPress updates, benefits, and measures must be taken before installing WordPress 5.1 update success. However, the steps and tweaks I have described here are a bit technical, and all WordPress power-users cannot do it correctly in DIY efforts.
As per my opinion, the best way is to take the help of seasoned WordPress developers who have developed your site.
If you need external help, Perception System, CA in the USA is a renowned WordPress Development Company ready to extend helping hands quickly and cost-effectively.
You also will find comprehensive support and maintenance packages that you can subscribe for continuous and cost-effective help. It is an excellent way to focus on your core activities because S&M team at Perception System, USA is taking the whole responsibility of WordPress updates along with maintenance and accomplish everything automatically, as well as in a timely manner without affecting your site and business at all.