Looking for an easy way to give your home a refresh? Consider wall accessories to fill empty walls and make your home warm and welcoming. Wall art allows you to express yourself through design, color and texture. When it comes to amping up your décor, adding wall accessories to inject color, style and personality in your space is a simple design option that can change the way a room looks and feels. If you're getting bored of the same artwork that's been hanging in your home since you moved in, change things up a bit! The addition of a cool clock or pretty mirror can be a starting point for everything around it. Ready to discover the endless possibilities that wall decoration items provide? Read on!
1. Use modern wall clocks as functional art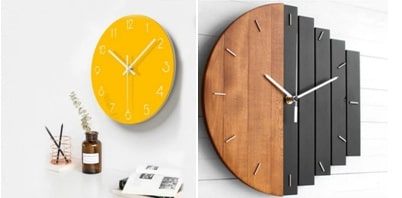 In addition to keeping you punctual (an excellent trait to have, by the way), wall clocks are stylish timepieces that make fabulous home decorative accessories. Gone are the boring "faces" of yesterday. Today, wall clocks are fashionable décor pieces available in every color, shape and style. Some feature gorgeous graphics while others are abstract with eye catching textures and designs.
Design tip: Wall clocks with a minimalist look in a vibrant color will elevate your decor and brighten an eating nook. If you want to make a statement and impress guests, opt for a modern, quirky design to add visual interest to a common area such as a living room or entryway. Explore design wall clock possibilities!
2. Create a gallery wall of art work or personal treasures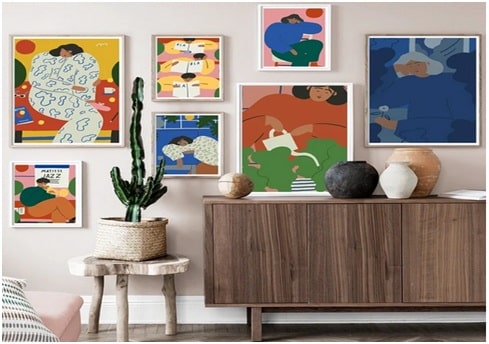 If you've never put together a gallery wall, the task may seem daunting, but no worries. You can buy a collection of art prints that share a common theme and display them in matching frames. The hard work will be done for you, as you'll have a matching collection and can decide how to hang them. There are infinite templates online for creating simple gallery wall grids. You can center a smaller piece beside, above or below a larger piece or line up the tops, sides or bottoms of frames to create a balanced design. The secret to hanging the perfect gallery wall is to experiment with paper templates first. Trace your frames on paper and tape the paper templates in place with painters tape. This way, you'll avoid nail holes and can rearrange your design until you get a look you love.
Design tip: A gallery wall can include any item that brings you joy—family photos, colorful prints, even your child's drawings. Clocks can brighten a gallery wall too! There are so many ways to create a gallery wall that showcases your personality. For gallery wall inspiration that will knock your room out of the park, click here.
3. Use wall art as the dominant color in your room's design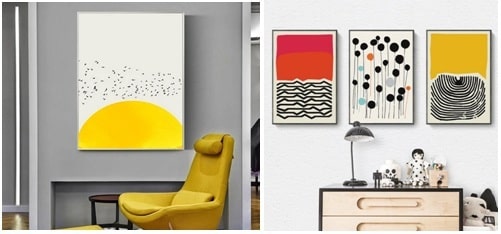 While colorful furniture can brighten a room, you can also use wall art to add color to a neutral setting. If you have a neutral paint color on the wall, use vibrant artwork to punch things up. Colored wall accents are an ideal starting point when choosing colors for a space. Use a favorite art piece as inspiration for a room's color palette. Pull a dominant color from the wall art and select fabrics for pillows or wall treatments that match. You can choose one main color and a few accent colors, all from one piece of art. A grey living room gets a sunny boost with yellow wall art, just as a black leather sofa would look stunning with colorful prints in black frames, hung above it.
Design tip: If you're hanging your art above a piece of furniture, it should be 4-6 inches above the piece.  If hanging a single picture, hang it at eye level (the center of your art should be 60 inches to the floor.)  When hanging two art pieces, treat them as one and hang them 60 inches from the floor to the center of the grouping.
4. Let wall hooks keep you beautifully organized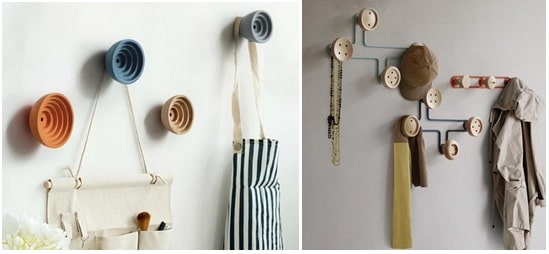 Wall accessories such as wall hooks and hangers also make great wall art. They help you stay organized while showcasing your favorite handbag, tea towels, dried flowers, colorful scarves or jewelry and accessories. Wall hooks also add dimension and texture to a wall. Stay organized and use your personal belongings as showpieces. Now's your chance to put the scarf you knitted on display and to showcase your favorite jewelry pieces.
Design tip: If you have a talent such as jewelry making or sewing, use your creations to decorate your space. There's no greater feeling than having a guest comment on how much they like your embroidered tea towel or handmade mala necklace. Share your talents with the world and put your creations on display.
5. Choose mirrors to reflect your style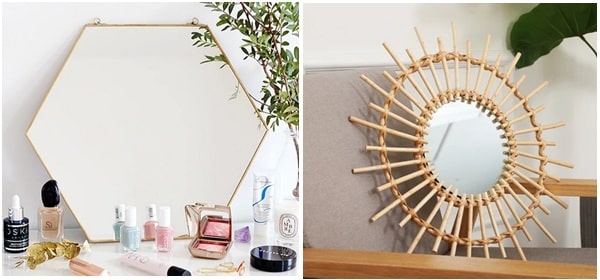 In addition to being practical, mirrors are decorative wall accessories that work to enhance a design and in some cases, elevate it.  Whether you're drawn to a hexagon-shaped mirror suspended on a golden chain or a boho-inspired wicker sun, mirrors work double duty to reflect your image as well as your surroundings and the room's natural light. No space is too large or too tiny for a mirror. Used in an enclosed area, a mirror can double the space perception, making a room appear larger, brighter and more welcoming 
Design tip: Open up any space with a light and airy mirror that's made of natural materials. It lends an organic touch to a room and brings warmth to every setting.
6. Try the trend: Hang wallpaper instead of painting

If you're looking to revamp a room, you might want to consider wallpaper. Wallpaper has made a comeback in the past couple of years. The quality of wallpaper has evolved and application techniques are easier than ever. You can purchase peel and stick papers that can actually be removed and repositioned, so it's super easy to get it just right.  Wallpaper gives you plenty of décor options. You can paper an entire room, one focal wall or use wallpaper to enhance the back of a shelving unit, highlight wainscotting or create the look of tiles or weathered wood planks. There are amazing printed wallpapers, bold metallic papers and raised textured designs. With so many possibilities, you may have a hard time choosing a favorite look.
Design tip: Foliage wallpaper looks elegant in a living room or dining room to add freshness to a space, while black and white geometric papers are lovely in a bathroom, office or bedroom. Discover wallpaper that inspires you and start planning your next project!
7. Use shelves and wall planters as decor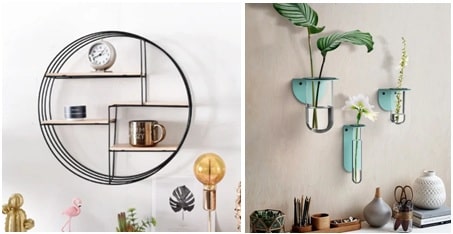 Wall shelves and wall planters are a sensational way to draw attention to a wall, especially when you feature souvenirs from your travels or you showcase your incredible green thumb. Imagine a stunning orchid blooming on a bare wall, sitting on a unique shelf or in a wall planter. Let your walls do the talking. You have incredible stories to share and your walls can be the intro to a fantastic story. Every story you help write has a happy ending. Share it!
Design tip: Make your home personal. Take pride in your possessions and put them on display!
Author Bio:
My name is Leticia Hernandez. I founded letifly(.)com, a website for curated gifts and home decor. I'm an experienced fashion designer/ advertising professional, with an extensive art training and a special love for beautiful interiors and interesting objects.