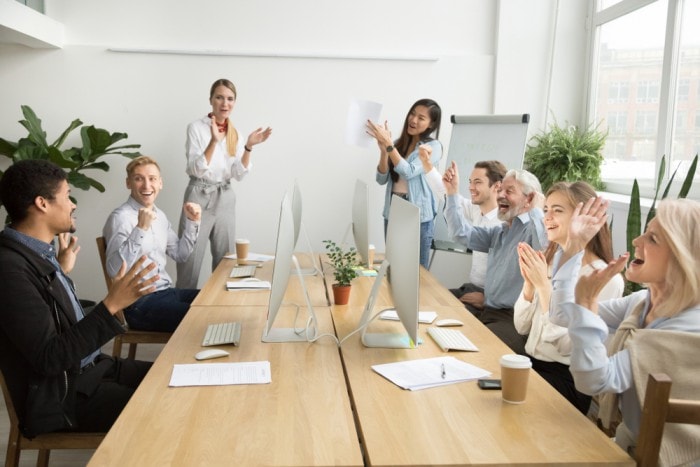 Employees are like gems. You make business decisions, and they implement them. You set goals, they help you achieve them.
In the world of artificial intelligence and other technological advances, we tend to fail out on the most stimulus thing i.e. motivation. Do you know that a magnetized piece of iron can lift about twelve times its own weight. But, a demagnetized piece will not be able to lift even a feather.
These stats below clearly demonstrate the importance of employee motivation.
58% of managers said they didn't receive any management training, according to a survey by CareerBuilder.com.
Around 80% of employees leave their jobs due to "lack of appreciation."
But, what're the secrets to motivate your employees?
This post describes the top 5 employee motivation techniques you should start using today.
5 Tips For Keeping Your Employees Motivated
Provide supportive leadership
In employee motivation, leadership is one of the major factors. To build strong bonds with your workers, you need to work closely with them, understand their problems and solve them.
Think from the employee's point of view. Would you be able to focus on work if the management doesn't seem to motivate you?
Of course not!
Also, it's important to learn the importance of behaviors and modeling you want your employees to have. This is because people get easily distracted and unmotivated if your outlook shows a lack of motivation.
You reap what you sow. Value your employees, listen to them and their opinions—only then they will be able to work the way you want them to.
Under Armour's founder Kevin Plank recommends hiring employees with great leadership skills. These natural leaders are like engines, which contribute a lot towards the company's success.
Align passion and skills
You feel happy and the heart of human excellence starts beating when you get something that challenges you, absorbs you, and matches what interests you the most.
"The most fortunate people on earth are those who have found a calling that's bigger than they are—that moves them and fills their lives with constant passion, aliveness, and growth." — Richard Leider.
Try to discover what makes your employees happy and what they're passionate about. The more you work on your employees, the more they work for you.
Have an open discussion with your gems, know their desires and interests and allow them to get into the roles they like the most.
If you find some employees frustrated, unmotivated and unhappy, ask them simple questions. Are they loving what they're doing. What's distracting them from their work? Try to find the root cause of their problems and find the relevant solutions.
Pursue your passion—make things easily accessible for your team to unlock their potential and initiate their growth. You will definitely get a team that helps you beat competition which is  key to success.
Share performance feedback and direct the right path
Feedback is important. Let's understand this with a simple example.
You're flying an aircraft at high speed. The aircraft's GPS system isn't working. You're happy because you're doing the best you can. But, at the same time, you have no idea where you're going.
Similarly, your employees might be working hard, but if they don't know where they're going, they can't benefit your business. Let your employees know what they're doing, tell them their strengths and the areas that need improvement.
Another important thing is—be honest when giving feedback to your employees. It's easier to give positive feedback. But what about negative ones? Be smart and layer negative feedback in between positive comments. Here's an example,
John, you're a valuable employee, and I really appreciate what you're doing. But, you need to come to the meetings on time more often. You know we appreciate your contributions to the organizations and really value your input. You're an important part of our team.
Encourage teamwork
"Talent wins games, but teamwork and intelligence wins championships" – Michael Jordan.
From a baseball field to workplace, nothing is better than keeping your team focused on what they're doing. Teamwork allows employees learn how to trust and help each other to achieve and work towards common goals.
You can organize team building activities to help them learn the importance of working and celebrating success together.
Additionally, if possible try to learn more about individual team members, what motivates them and what brings out their highest level of performance?
Always be open about sharing your business objectives with the team and create a clear roadmap for them on how to achieve them.
Create a positive environment
You need to understand that employees spend one-third of the day at work. Thus, you should create a positive environment for them to keep them happy and entertained. If they feel happy, they will concentrate on their work and achieve their targets.
Look for ways to encourage enjoyment in your company. Some proven ways to do this are by —encouraging friendly chatter and banter, potluck employee lunches, celebrations on special occasions.
Additionally, your workplace should be neat and clean, as that definitely encourage productivity. It helps in preventing injuries and accidents such as falls and slips.
To keep workplace clean and well-organized, you can get professional cleaning services.
To wrap it up—employee motivation isn't something you can purchase from the market. But, it's something that comes from creating a positive work environment, treating people with respect, valuing their individual contributions and opinions.
Remember, employees get demotivated easily, which affects their focus and productivity. So, value them, motivate them and they will give you more in return and help you grow in the competitive markets. Good luck!
How motivated are your employees?—give score on the scale of 1-10 (10 highly motivated)? What techniques do you use to motivate your gems? Share your thoughts with us in the comment section below.