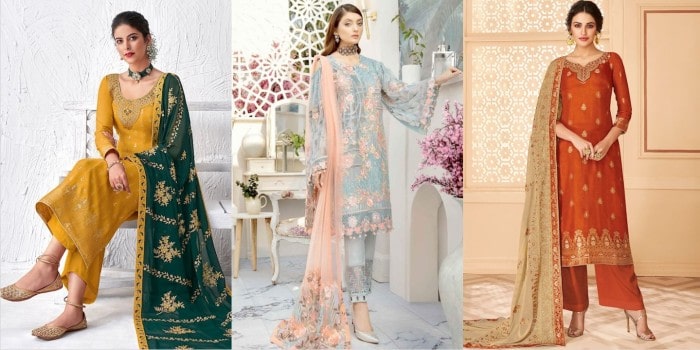 You need the right salwar (bottom), paired with the right kameez (top) to achieve a fabulous and glam look at all times for a complete Salwar Kameez designs. Women and girls across all ages see salwars as a must-have due to their versatility for different occasions and outings.
You want to give more attention to your salwars because it can actually transform your entire look and appearance. This post discusses the different types and styles of salwars you can experiment with to achieve that glam look every time!
1. Patiala/Patiyala Salwars
This is arguably the most common type of salwar among Punjabi women.
The salwar itself originated from the Punjabi town of Patiala, often featuring patchwork and embroidery on them. The Patiala salwar is best paired with a short and tight kurta. They need more cloth to be made since they usually have lots of frills in the hip area compared to other types of salwar.
2. Printed Salwars
You'll agree that color is an important element of Indian fashion.
While some like their salwar plain, many of us go the print-on-print route. It's not uncommon to see these printed salwars feature very beautiful motifs inspired by different things and ideas. Next time you're in the market for a salwar, you can go for one with beautiful floral prints, patchwork, or one with some cool modern motifs.
3. Harem Salwar
Harem pants are a lot like the Patiala salwar.
While they are also designed with frills in the hip area, they are gathered at the ankle, often using elastic or pleating and stitching. Harem salwars come in both full-length and knee-length styles. It's also common to see some style of harem pants with frills on the side alone.
4. Palazzo Salwar
Palazzos are versatile, classic, and stylish!
Palazzo salwar also comes in different styles. Generally, they wide at the cuffs and a bit narrower at the waist so they flatter your body type regardless of shape and size. You can pair them with Anarkali and short Kurtis and they also blend perfectly well with western tops.
5. Afghan Salwar
The Afghan salwar is also commonly referred to as the Aladdin salwar.
This style of salwar is usually designed with very wide pleats. They usually look puffed out and balloony in shape, with narrow cuffs. Short kurtis, spaghetti tops, and tank tops are fine with this salwar that is a bit similar to the harem salwar.
6. Dhoti Salwars
The dhoti salwar is a fusion of Southern and Northern Indian fashion.
It has the elements of both salwar and dhoti and is as traditional as it is gorgeous. This style of salwar usually features heavy pleating that forms an inward arc around each of your legs. As elaborate as it looks, this type of salwar blends well with different kurtis and even western tops.
7. Sharara Salwar
The sharara salwar was a major hit in the 90s.
It's a loosely-fitting, loosely-pleated salwar that extends broader from the wist down the ankle. If you're looking to add more volume, the sharara salwar is perfect. It pairs nicely with straight long kurtis. While it pairs nicely with other long shirts, the sharara is not for all types of body shapes due to the sheer volume of the dress. It's however, a quite comfortable dress and can be styled with great ease.
8. Cigarette pants
Narrow and sleek cigarette pant salwars are a hit among modern Indian women.
They are simple, yet very sophisticated and classy. These salwars have a narrow shape from up to bottom. If you're not so much a fan of flowy dresses, you'll like the structured appearance of a well-tailored cigarette pant salwar. It goes very fine with kurtis and Anarkalis and looks very good on lean body frames.
9. Culottes
Culottes are designed to be very wide, wider than palazzo.
Their length stops above the knee and these pants are a beauty to behold. Like the palazzo, they have this aura of retro and sophistication. These salwars are great for all types of body shapes. The comfort is also second to none. If you're considering culottes, you can pair it easily with a kurta.
Churidar and salwar: the difference
Both salwar and churidar are bottoms commonly worn among women in India.
The key difference between the two is that while the salwar is usually designed to have a loose-fitting, the churidar is designed to be skintight, hugging your skin.
Again, in most cases, the salwar will stop before your ankle.
While the churidar also sits above the ankle, it's designed to be long such that it has to be gathered above the ankle, effectively forming a ring 'churis' above the ankle. While churidars are just as stylish and beautiful as salwars, salwars are more comfortable and breathable since they don't fit tightly against the skin as the churidar does.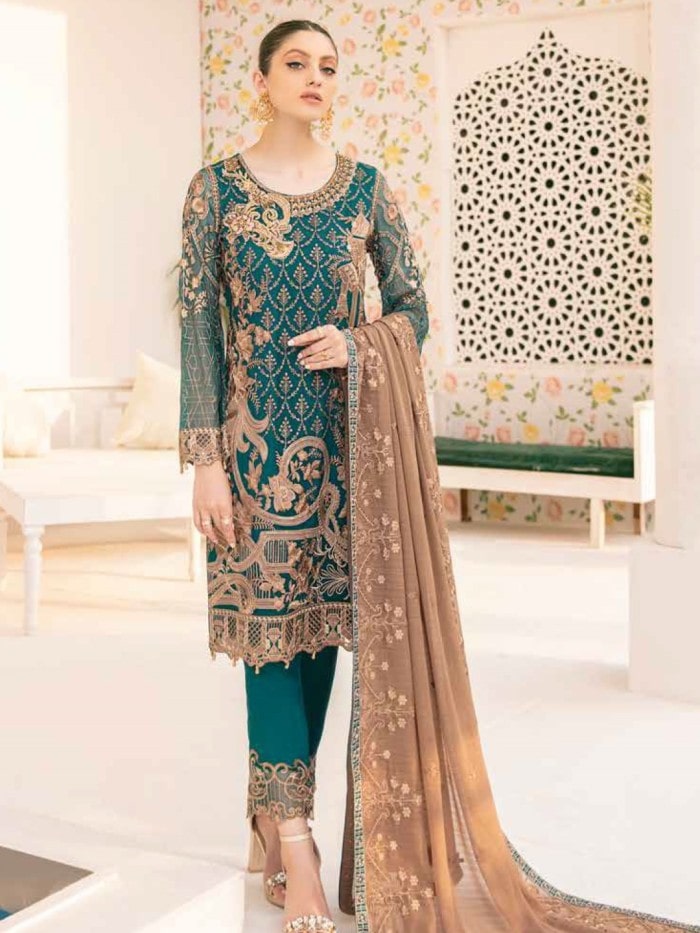 Conclusion
If there's anything you'll like about the ethnic Indian fashion scene, it's the high level of variety on offer, thanks to the diverse and hugely multicultural composition. You can easily experiment with different styles of salwar to rock your kameez.
There's almost no limit to how much you can do and how great you can look. Indian salwars come in different types and styles, and may or may not feature patchwork and embroidery. It all comes down to your choice. The key thing is you'll always find something that excites you!