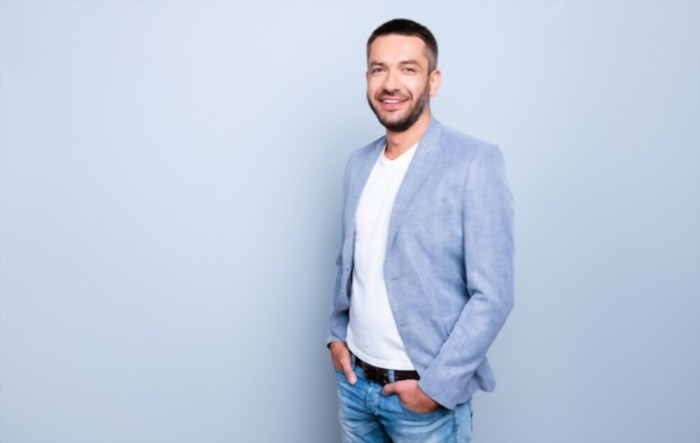 There are times when you want to look formal yet remaining in the relaxed version of yourself. A semi-formal look that can go along with you when you have to attend a formal event, later on, spending some casual time with your family and friends still being in a relaxed and easy mode. This calls for a most popular combination of outfits that are mostly loved by men. This Mens Outfit is a proper elegant blazer with a casual pair of jeans. The duo is found highly appealing among men and women as well as young and aged. This cool combination can give you the best results if it is carried well. The improper pairing may damage your style in a ridiculous manner, although a nice combination can make an impression of a lifetime.
Blazer 
The choice of color for a blazer matters a lot, and what is more crucial is how well it accompanies a pair of jeans. Designers often suggest that you always pick decent and nice colored blazers; if you have only one blazer, it needs to be Navy Blue. This is a color that complements a variety of colors with excellence. Another one is grey color who's lighter and darker shades beautifully go along with diverse complexion. A prominent quality of this color is that if its shades are worn with the proper combination can give an appreciable semi-formal attire. Opt for colors and materials that suit your complexion and personality. Though Blazers, Sports jackets that include Tweeds are slightly different from each other yet they go perfectly well with denim.
Watch for a nice Fit.
A perfect fit is necessary for a blazer. There are some requirements that must be fulfilled to ensure a proper fit. Primarily the shoulders of your blazer must be aligned with your shoulders. And the sleeves should be around your wrist level. Take time to figure out the right size; that is, it must not be too loose or too tight, just a perfect loose fit size that drapes well on your body.
Jeans
When it comes to spending money on a good pair of jeans, don't be stingy to do that, but still be conscious if you can get high-quality jeans at affordable prices; just go for that. If you want to maintain your semi-formal look in this beautiful combo style, always opt for darker shades, avoiding over skinny, faded, or distressed jeans, which surely be ruining your sophisticated but stylish persona. Although if you want to look a bit casual still being in the semi-formal look, go for the lighter shades. Slim cut jeans will give you a beautiful formal and a bit younger look. Just like the navy blue blazer, navy blue jeans are essential, giving you a free hand if you have a variety of colored blazers and jackets in your wardrobe.
Color Selection and Combinations of Blazer/denim duo
Selecting the color of the blazer depicts your sense of styling, and if it is sensibly selected, it reflects your mood and feel. It is worthy of spending some time to select and nicely pair your blazer with complementing or contrasting jeans. Yes, of course, it is critical as it is the main aspect that creates your style, creating a line between chic and dowdy. Nowadays, there is a variety of colors and shades available for blazers, but there are some standard styles and colors that go hand in hand with jeans. These blazer styles include grey, navy, black, tweed, and brown. These are the standard blazers you must keep in your mind while shopping to pair with your jeans.
Grey Blazer
Grey color itself seems sober and requires a richer color combination to give it warmth and dimension. Otherwise, it will give a mature and serious look. To look sophisticated yet lively, you need to have a touch of rich colors. A charcoal blazer will be best for day and night events. And the lighter grey blazers are perfect for relaxed day looks. Although the lighter shades of grey are beautifully going along with other lighter shades, however, it will perfectly go with a powder blue shirt and black jeans with suede brogues. Other combinations might be blue, burgundy, or dark green jeans.
Navy Blazer
The navy blue is always considered the lifesaver and a must-buy blazer. The reason is that it can go along with a range of colors, may it be shirts or a pair of jeans. It is the one best color that can go along with darker denim or contrasting types of denim, being ideal for this blazer/denim duo. It will complement other traditional colors such as emerald green, vibrant burgundy color, and a variety of brown shades. Still, you have an open option for experimenting with a range of colors.
Black Blazer
Black is the most versatile color as it is greatly admired by both men and women. But it requires a little consideration while pairing it with other colors. If you want a perfect pairing of a black blazer with denim, you need to select a simpler color palette to choose from. For example, it goes best with a black pullover and blue or black jeans that provide a beautiful semi-formal look. If you need a more casual look, you may pair your black blazer with white, grey, and powder blue shirts with conventional blue or black jeans. Black jeans go beautifully with the black blazer for either formal or casual looks.
Tweed Blazer
Tweeds go beautifully well with denim and improve your looks and style. In order to perfectly pair it with denim, it requires to accompany a few traditional clothing pieces that surely will enhance your style. You can layer it up with a good quality cable knit sweater which is a perfect match for both the blazer and the jeans. A crochet necktie, crisp button-downs, or vests give a beautiful look and give dimension to your style.
Brown Blazer
As per the prominent stylists, shades of brown in blazers for men are considered a wise choice when pairing it with denim for a semi-formal look. It is better to pair a brown blazer with natural and neutral colors, which may include pairing it with a pair of beige or khaki pants. A pair of classic blue jeans with a brown blazer with powder blue shirt is a beautiful combination.
Pairing Darker and Lighter Jeans
There are conventions for pairing dark and light shades of jeans with their complimentary blazer shades.
Jeans Darker than the Blazer
Darker jeans are versatile, but lighter shades of blazers like grey and beige go particularly well with these. Tweeds also work well with dark jeans.
Jeans Lighter than the Blazer
Just like the darker jeans that pair well with lighter blazers, lighter jeans go beautifully with darker blazers. The reason is particularly to mark the distinction between the colors as well as enhancing them.
Selection of Shoes with a Blazer and Jeans Combination
There is a wide range of shoes available to wear with a blazer/denim combo, but you need to be careful while selecting shoes in order to refrain from being more casual. A variety of shoes like suede or simply leather loafers, oxfords, or boots are the perfect complement for the blazer/denim combination. Suede and leather are the perfect choices for this combination as they give a further enhancement to this style.
Choice of Accessories to Enhance the Blazer and Jeans Combination
Again a smart pairing of blazer and denim color, along with touches of sensible accessory, enhances your looks and style. If your combination is a simple one, you can use accessories to mold it in a perfect and vibrant style. You can add up a pocket square, neckties, hats, watches, and a variety of other accessories to give a fresher and a different look. A pair of carefully selected sunglasses are the cherry on the top and give a final touch to your attire.
Although there is a range of styles among the variety of Men Outfits, the "blazer and jeans duo" falls among the most practical and appealing  semi-formal style around the world.
Author Bio:
Kathleen Swafford is an experienced blogger and a professional social media coach. She likes to share and guide her followers with the best technical knowledge regarding trending fashion and style. She provides a range of technical guidance for women's and Men Outfits based on her expertise in being a traveler for style and fashion.