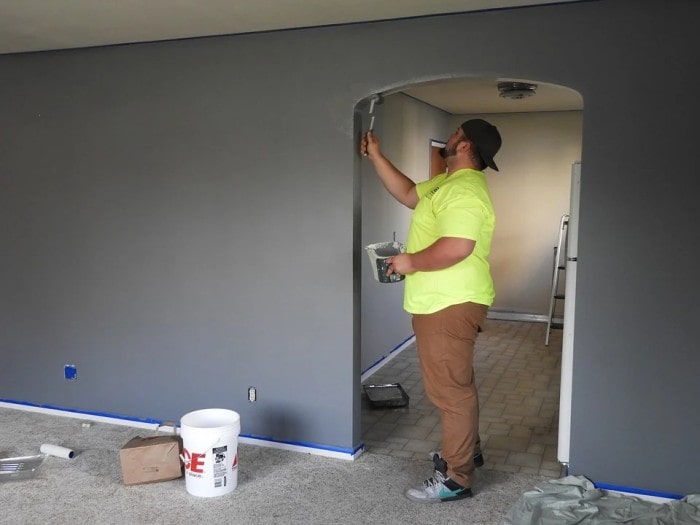 Believe it or not, temperature matters when painting. So whether it's interior, exterior, or a fun project the temperature can have a large impact on the final product.
Although it would be nice if there was one temperature there's not. You'll need to factor in the type of paint to get the best outcome. For example, we usually recommend using elastomeric paint for stucco.
This can sound stressful, but luckily for you, we'll have everything laid out for you.
So with that said, let's get right into it.
Why Temperature Matters
It's important to have the right temperature for a few reasons.
To start, if it's too hot or too cold it can dramatically delay the drying time which means more sitting around and waiting for the second coat.
Another factor is that during the drying process, with extreme temperatures you may notice in the future either cracks or wrinkles in your paint job.
For obvious reasons, this will cost both time and money to replace.
The final part to keep in mind is for exterior paint jobs. When you're in the unforgiving heat, it can cause your paint to become even warmer which will lead to delays and even an unfinished look.
Best Time To Paint
Finding the perfect temperature will primarily depend on the type of paint, but a good number to stay in is between 40º to 90º.
If you're outside it'll be much easier to dictate this number, but you won't have the easy option of just plugging in a fan or heater, you'll likely need to wait for either the spring or fall.
The best part about working in the spring or fall is that it won't be scorching hot or freezing cold like in the Winter or Summer.
For interior paint jobs, you'll likely be able to do any task. If it feels too warm you can easily plug in a fan and if it's too cold just flip a fan on and you should have no issues at all with the temperature.
Does The Type Of Paint Matter?
Although the type of paint does have an effect with certain temperatures. For the most part, staying between 40 to 90º will keep you in the safe zone.
Oil-based paints its recommended to stay between 40º to 90º and for latex-based paints 50º to 85º is the sweet spot.
Also keep in mind when working outside that if the paint is drying in the sun, the actual temperature will be much higher as the temperature is based off "in the shade".
Final Thoughts
To sum it all up, the zone you want to stay in is 40º to 90º. By staying in this you'll cover just about any paint out there.
Always keep in mind that direct sunlight will cause the temperature to be higher than what the news says.
By working in too cold or too hot of a temperature you'll see the after-effects such as wrinkles, cracks, and just slow drying times which can add to the stress of painting.
By staying within the 40º to 90º you'll quickly see the beautiful project come to life with minimal stress.