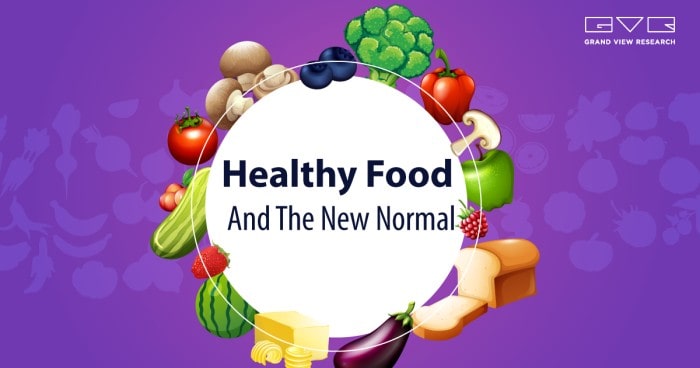 The impact of the COVID-19 pandemic has been there for all to see, and more so in case of the food sector. What trends can be expected to be imprinted in consumers' minds?
How many of us can put our hands up and say that we have surrendered ourselves to healthy food? Many of us will say – yes, I am healthy, therefore I must be eating healthy. That's not how it works! Many people may consume junk food 3-4 times a week, and think they are doing fine health-wise; well, there will come a time when these poor habits will have a telling effect on your health, and you better watch out for that! It has only become more important to be mindful of one's health, particularly in these times of the Big C (the coronavirus pandemic, not cancer). These are the months when it becomes critical to take care of both our physical and mental faculties, and good healthy food is definitely a step in the right direction.
The Times They Are a-Changin'
The ongoing trends are seconding this opinion, indicating that consumers are not leaving their health in the hands of the almighty, and they are trying to explore deeper into the space that is healthy and functional foods. According to the Food Marketing Institute, the main parameters governing the consumer buying process are health, convenience, affordability, food safety, transparency, taste, and a clear labeling. The older demographic wants health and safety, while the younger ones are demanding sustainability and transparency. Many healthy food products have witnessed accelerated growth owing to the COVID-19 pandemic, and are expected to carry on their popularity in the coming years. Without taking any more space, here are some of the food items that are expected to grab your eyeballs and taste-buds as you fight the pandemic in the future.
Snacking is expected to be more about taste and the value, rather than a guilty pleasure
Snacks – Our favorite thing to have at any time of the day! There's nothing more satisfying than munching down on anything sweet or spicy, while streaming the latest shows on Netflix. However, many of these items have a lot of fats and unwanted chemicals that can affect your health in a really, really bad way. So, manufacturers are now coming out with healthy options in the market, trying to entice customers with offerings such as seaweed snacks, oatmeal ones, as well as multitudes of plant-based offerings. This has been done viewing consumers' interests in mind, with a report by The Grocer suggesting that in 2019, there was a 32% increase in online searches for high-protein snacks. Kale chips are another option for health aficionados, as Kale is a rich source of vitamins, antioxidants, lutein, magnesium, calcium, and potassium, among others.
Say hello to mock meat and meat alternatives!
Some time ago, meat was considered to be an indispensable part of the diet for many people; however, the conventional meat comes with its own set of issues, namely environmental harms due to the use of chemicals, while also being better in terms of calories, as seen in a comparison between The Impossible Whopper from Burger King and the traditional Whopper. The western economies are well-versed with these products now, and it is about time that emerging economies, which are witnessing higher demand for similarly healthy foodstuffs, catch up to this trend, particularly post the pandemic.
Cheers to nutritional beverages!
It's a known fact that there are various healthy beverages available in the market. These range from simple fruit juices and protein shakes, to sophisticated offerings such as kombucha and kefir. Probiotic drinks have made their way into the diet routine of many people, as it improves gut health, among many other perceived benefits. According to Kombucha Brewers International, sales of hard kombucha grew from $1.7 million in 2017 to more than $12 million in 2019. That's pretty good! Traditional products such as milk and tea are also expected to witness innovations, what with the options of almond milk and soy milk, and black tea and green tea, all of which are no more strangers to the global market. The pandemic has made people ponder over what they consume, and how much they consume, and the aforementioned products are expected to bother their minds more and more in the coming months.
Sustainability and frozen will see a shake-up in demand
Familiar with the term 'sustainable food'? This trend has been all the rage among consumers who have been looking towards contributing to environmental safety; as per Statista, 81% of Americans stated that their purchasing decisions were conditioned towards products that protect the environment. Moreover, 65% were in favor of paying extra amounts of money at a sustainable restaurant. However, these trends have been somewhat mellowed over the course of the past 5-6 months. Consumers have been forced to shift towards buying what is available, while also being frugal due to the economic uncertainties. As the situation revives hopefully in the coming months though, these trends will make a big comeback.
Another area that has seen an increase in consumer base is frozen food products. With lockdown forcing fewer trips to the nearby grocery, consumers have shifted to the frozen department. People have been mixing up their fresh and frozen food supplies, with products such as frozen avocados seeing healthy demand. Frozen products also prevent spoilage, which can make this a long-term trend among consumers.
These are few of the trends that are expected to gather pace among consumers in the post-COVID world. 'The New Normal' will influence consumers into altering their lifestyles, and food and diet patterns will definitely be affected. As consumers, expect to see some unexpected trends jump up in front of you in the coming months. The sheer unpredictability and strangeness seen this year should definitely provide for some interesting food items to plant their roots. And some to just wither away. Let's wait and watch!