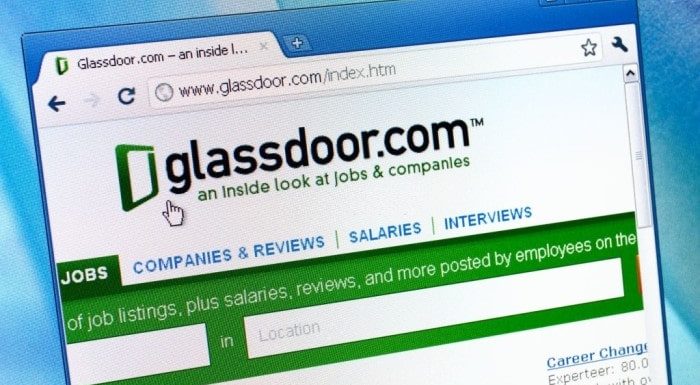 This executive briefing on how organizations can best leverage the Glassdoor social media platform was prepared by McKay Wilkinson while an MBA student in the College of Business at Southeastern Louisiana University in Hammond, Louisiana.
Overview
"Perception is reality, especially when it comes to attracting and hiring top talent. Then why do so many leaders ignore websites like Glassdoor.com, one of many sites that provides outsiders with a view inside organizations, written by those who have been there?" (Matuson, 2014). Forbes' Ivy League graduate Roberta Matuson shares the story of how she was referred to a biotech company in Massachusetts whose COO was aware of her capabilities, but she was instead quickly dismissed to his troops without even a brief phone call. She read the reviews on Glassdoor.com after; there was not one positive comment on the company. Applicants today can pick and choose who they want to work for or choose to interview with thanks to sites like Glassdoor.com. Glassdoor's sole purpose is to help candidates find the positions they are looking for and to help employers be directed to those individuals.
The Platform in Brief
Glassdoor.com is a free online career community that is altering the way people seek jobs and how employers recruit the best candidates for the job. The site reveals company reviews, CEO approval ratings, salary reports, interview reviews and questions, benefit reviews, office photos, and more. The employees of the companies being researched share this insight information to jobseekers. Glassdoor for Employers is also offered for recruiting and branding purposes. Employers who use this platform are able to endorse their brand to those who are researching and advertise to those who are not but may be interested. Free mobile platforms of Glassdoor are also available on both Android and iOS ("An inside look," 2015).
The growing online career database was founded in June 2007 by Robert Hohman, Rich Barton, and Tim Besse. Sausalito, California is the home of the company's global headquarters, but it also has two other office locations in Mill Valley, California and London. The company has received a total of $161.5 million in funding in 6 rounds from 7 investors. Glassdoor holds 12 people on its executive team, two of which are co-founders; 8 people on its board of directors and advisors, two also co-founders; and holds around 251-500 total employees (Glassdoor, n.d.).
Glassdoor.com is globally ranked the 533rd most visited website according to Alexa.com and ranked as 144th in the United States. Much more women frequent the site than men do. Also, individuals who have either had no college experience or just some visit the site more than those who have their bachelor's or graduate degree. The average daily visit time is 4 minutes and 16 seconds. The countries that use the site the most are the United States, India, Canada, Netherlands, and Australia, with the majority of users belonging to the United States ("Competitive Intelligence," n.d.).
The Platform in Operation
There have been many success stories from companies using Glassdoor. Some of these companies include Enterprise Rent-A-Car, Railinc, Groupon, and App Annie. Enterprise has used Glassdoor to advertise its company expectations and benefits and has successfully hired 1,137 applicants from Glassdoor within the past two years. Glassdoor is Enterprise's number one recruiting channel, even higher than LinkedIn. Its awareness increased by 128% against competitors using the site and now has over 85,000 views a month.
Railinc is a data, IT, and information service company serving the North American railroad system. Using Glassdoor, they have had 66 new hires in the past year, increased their page views by 6 times more than they received on LinkedIn, and have had a significant increase in employer brand awareness. By using this platform, Railinc was able to attract and prepare the right candidates with the appropriate background.
Groupon, the online global marketplace where people can buy virtually anything, was able to double their applicant quality and lower their cost-per-hire to only $13. Their enhanced Glassdoor profile allowed applicants to self-qualify, which led to 61 new hires. The better applicant quality then in turn led to lower cost-per-hires.
App Annie is the industry standard for analytics and market data in the app economy. With Glassdoor, the company was able to make 9 global hires in less than 7 months, which fulfilled their goal of finding qualified, diverse candidates. By actively managing their page and posting positions, they were able to receive more outstanding candidates and increase their page traffic ("Employer Branding," n.d.).
The Platform's Pros and Cons
There are pros and cons to Glassdoor for both businesses and users. The site is anonymous which allows employees to leave honest comments without having to fear consequences from the employers, which is better for the job seekers using the website. The review process of posts contains two parts: the first is automated and then an actual content management team goes through the posts providing a trusted and valid source of information to both users and employers. The management team also strives to remove content if evidence that members were incentivized to leave positive or negative comments was found, helping improve accuracy. The content posted is never edited. Altered, filtered or suppressed due to it being positive or negative, providing truly authentic reviews from current or former employees.
In addition, the salary database is a huge pro for users because Glassdoor allows job seekers to search salaries across specific industries and in a preferred region, which can be hard to come by otherwise. Glassdoor's career sources such as its interview review questions and its blog allows applicants to have greater knowledge to be more prepared. Employers also have the advantage of the right to respond to comments made about their company. Glassdoor Employer Center allows companies to track job seekers and their competition by showing the demographics of the users looking at their page and the ability to see what companies they view after leaving their page. This is a huge resource to employers to learn how to reach and maintain their target market (Giang, 2013).
Some downfalls of the career site include its anonymity, false sense of security, and extreme reviewers. Anonymity can also be a con because it can be extremely difficult to determine whether or not the poster has alternate motives such as lying on behalf of the company. Even though Glassdoor is resourceful for both companies and users, at the core its subject matter can still be biased and subjective, which hurts the authenticity for both future employees and employers. Extreme reviewers can be a problem for users and businesses because people only take the time to leave reviews mostly for when they were either extremely satisfied or dissatisfied ("Is Glassdoor Your Friend," 2014). Disgruntled former employees can bash a company for inaccurate reasons due to this, hurting the company's image and discouraging potential applicants.
Analysis
Glassdoor is changing the way that people find jobs and how employers find lead talent. The site is an extremely handy tool for applicants to choose the right position and industry to apply for by providing all insight including salaries, benefits, interviews, and work atmosphere. It is a necessity for employers as well to see what their employees are saying about the company and to strive to constantly improve the brand image and ethical standards.
With Glassdoor's growing database of over 6 million company reviews, it is on the path to becoming the world's largest career database. Increasing advertising and constantly managing the content on the site will continue to attract more applicants and companies. Glassdoor is linked with Facebook and attracts the younger generation, which is the most competitive group in the applicant industry right now. Every leader, consultant, and applicant should consult Glassdoor first before taking the job.