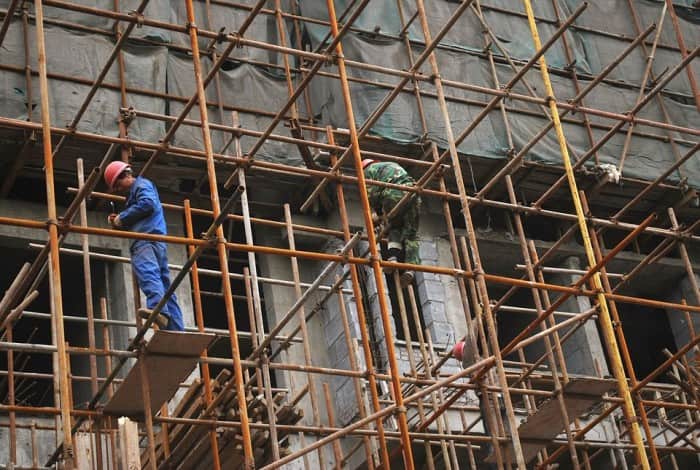 Have you been hired for a large-scale construction project? If so, no matter whether it's a commercial building project or just a residential DIY job, then it is vital that you provide a safe working platform for anyone working on the job.
Scaffolding is one of the most valuable tools in construction and has been for many years. It's useful across all construction applications, cost-effective and it will ensure complete safety. The higher the building, the more crucial the need for a scaffolding structure.
Read on to find out more about some of the benefits of hiring a professional scaffolding company.
Enhanced Health & Safety
One of the key benefits of hiring a scaffolding structure is that they can provide a safe platform for your workers to work on and therefore enhance the level of health and safety on site. When you hire a professional, reliable health and safety company, you will receive a structure which complies to all health and safety legislation and will support and protect your team. This way you can be sure and have the peace of mind that your workers won't fall or get hurt whilst working on the job.
Reach & Positioning
High-quality, professional scaffolding structures will help your workers to access difficult to reach areas, such as ceilings, high walls and the top levels of a building, easily. Your workers will be given the height they need to get the job done safely, as opposed to the use of ladders, which doesn't offer a solid platform to balance on.
Skilled and Experienced Staff
When you hire a professional scaffolding company, they will provide staff who have years of experience and extensive knowledge in working with scaffolding. This knowledge will allow them to provide a safe and reliable structure.
Increase Your Business Opportunities
If you own a construction company, you'll know that not every job you're hired to work on requires you to work on the ground floor of a property. In some circumstances, you may have to work at height to get the job done properly. This is where scaffolding is needed. When you hire a scaffolding company in to provide you with a scaffolding structure, this will allow you to sign up for a wider range of jobs which, in turn, will help you to expand your client base, improve your reputation in the local area, and help your business make more money.
For example, some of the jobs you will, in turn, be able to work on include:
Roof Repairs, Installations and Maintenance Work
The roof is the highest point of any building, whether that's a domestic or a commercial one. Flat roofs are easy to work on, but scaffolding is vital when you are working with pitched roofs and other styles. A proper structure will provide your team with much-needed stability and will ensure they're kept safe.
Rendering
When you're tasked with rending the side of a building, it's important that you and your team have a stable footing to complete the job to the highest standard. In this case, scaffolding is essential, as you need to access the entirety of the external walls and somewhere to keep your materials while you work. Of course, a ladder seems like a much more cost-effective alternative to scaffolding, but in reality, it's much better that your team are safe and don't have to keep climbing up and down the ladder to reach your tools.
Loft Conversions
Preparing to take on a job of converting an old loft into a beautiful new space? If yes, then it's time to consider hiring a scaffolding contractor! Professionalism is vital when working on a job, especially when it requires you to work on someone's home. Scaffolding will ensure that you and your team have easy access to the loft space and give you a stable platform which keeps you safe.
Window Replacements
Unless you're working from the ground floor, window replacements will require a scaffolding structure. When you're dealing with large panes of glass and lots of specialist tools, there is no way you can work from just a ladder. A stable platform is vital.
Comply with The Law
When working at a height, there are a number of legal requirements. According to the Work at Height Regulations of 2005, scaffolding structure should only be designed, erected and dismantled by a competent member of the team and only under the direct supervision of an qualified supervisor. Unless you are confident that you and your team can comply with this legislation exactly, then it is important that you hire a professional scaffolding company,
Limit Your Spending as a Company
As a building contractor, it is very likely that you won't need a huge scaffolding structure every day. The jobs you carry out will vary and it more than likely doesn't make financial sense to invest in your own scaffolding.
Especially as there are many different types of scaffolding and every job you complete will require a new solution. So, it's a much more cost-effective idea to hire the services of a professional scaffolding contractor to provide you with scaffolding if and when you need it. An experienced scaffolding contractor will be able to meet all of your requirements and provide you with a bespoke scaffolding design, to save you time, money and hassle.
Hire in Professionals
Just one part of owning a construction company is minimising the cost of each project and ensuring all the work you do is completed in an efficient and timely manner. Hiring a structure from a scaffolding company you can trust, such as ASC Edinburgh Ltd – a leading provider of scaffolding Glasgow, will meet all these objectives.
These companies will aim to provide custom, personalised scaffolding solutions to help you get your project finished to the highest standard and have peace of mind that everything will run smoothly.