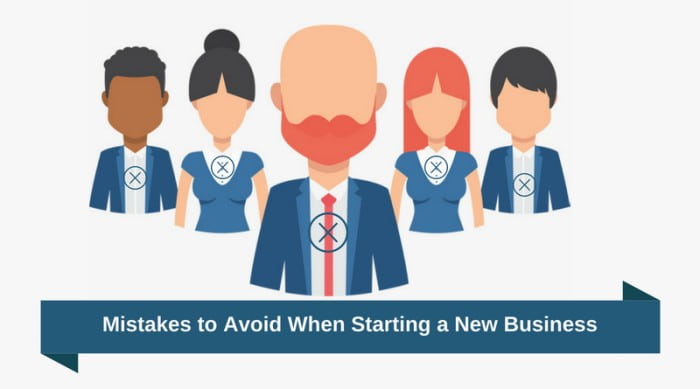 There are numbers of young startups which emerge every day. And a countless number of them fail in the market. But, they all fail not of countless problems, but because of similar mistakes, which often all these startups commit. If you are starting a new business, you must know the common mistakes which most of the business owners commit, and face devastating effects on their businesses.
Hence these 10 crucial mistakes must be avoided by new age entrepreneurs when they start a new business. Here are ten crucial mistakes you should evade when you start a new business:
1. Answering your "What" and not "Why"
Answer "why" first and not "what" – you must know "why" you are doing this – it dose not result but it is purpose which drives the action, and then you must know "how" to do it, and at the end you are already explaining the world "what" you are doing.
2. Not implementing Cost Optimization
Budget is an important asset in any business. Cost optimization is very much essential for any business to success. Therefore, it is very necessary to spend where it is required. Bargaining with everyone is no wrong, but it gives an essential indication that you are an entrepreneur. It is also necessary to spend money sometimes, if are a very miser person, your business cannot grow. An entrepreneur must know to take risks at the right places.
3. Believing you have no competitors
Not taking your competitors seriously is a very big mistake. You must always know that today in this 21st century whatever you do, you always have direct competitors. You must think to compete with them. If you have to grow better than others your strategy should not only reflect a unique path but also a path where you can check your competitors.
Suppose your business sales "brand new shoes from Italy" but you have a nearby competitor who just sales normal shoes, but has invested in local SEO marketing targeting the specific mobile audiences who may go and search over the web.
Therefore, it is very much essential you should invest in Google Adwords or local search marketing to increase your brand awareness. Thus, you can check on your competitor, because your strategies should not only reflect differentiation but also, how you can form a space in the market.
4. Hiring at Wrong CTC
Hiring's a good candidate is good, but you are starting a new business, you have a minimum resource, a limited capital, etc. and you have to grow first rather than show first. Therefore, you must hire a candidate which has good potential and is asking for a lower CTC, which suits your budget. You must never hire a wrong candidate whose views do not match the views of your organizations' objectives.
5. Setting Unrealistic Goals
The goals must be realistic and it should be made clear in mind what you want to achieve & how much you achieve. The goals must be attainable, and it should be realistic so that it could be achievable. The ideas must be "big" but those ideas must be made by taking things in reality, and strategies should be made as according.
6. Not marketing your business over other channels
"Unless you sell it, you cannot win it" and therefore marketing a product to increase the brand awareness will let you increase your brand value and will allow you to reach your customers directly and more effectively.
You should always invest in new trends of marketing like Digital Marketing and others. If you want to win the market you have to stand with your board almost everywhere and anywhere.
7. Making erroneous Profits
Profit sharing is very important. You must know how much profit you have to make. It should neither be too low nor too high. Profit must be made thinking future goals in mind, but the price optimization of your product must meet the market goals and needs.
8. Thinking you know all
It is a quite common practice for any business setup, which owners think they can do all by themselves. You must be very good at customer valuation, but not at Digital Marketing. You have to understand, for certain things you have to outsource your projects, and may hire Digital Marketing Companies to look after your Internet Marketing. You may require a consultant and an expert on certain matters like business registrations, law, tax filings, etc. Hence, you need to consult a CA or a lawyer.
9. No Risk Appetite
"If you are taking risks you may fail or you may win, but if you are not taking any risks you are definitely failing". Risk appetite is necessary for any entrepreneur, and if you have to fail over others; your risk taking appetite must be more than others. You must not think on "ifs"; like "what if I do this then what will happen? What if this happens, then what I will do?" You should believe not believe in taking right decisions, but taking decisions and make them right.
10. Product the sole objective and not the customers' needs
You must make a product but the building of a product must be from the user's point of view. You should be customer oriented and should make your product as per the needs of the market. Even if your product is helping to fulfill something, which no other product can; but if it is not the market need, your product will not make any space. Users' use a product when they need it for their requirements. Therefore, whenever you are starting a new business, your ideas or your product must fulfill the customers' needs.
Author Bio
George Dille is a versatile Marketing expert with a wide experience in dealing with clients and working for BusinessVenturesIndia Ltd. He keeps writing for them who wants to business setup so that they can update him about new business tactics.