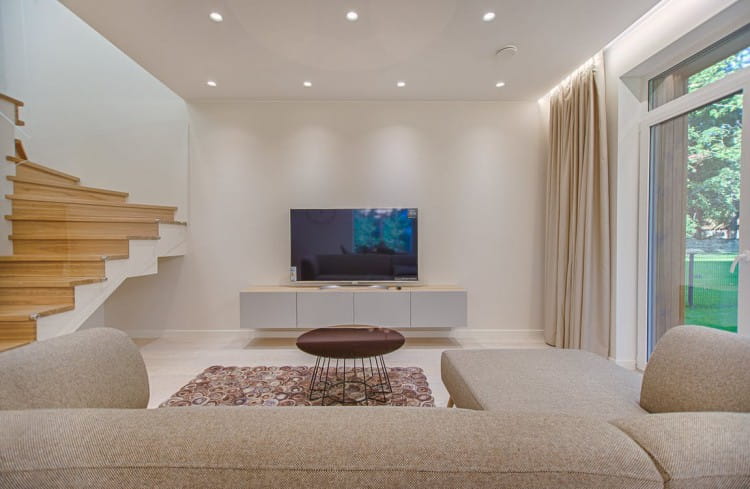 Whether you browse home décor inspirations from home design magazines or Pinterest, you'll surely see a lot of spaces with stunning, soaring ceilings. They're not just beautiful, especially with wooden beams and gorgeous light fixtures – higher ceilings also create a sense of space and freedom, which are vital in making your home inviting.
But what if your living space's ceilings are no higher than the standard eight feet?
Have no fear! There are several ways to make your humble abode look incredible, spacious, and even taller. Read on for 13 smart ideas for decorating homes with low ceilings and make them look fabulous.
1. Forget the pendant light fixtures
Hanging and sprawling light fixtures, like chandeliers, are specially designed for high ceilings and large spaces. Since you're working with low ceilings, any light fixture that hangs too close to the floor can stress your lack of vertical space.
Experts recommend shopping for the most beautiful flush mounted lighting you can find, which are perfect for low ceilings.
2. Or hang them over a furniture
If you can't let go your love for dangling lights, pick the ones that aren't dramatically low. Also, hang them over a piece of furniture, let's say a dining table or a kitchen island, so they can create a statement feature without worrying about people walking into them.
3. Increase the illumination on the ceiling
One trick for making a low-ceilinged room look and feel bigger is to illuminate the ceiling. You may try uplighting by using wall lamps, floor lamps, and table lamps. You may also invest in high-gloss paint for your ceilings, which reflects light and the things below, making space feel larger.
4. Adorn your walls with vertical stripes
This is one of the oldest decorating tricks for low ceilings. You may paint the walls in vertical stripes, use vertical wood paneling, or apply a vertically striped wallpaper. The vertical lines help create the illusion of wall height.
5. Hang curtains as close as possible to the ceilings
Another go-to trick is to lengthen the drapes and bring them all the way up to the ceiling. Long curtains always emphasize height and make the walls look taller. It doesn't matter if your windows are small – floor-to-ceiling draperies and window treatments maximize the light that shines through the window, creating a space that looks and feels larger.
6. Add floor-to-ceiling glass surfaces
Large floor-to-ceiling windows, glass walls, and glass sliding doors work for boosting a low-ceilinged room. They effectively increase the sense of space and maximize natural light and airflow, drawing the eye away from the low ceiling.
Raise the door to ceiling height too. Whether it's a contemporary glass door or a classic wooden one, doors that are taken up to ceiling height are genius ideas for elongating the walls.
7. Keep the big, heavy furniture low
It goes without saying that low-height furniture pieces are perfectly designed for low-ceiling abodes. They visually increase the height of your space, making the room feel airier and more spacious. Think about lower-height sofa sets, beds, benches, and coffee tables.
8. Take shelves to greater heights
Thinking about adding lovely open shelving units, like built-in shelves or freestanding bookshelves? Unlike core furniture pieces that should lay low, shelving can happily climb short walls.
Take them all the way up the walls. Next, to getting more storage space without taking up floor space, high shelves trick the eye, making the wall look taller.
9. Welcome tall accessories
The rule of thumb: mix highs and lows. Incorporating tall home accessories is one way to add contrast to an otherwise flat space. Include tall indoor plants with slim branches, candles, tall figurines, slim freestanding shelves, vertical photo frames, and other tall and slim accessories you may have.
10. Hang art or picture frames a bit higher
We've said this before, and we'll say it again: keep them close to the ceiling. For better results, use vertical framed photos or paintings to visually elongate the walls.
11. Bold floor + light walls and ceilings
Is the ceiling too low? Try to direct the eye elsewhere – your floor, for example. You may use a bold floor rug with catchy patterns and colors, and leave the rest of the space quiet. If you don't like rugs, try to keep the interest at the floor level of your home by using eye-popping décor.
12. Make a statement feature out of it
Turn a negative feature into a positive one by making your low ceiling the main point of interest.
Don't shy away from paneled or beadboard ceilings, tongue and groove, crown molding, ceiling medallions, wooden beams, and other intricate moldings and trim. Take inspiration from old homes, like classic bungalow houses and early 20th century sears classic kit homes, which have low yet fascinating ceiling designs.