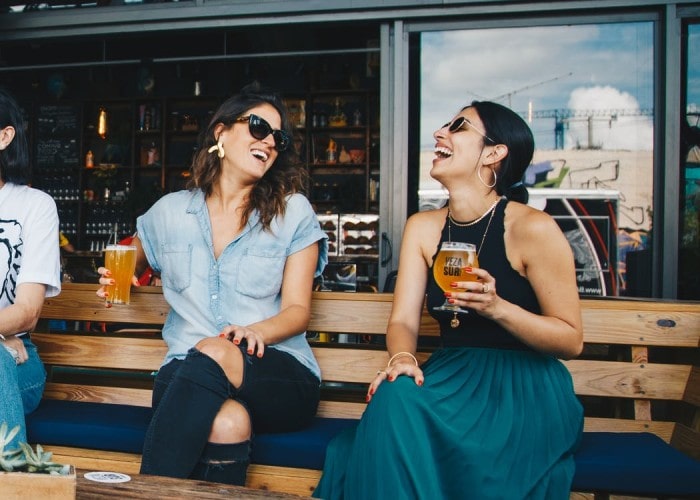 As summer comes and goes, we need to enjoy the opportunities left to us to frolic in the sunshine. If you plan on attending or throwing any parties in the near future, here's a list of non-alcoholic drinks that are both refreshing and can spice things up. Non-alcoholic drinks help recovering alcoholics from feeling pressured to drink and they also keep you hydrated under the sun.
Mint Grape Pineapple Fizz
This drink is so tasty and refreshing that it deserves to be in the hall of fame for fruity beverages. All that is required to turn the drink of your dreams into the drink of your reality is a bit of fresh mint, club soda, and fruit juice.
Serves Six
Ingredients
0.5 cup of fresh mint leaves

1.5 cups unsweetened grape juice

6 ounce can of pineapple juice, no sugar added

3 cups of club soda

Ice cubes

Fresh mint leaves
Directions
Place all the leaves of mint into a sizable pitcher for mixing. Stir the leaves in and make sure to bruise them lightly. Pour in the grape juice and pineapple juice and continue to mix. After that, seal the lid and refrigerate for 12 hours.
The next day, strain the mint from the pitcher and discard the leaves. You can now serve over ice and add some fresh mint sprigs if you wish. This refreshing beverage serves six thirsty party guests.
Coco-nutty Rainbow Spritzer
This spritzer comes decked out in all the colors of the rainbow. Plus it tastes like magic and is so low on calories you'll think your wishes came true. The coconut water adds several vital vitamins and nutrients that are associated with reduced risk for diabetes, kidney stones, and heart disease.
Ingredients:
Go to your nearest grocer and grab a handful of each of the following fruit:
Blackberries

Lime slices

Cherries

Raspberries

Peaches

Strawberries

Pineapple

Blueberries

Fresh Mint

16 oz. of Non-Flavored Coconut Water
8 oz. Flavored Coconut Water or Vanilla Seltzer
Directions:
Take a clear glass and fill with an inch layer of crushed ice. Then add a layer of one single fruit type. Then add another layer of crushed ice. Repeat the process until you have a rainbow pattern and the glass is full.

Top off your concoction with your preferred seltzer. You can garnish with any kind of additional fruit, or even add a little mint for some refreshing undertones.
Citrus MockMosas
This mocktail makes excellent use of our favorite citrusy fruits: Oranges, limes, and grapefruit. An optional way to spice up the sophistication of this drink is too peel some slices corkscrew style and use as garnish.
This drink is only recommended for those who enjoy the citrus side of life. Our favorite mocktail makes use of our favorite citrus fruits such as oranges, limes, and grapefruit. An optional method for adding a little flare to the Citrus Mockmosa is to peel orange slices into corkscrews and use as garnish.
Serves Four
Ingredients
3/4 cup fresh O.J.

1/2 cup fresh grape drank

1/4 cup fresh lime juice

1 -2 tablespoons honey

1 12 – ounce bottle sparkling water, chilled

Long strips of citrus fruit peels corkscrew style
Directions
Mix your juices into one pitcher and stir. To serve, pour the mixture into champagne glasses and add some sparkling water. If you like, you can add peeled strips of citrus fruits. This should serve roughly 4 guests with moderate thirst.
To make this the fancy way, you should mix the juices into a large pitcher and add 1 – 2 tablespoons of honey. You should mix and refrigerate the concoction for a few hours then serve in champagne glasses.
Lemony Mint Lavender Luxury
Lavender Mint? Chances are you may not have experienced a drink of this caliber before. This one requires a bit of preparation but in the end is well worth the trouble.
The Lemony Mint Lavender drink is the perfect combination of sweet and sour. It requires a bit of preparation, but in the end, this drink is worth the effort. Chances are, once you've experienced this drink, you'll never want to drink anything else ever again.
Ingredients
1 cup sugar

1 cup water

3 teaspoons dried culinary lavender

2 sprigs fresh lavender
3 cups freshly squeezed lemon juice

1 3/4 cups water

1 cup lavender syrup

1 big handful of fresh mint

lemon slices for garnish

fresh lavender sprigs for garnish
Directions:
Lavender
So first, you'll need to prepare the lavender. To do this, mix the cup of sugar, a cup of water, and 3 teaspoons of dried lavender in a saucepan over a low to medium flame. Mix the concoction until the sugar is dissolved and lower the heat to a low simmer. Continue to whisk and after a few minutes turn off the stove and strain the dried lavender. Put in a pitcher and place in the refrigerator.  
Lemonade
You can purchase some pre-made lemonade or make it the old-fashioned way. Combine 1.5 cups of water with lemonade and lavender and mix together. Add more sugar or lemon juice depending on the level of sweetness or sourness you prefer. Add a handful of mint leaves and refrigerate overnight. Serve over chilled glasses or ice.
Cranberry Agua Fria
There's something innately better about using the word "fresca" instead of fresh. When you add it to the end of Cranberry Agua, it gets even better! This is a super low calorie, super satisfying drink for the summer.  
Cranberries are a sweet and healthy option for any occasion. This cranberry agua fria drink is a super low calorie, super satisfying summer drink. Here are the ingredients:
12 ounces (3/4 pound) fresh cranberries

1/4 cup fresh mint

3 cups water

Fresh cranberries and mint for garnish
Directions:
Using a high power blender, take the cranberries and mint and mix for 3 minutes with ice. Keep the mixture in the blender for as long as it takes to turn completely smooth and dark red

Strain the results and pour the resulting mixture over ice and sprinkle some cranberries and fresh mint leaves for garnish.
Thank you for reading our list on 5 super delicious non-alcoholic drinks. You can use these drinks to spice up cocktail night, take a break from the alcohol, or help make a recovering alcoholics time easier.