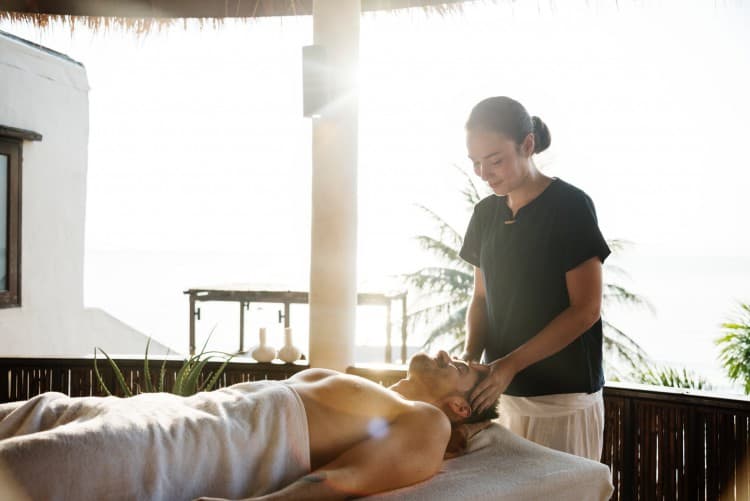 What's the best self-care treat after a long working week? The list can be long, but relaxation massage is definitely on top of this list. We often view relaxation massage as a one-time procedure that helps reduce stress and get refreshed. True, relaxation massage does destress us and refuels our energy but there are more benefits to relaxation massages that you know.
For some of us relaxation massages happen once a month or two months and thatis the best-case scenario. But once you find out the health benefits of relaxation massage, you will want to turn it into an ongoing routine. So, without further ado let's jump to discussing the 5 surprising benefits of relaxation massage therapy you didn't know.
Secret Benefit #1 Posture and Muscle Pain
It's safe to say that in the 21st century a good deal of people works in offices which entails a lot of sitting and staring at the computer screen. Being physically inactive affects our bodies in ways that we can't even imagine.  As a result, we notice change in our posture and experience muscle pains in different areas of our bodies.
Well, the good news is consistent relaxation massage therapy can help us maintain good posture and get rid of muscle pain.
How does massage help? Staying seated for a long time creates imbalance in the body which usually leads to pain in the neck and back and creates posture stress. Relaxation massage works on this imbalance and it also improves blood circulation which eases the muscle tension.
There have been studies that back up this very benefit of relaxation massage therapies. Two NCCIH-funded clinical trial done in 2008 and 2009 respectively, reported that massage may be useful for chronic low-back and pain.
Secret Benefit #2 Deeper Sleep
Another big 21st century problem that relaxation massages may tackle. It's no secret that many infants go to sleep only after they get massaged. The same happens to the adult body. Relaxation massage reduces the stress level which is arguably one of the most common reasons of insomnia and bad quality sleep.
According to a recent study published by the American Massage Therapy Association, relaxation massage therapies are an effective remedy for sleep deprivation for different age groups and patients with various health conditions such as migraines.
What is the scientific explanation? We have already stated many times that massage helps your body relax and relaxation increases serotonin (aka happiness hormones) and melatonin (aka wakefulness hormone) levels, thus ensuring that you get a good sleep and wake up full of energy.
So, if you are struggling with sleep, it's time to book a relaxation massage appointment.
Secret Benefit #3 Stronger Immune System
Keeping the immune system strong and ready to fight is key to being healthy. But how can you do it? Healthy eating and work outs are the basic and go to options that have proven to work. From now on you can also add relaxation massages to your list.
"Researchers working with patients with compromised immune systems have found massage therapy can improve how the immune system functions. Those same benefits can translate to people seeking to fight off the common cold, flu and other seasonal illnesses, "says Jeff Smoot, 2015 president of the American Massage Therapy Association (AMTA).
What happens to your body during a relaxation massage? The amount of white blood cells increases and since these cells are responsible for defending your body, the more you have them, the more protected you are.
Plus, massage contributes to better blood circulation, which in its turn translates into stable immune system ready to fight bacteria and viruses.
Strong immune system doesn't only mean you avoid colds and fevers, it also means prevention of more serious diseases like cancer.
Secret Benefit #4 Less Intense Headaches
Are you tired of painkillers and breathing exercises that are supposed to help with headaches? Lucky you there is another more effective and pleasant way of reducing headaches. Yes, you guessed it right – relaxation massage therapy.
In some cases, headache comes from tension and as we already know massage equals to relaxation and naturally drops the tension level of your body so, your headache goes away.
For some people tension is not the case, they have chronic headaches. Relaxation massage therapy can work miracles for chronic headaches as well.
Dr. Jennie C. I. Tsao's study from UCLA shows the positive effects of massages on chronic and non-malignant pain including headaches. In addition, a 2006 study of 47 migraine sufferers showed that relaxation massage can help with migraine.
Regular appointments with certified relaxation massage therapists will help you cut the pain and enjoy headache free days.
Secret Benefit #5 Mental Health
Last but not least, relaxation massage therapies help with different aspects of mental health from depression and anxiety to self-esteem. It is not only the physical tension that relaxation massage reduces, there is also a lot of emotional burden that we can get rid of. Being loose for an hour helps gain clarity and new perspectives.
I used the "reduced stress" expression a lot in this article and there is a reason for that. Gentle human touch creates safe environment and sooths anxiety that we carry in our bodies.
Relaxation massage therapy is not only a physical procedure. If you look at it from the spiritual viewpoint, its benefits are countless. Relaxation massage is a passive way of meditating. You don't necessarily have to control your breathing or make an effort to shut off your brain for a while. This "off-mode" helps release the bad energy and let go of stress, anger and anxiety.
Take Care of Your Body
Massage shouldn't be a luxury or a gift card that you use once a year. The benefits of regular relaxation massage therapies don't start and end with these five. Try it on yourself and increase the quality of your life.